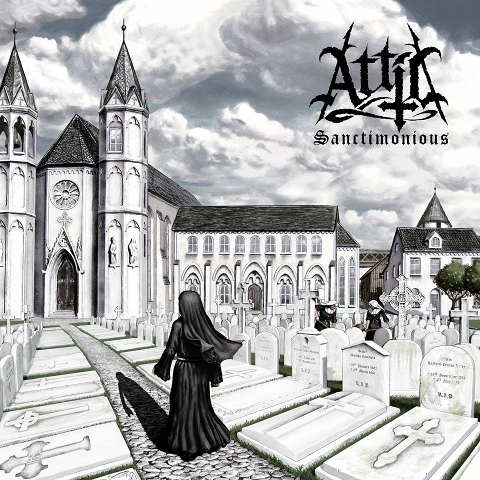 Czasami przychodzi taki dzień, że poznaje się debiutującą kapelę, ale już widzi się jej potencjał i życzy się im najlepiej. Wtedy zaczyna się kibicowanie danej kapeli i upragnione wyczekiwanie na kolejny album. Kiedy widzi się jak rośnie kapela w oczach innych i rozkręca swoją karierę to jest to spory powód do radości. Tak upatrzyłem sobie niemiecki Attic i to z kilku powodów. Tematyka, która się ociera o satanizm czy okultyzm, co zbliża Attic do Mercyful Fate. Kolejnym atutem jest bez wątpienia jest wokalista Meister Cagliostro, który operują podobną manierą i umiejętnościami co sam King Diamond. Takich wokalistów nie jest tak dużo, więc znów Attic zyskuje w moich oczach. Attic ma przewagę nad wieloma zespołami, ponieważ z dużą łatwością tworzą muzykę przyjazną dla słuchacza. Atrakcyjne melodie, podniosłe chórki, intrygujące i wciągające partie gitarowe. Stworzyć mocne i zadziorne riffy, a przy tym bardzo melodyjne i chwytliwe to nie lada wyczyn, ale Rob i Katte dają czadu jako duet gitarowy. Attic to band niemiecki, tak więc mają w krwi pracowitość i tworzenie heavy metalu na wysokim poziomie. Grać jak King Diamond czy Mercyful Fate, a przy tym grać na wysokim poziomie z nutką świeżości to najlepsza rekomendacja Attic, która już czyni ten band wyjątkowym. Debiutancki album "The Invocation" zrobił szał i odniósł sukces. Przez długi czas było cicho na temat Attic, ale teraz po 5 latach powracają z drugim albumem zatytułowanym "Sanctimonious". Czy udało się utrzymać wysoką pozycję i wyjątkowy styl? Czy Attic znów zachwyci swoich fanów, a także maniaków Kinga Diamonda?
Kiedy ma się w zespole uzdolnionych muzyków, takiego fenomenalnego wokalistę to można wiele zdziałać. Zespół w najlepsze kontynuuje to co rozpoczął na poprzednim albumie. Pielęgnuje swój styl, a nawet go jeszcze podrasował. Nie brakuje mrocznego klimatu, licznych przejść czy urozmaiceń. Attic zadbał o to, żeby "Sanctimonious" nie był nudny i przewidywalny, co jest sporą zaletą. Może okładka nie jest wysokich lotów, ale jest bardzo klimatyczna. Brzmienie jest soczyste i zrobione na wzór poprzedniego krążka. Nie ma tutaj większego zaskoczenia, ale zawartość to już inna sprawa. "Ludicium Dei" to klimatyczne intro, które wprowadza nas w mroczny świat Attic. Włosy stają dęba, ale chce się jeszcze więcej muzyki Attic. Tytułowy utwór atakuje nas dynamicznym riffem i prawdziwym mocnym uderzeniem. Jest klasa, jest pomysłowość i na taki heavy metal zawsze warto czekać. Nieco wolniej i bardziej marszowo jest w "A serpent in the pulpit". Utwór jest bardziej rozbudowany i dzieje się w nim sporo. Więcej agresji i złowieszczego klimatu uświadczymy w energicznym "Penalized", który jeszcze bardziej zbliża nas do złotego okresu Mercyful Fate. Attic na pierwszym albumie zabłysnął pod względem ciekawych melodii i przebojowości i na nowym krążku też tego nie brakuje co potwierdza "Sinless". Płytę promował niezwykle pomysłowy i złożony "The Hound of Heaven", który brzmi jakby powstał w latach 80. Niezwykle energiczny i pomysłowy kawałek, który oddaje to co najlepsze w Attic. Na płycie jest całkiem sporo dłuższych kawałków, a "On Chair Stalls" to kolejny tego typu utwór. Co ciekawe zespół wcale nie przynudza w tych kolosach. Najspokojniejszy i najbardziej wyróżniający się utwór pod względem klimatu to bez wątpienia "Dark Hossana". Jednym z moich ulubionych kawałków na płycie jest "Born from Sin", który jest bardziej speed metalowy niż pozostałe kawałki. Jednym słowem mocna rzecz. Całość zamyka kolejny kolos czyli "There is no God".
Attic znów nagrał świetny album i nie trzeba więcej dowodów na to, że jest to kapela z górnej półki. Niemiecki band idealnie wypełnia pustkę na brak Mercyful Fate czy nowych albumów Kinga Diamonda. Uzdolniony wokalista, świetne pomysły i dobre zgranie sprawia, że Attic to band wyjątkowy i przed nimi jeszcze wiele sukcesów. Byle tylko następny album ukazał się znacznie wcześniej.
Ocena:
9.5/10