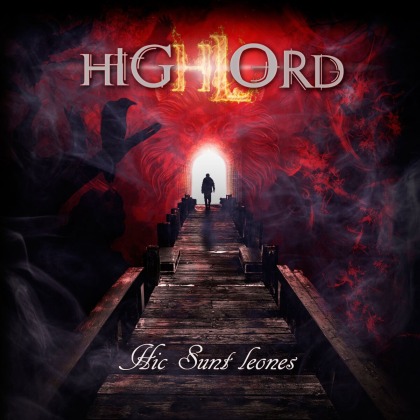 Jakoś nigdy nie mogłem się przekonać do twórczości włoskiego Highlord. Niby jeden z kluczowych bandów power metalowych, nie tylko jeśli chodzi o włoską scenę metalową. Znani są z melodyjnych, nieco słodkich partii klawiszowych i progresywnego charakteru. Ostatnie ich płyty jeszcze słabsze od tych z początku kariery. Teraz zespół przeszedł pewne roszady, tak więc pojawiła się nadzieja, że coś się zmieni. Faktycznie nieco zmieniony szyld, mroczna okładka już od razu dają sygnał, że najnowsze dzieło w postaci "Hic Sunt Leones" może być czymś innym niż do tej pory zespół nam serwował. Z jednej strony zespół dalej gra power metal, a z drugiej słychać wpływy neoklasycznego power metalu, progresywnego metalu czy też nawet melodyjnego death metalu.
"One world at a Time"
to dobry przykład tego, gdzie faktycznie pojawia się partię harsh wokalu. Sam utwór promował album i w sumie to był dobry wybór. Kawałek jest dynamiczny i niezwykle melodyjny. Na pewno pokazuje, że zespół jest w dobrej formie i są w stanie nas czymś zaskoczyć. Troszkę Andrea Marchision śpiewa tak zbyt wysoko i momentami jakoś tak nijako. No, ale power metalowy charakter jak najbardziej został zachowany. Nowy gitarzysta oraz nowy klawiszowiec nawet sobie radzą i potrafią nawet się uzupełniać co słychać w nieco zadziornym
"Be king or Be Killed
". Nie brakuje też słodkiego klimatu i takiego włoskiego charakteru co potwierdza "
Let There Be fire
". Na pewno większe wrażenie robi zespół w nieco ostrzejszym i bardziej rozpędzonym "
Hic Sunt Leones
", który utrzymany jest w power metalowej konwencji. Mimo starań można odnieść wrażenie, że zespół za bardzo kombinował ze strukturą, wykonaniem przez co utwory nie zapadają w pamięci. Momentami mogą nawet nas zmęczyć swoją konwencją. Tego uczucia nie poprawiają nieco żywsze i bardziej dynamiczne kawałki w postaci "
Warmight"
czy
"Ive chosen my poison"
, które zaliczyć należy do tych najciekawszych kompozycji z całej płyty. Całość zamyka kolejna power metalowa petarda czyli "
Full Circle"
. Nie brakuje mocnych akcentów, jednak na nowym krążku Highlord dominuje przekombinowanie i zbyt nijakie melodie, które nie trafiają do słuchacza. Nie poprawia tego nawet obecność boskiego Apollo z Firewind. Poprawa jest, ale to jeszcze nie to.
Ocena: 5.5/10