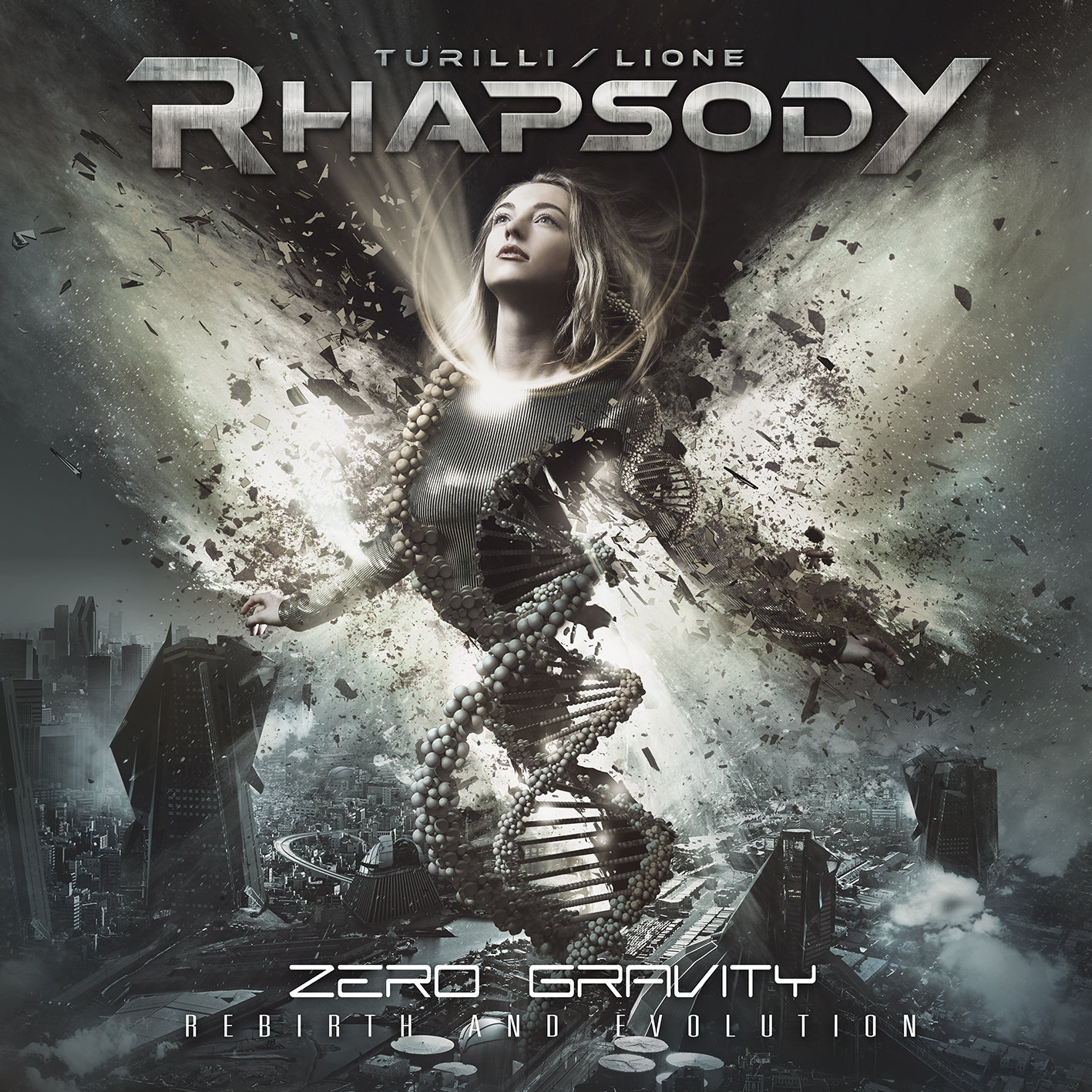 Rok temu Fabio Lione opuścił Rhapsody of Fire, a Luca Turili zakończył działalność swego Rhapsody, To umożliwiło zebrania jeszcze raz starego składu i wzięcia w trasie w ramach 20 lecia "Legendary tales". Była to dobra okazja, żeby przypomnieć najlepsze lata Rhapsody i godnie się pożegnać. Panowie tak dobrze się bawili, że powstał band o nazwie Turili/ Lione Rhapsody. Niezłe zamieszanie wyszło z tymi markami Rhapsody. Oczywiście rozpoczęły się prace nad debiutanckim albumem zatytułowanym "Zero Gravity (Rebirth and evolution)".Wiele z fanów czekało na powrót do korzeni i odrodzenie starego dobrego Rhapsody. Zamiast tego mamy raczej rozwijanie pomysłów Turilli z albumu "Prometheus, Symphonia ignis divinius". Pojedynek z Rhapsody Stratopoliego Turili i Lione przegrali, ale to było do przewidzenia.

Turili i Lione chcieli błysnąć pomysłowością i innowacyjnością, ale wyszło z tego pozycja, w której mamy przerost formy nad treścią. Jest symfoniczny heavy/power metal, ale mamy tutaj bardziej filmowy wydźwięk. Słychać epickość, nowoczesne patenty i futurystyczną tematykę. Jednak nie pasuje to do nazwy Rhapsody. Mamy doświadczonych muzyków, którzy stworzyli tyle kultowych albumów. Dlatego ciężko uwierzyć, że nagrali tak ciężko strawny album, który w niczym nie przypomina starych dokonań. Jedyny plus jaki mogę przyznać, to produkcja i brzmienie tego wydawnictwa. Jest z górnej półki. Szkoda, że zawartość nie jest wart tej marki, tych wielkich nazwisk.

Odrodzenie? Poniekąd tak, bo powrócił niemal dobrze znany nam skład starego rhapsody. Nie jest to odrodzenie na jakie czekałem. Ewolucja? Tutaj zdecydowanie tak. Band stara się odkrywać nowe rejony, stara się brzmieć nowocześnie. Pod tym względem może znaleźć się grono słuchaczy, którzy to docenią i pokochają nowe oblicze Rhapsody.

Najśmieszniejsze jest to, że najlepsze utwory na tej płycie to te, które tak krytykowałem przed premierą płyty. "Phoenix Rising" i "D.N.A" to utwory, który choć trochę potrafią zauroczyć dynamiką czy próbą stworzenia ciekawej melodii. Coś tam się dzieje, a reszta utworów jakby była bardziej gdzieś tam w tle. Z tą płytą jest taki problem, że jest kilka fajnych intrygujących motywów, ale całościowo żaden utwór nie powala. "Zero Gravity" to mieszanka troszkę progresywnego metalu, troszkę Nightwish. Band stara się tutaj zbudować operowy klimat, ale czegoś tutaj brakuje. Dalej mamy bardziej melodyjny i nieco dyskotekowy "Fast Radio Burst". Nie ma tutaj nic z Rhapsody w ogóle. Nie zabrakło też bardziej rozbudowanych utworów i tego przykładem jest bez wątpienia "Decoding the Multiverse". Znów te nie potrzebne zwolnienia i komercyjne rozwiązania. No jestem na nie. Nowoczesność bije z "Multidimensional". Brakuje słów by opisać rozczarowanie. Dziwne wejście i nie ratuje ten utwór chwilowe power metalowe przyspieszenie. "Amata Imortale" to ballada o epickim rozmachu. Nie ruszyło mnie to i jakość ciężko przetrwać ten operowy bełkot. Echa Rhapsody jaki znam i kocham można usłyszeć w całkiem ciekawym, zamykającym "Arcanum". Bez wątpienia kompozycja godna uwagi i jedyna która wzbudza jakieś emocje podobnie jak single.

To było do przewidzenia po ukazanych singlach. Ta płyta nie miała szans w starciu z najnowszym dziełem Rhapsody of fire. Tam jest wszystko to czego szukają fani twórczości Rhapsody. "Zero gravity" to wizja nowoczesnego symfonicznego power metalu dedykowana fanom Luca Turilli i jego Rhapsody. Szkoda potencjału jaki drzemie w tym składzie. Może kiedyś jeszcze wrócą do sprawdzonej formuły? Oby to się stało jak najszybciej.
Ocena:
4/10