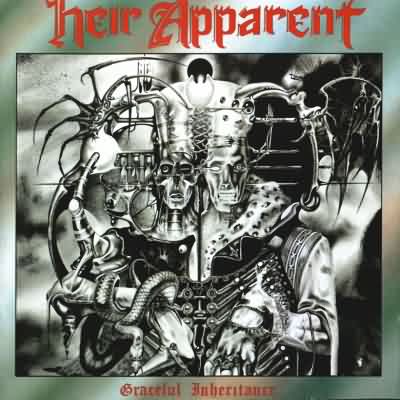 Ameryka, lata 80 , muzyka heavy metalowa z kręgu progresywnego heavy/power metalu i jeden z najciekawszych debiutów jaki miał miejsce w owym czasie, na owej ziemi. Na myśl powinien przyjść nie którym osobom często nie doceniany, albo znany wąskiemu gronu słuchaczy HEIR APPARENT. Genezę zespołu należy doszukiwać się w roku 1983 kiedy to został założony zespół SAPIEN, potem zespół funkcjonował pod nazwą NEMESSIS i ostatecznie nazwę zespołu zmieniono na HEIR APPARENT. Po nagraniu kilka dem, przyszedł czas na debiut , który się ukazał w 1986 roku pod skrzydłem Dragons Records. "Graceful Inheritance" to znakomity album, który ma coś z power metalu, coś z hard'n heavy, coś z heavy metalu i do tego patenty progresywne polane sosem amerykańskim, to wszystko pasuje wybornie i stanowi ciekawą mieszankę. O samym albumie można pisać długo i w samych superlatywach . Poczynając od brzmienia, gdzie jest nacisk na krystaliczną czystość, na wyrazisty wydźwięk instrumentów, na budowanie odpowiedniego klimatu., przechodząc do aspektów umiejętności muzyków i ich poziomu gry na albumie, kończąc na zróżnicowanym i wyrównanym materiale, który dostarcza sporo emocji i trzyma słuchacza w napięciu.
Otóż to, materiał nie jest taki przewidywalny jak mogłoby się wydawać i wbrew pozorom dzieje się sporo i nie brakuje urozmaicenie w sferze kompozycji. Nie wszystko zostaje od razu podane, zdradzone i mamy tylko na początku melodyjny i zwarty "En Trance" w postaci intra. Motorem napędzającym muzykę tego zespołu jest bez wątpienia duet gitarzysty Terry Gorle z wokalistą Paul Dawidsonem. Terry dba o tło, wygrywając rytmiczne, dopracowane partie gitarowe, przesiąknięte niezwykłą dbałością o technikę i melodie i to słychać w " Another Candle" gdzie jest niezwykłe urozmaicenie utworu. Do umiejętności Terrego świetnie dopasowany został wokalista Paul, który ma charyzmę, niezły warsztat techniczny, gdzie operuje czystym wokalem, a jak i bardziej zadziornym , tak więc nie można narzekać na rutynę w tym aspekcie. Ta zgraja specjalistów od przebojów, zapadających melodii dostarczy wam sporo nie zapomnianych przeżyć i taki znakomitym tego przykładem jest dynamiczny "The servent" i na plus są te wpływy, inspiracje NWOBHM czy też QUEENSRYCHE. Różnorodność, bawienie się motywami, to coś co jest na porządku dziennym na tym albumie i taki "Tear Down The Walls" jest tego dowodem, klimatyczne otwarcie z balladowym zacięciem które rozkręca się w mocniejszy i bardziej chwytliwy dalszy etap utworu i jest to kolejny przebój. Pomysłowość w "Running From the thunder" zaskakuje i te wpływy jazzu są tutaj urocze. Masa przebojów opartych na prostych i zapadających melodiach i mam tu na myśli taki "The Cloack" , rytmiczny "Dragon's Lair" z power metalowym feelingiem, czy też melodyjny, szybki " Nad Dogro Lived On". Ponadto wydawnictwo jest wzbogacone o dynamiczny kawałek "Nightmare" gdzie też słyszalne są patenty power metalowe, balladą "Keeper Of The Reign" która wyciska łzy, a także heavy metalowymi hymnami jak "Hands Of Destiny" gdzie jest nacisk na stonowane tempo i marszową sekcją rytmiczną.
Może i HEIR APPARENT nie stworzył czegoś nowego, może zagrał muzykę jakiej było pełno w owym czasie, ale pod względem wykonania, pomysłowości, umiejętności muzyków, należy od razu zweryfikować owe rankingi i umieścić ten album na wyższych miejscach. Bardzo dobry album, który nie ma wad jak dla mnie. Każda kompozycja ma w sobie sporo energii, wykonanie wzbudza emocje i zachwyt, jak można grac tak chwytliwy heavy metal bez kombinowania, bez kompleksów. Bardzo dobrze wyważony album z bardzo wyrównanym i urozmaiconym materiałem. Jeden z najbardziej niedocenionych zespołów i albumów z lat 80.