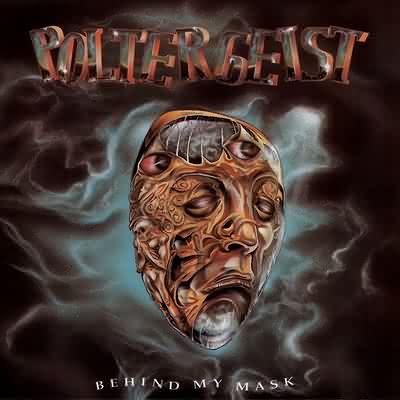 Debiut szwajcarskiego POLTERGEIST został bardzo ciepło przyjęty i było to dzieło na miarę tego co zostało wydane pod szyldem CARRION. Było granie na pograniczu thrash metalu i speed metalu. To co za prezentowali było na równie wysokim poziomie i zawiesili sobie poprzeczkę bardzo wysoko. Drugi krążek czyli "Behind the mask" ukazał się po dwóch latach czyli w 1991r i na pewno należy spojrzeć na ten album pod nieco innym kątem. Przede wszystkim pod względem muzycznym, zespół poszedł tutaj w kierunku nieco innym, a mianowicie czystego technicznego thrash metalu, odcinając się na dobre od speed metalu. Na drugim albumie pojawia się nie tylko zmiany w zakresie stylu, ale też brzmieniowym, gdzie jest zadzior, ale i surowość, która nadaję materiałowi niezwykły klimat. Zmiany są też w aspekcie składu zespołu, gdzie zmieniona została cała sekcja rytmiczna i muszę przyznać, że sprawuje się ona o wiele lepiej niż ta z debiutu. Perkusista Alex Lang to mistrz drugiego planu i ta jego gra jest imponująca. Jest niezwykła dynamika, różnorodność i to wyraźnie słychać już na pierwszym kawałku czyli "We Are The People" który prezentuje to co najlepsze w nowym stylu POLTEIRGEIST. Odważna sekcja rytmiczna, gdzie dynamit, dynamika, moc, gdzie są ostre, wyszukane riffy, przesiąknięte niezwykłą dbałością o technikę zagrania poszczególnych motywów i do tego te połamane, wyszukane melodie. Choć Vo. Pulver jest osamotniony na funkcji gitarzysty, to radzi sobie znakomicie i w stosunku do debiutu i płyty CARRION rozwinął swoje umiejętności. W dalszym ciągu stawia na dynamikę, szybkie partie, różnorodność, ale wszystko jest jeszcze ciekawiej rozegrane, większa technika i ten aspekt to kolejny mocny punkt tego albumu. Gdy słucham "Behind The mask" to nie mogę ogarnąć tych wszystkich wirtuozerskich popisów, tych oryginalnie brzmiących melodii, tej dynamiki i niezwykłej różnorodności jeśli chodzi o partie gitarowe Pulvera.
Brzmienie, wyczyny muzyków, miła dla oka szata graficzna to tylko część atrakcji jakie serwuje nam szwajcarski band. Najistotniejszą sprawą jest bez wątpienia zawartość płyty. A ta jest zadziwiającą perfekcyjna. Nie ma mowy o wypełniaczach, nie ma mowy o banalnych i oklepanych kompozycjach, melodiach. Materiał jest wyrównany i dynamiczny. '
Act of Violence
" to utwór który cechuje się niezwykła rytmicznością, zróżnicowaniem i tutaj można wyczuć pewną lekkość, przebojowość, zapadający refren i popis umiejętności basisty Marka Felisa. Żeby nikt nie posądził ich o jednostajność na tym albumie, o granie na jedno kopyto, to zespół urozmaica album spokojnym, nastrojowym "
Grey
" który robi właściwie za balladę rozegraną akustycznie.
"Delussions"
to przykład że można grać ostro, że można grać dynamiczny thrash metal, ale oryginalny, zróżnicowany, zbudowany w oparciu o wyszukane melodie i o niezwykłe umiejętności muzyków. Basista Mark Felis, daje o sobie znać w zróżnicowanym "
Drilled To Kill
" gdzie jest stworzona niezwykła przestrzeń i dzieje się sporo, a przebojowy charakter to znak rozpoznawczy tego kawałka. Warto zwrócić też tutaj szczególną uwagę, na elektryzującą solówkę Pulvera, takie solówki to dzisiaj rzadkość, ileż finezji, emocji w tym aspekcie utworu, to trzeba usłyszeć na własne uszy. Oprócz szybkich kompozycji mamy też taki mroczny, stonowany
"Make Your Choice"
który podkreśla aspekt zróżnicowania i melodyjności tego albumu. Album ubarwia też nieco wolniejszy "
Driftin Away"
zwłaszcza kiedy na płycie dominują szybkie, agresywne kawałki jak "
Stiil Alive"
czy też pokręcony
"Chato's Land"
.
"
Behind The Mask "
to już bardziej dojrzały album aniżeli debiut i ten kierunek w stronę technicznego thrash metalu okazał się strzałem w dziesiątkę. Podobać się może przede wszystkim forma podania melodii, riffów, konstrukcja kompozycji, a także dbałość o szczegóły czy też niepowtarzalne umiejętności muzyków. Na tym albumie formacja POLTERGEIST zaprezentowała thrash metal najwyższych lotów.
Ocena : 10/10