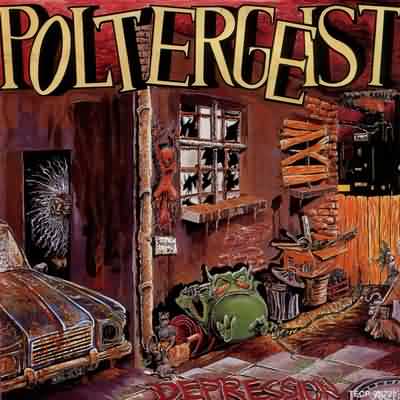 Choć szwajcarski CARRION po wydaniu debiutanckiego "Evil Is There" w 1986 r przestał istnieć formalnie pod tą nazwą, to jednak duch i poziom granej muzyki w tamtym zespole zostały przeniesione w 1987 roku do nowego uformowanej kapeli o nazwie POLETRGEIST który był założony przez V.O Pulvera który był mózgiem CARRION. W nowym zespole postanowił się skupić wyłącznie na graniu na gitarze i trzeba przyznać, że porzucił speed metalowe granie na rzecz technicznego thrash metalu z elementami power metalu. Pulver to znakomity muzyk, potrafi stworzyć niesamowitą oprawę, potrafi zagrać emocjonalnie i agresywnie, ale aby tworzyć zespół trzeba więc mieć więcej niż jednego muzyka. Pulver szybko skompletował ekipę i najbardziej przyciąga bez wątpienia nazwisko Andre Grieder który miał swoje pięć minut z rozpoznawalnym DESTRUCTION będący legendą niemieckiego thrash metalu. Można osoba właściwa osoba na właściwym miejscu i we właściwym zespole. Duet Grieder/ Pulver to bez wątpienia motor, który napędza ich debiutancki album "Depression" z 1989r . Grieder jest mistrzem jeśli chodzi o śpiewanie, ma zadzior, odpowiednie predyspozycje do uczestniczenia w takim rodzaju heavy metalu, jest ogień i niezwykła technika. I pod tym względem obaj panowie mają wiele wspólnego, przede wszystkim precyzja, perfekcja jeśli chodzi o wykonanie i dbałość o szczegóły. Uzupełnieniem jest tutaj nie mniej znacząca zadziorna, dynamiczna, zróżnicowana sekcja rytmiczna. Poza dynamitem i starannością wykonania i poza innymi cechami które nasuwają debiut CARRION jest kilka istotnych zmian. Jak choćby zmiana kwestii lirycznej, gdzie jest mniejszy nacisk na mrok, wręcz porzucenie okultystycznych tekstów powiązanych ze złem i diabłem. Słychać tez odejście od dynamicznego speed metalu na rzecz technicznego thrash metalu i słowem kluczem jest tutaj techniczny.
Już od pierwszych sekund zespół daje się przekonać od tej technicznej strony i dbałości o każdy detal utworów. "Three Hills" już przytacza te cechy, ale warto tutaj wyróżnić, klimatyczne i melodyjne wprowadzenie, a także ładnie złożoną rytmikę i połamaną melodie, które są bez wątpienia jedną z tych największych atrakcji. Wpływy niemieckiego thrash metalu spod znaku GRINDER, czy też DESTRUCTION słychać. Klimat i jeszcze raz klimat, który ma pewne pozostałości po CARRION, co słychać w dynamicznym "Depresion". W przypadku CARRION ciężko było sobie wyobrazić coś lepszego ponadto, ale słuchając takiego "Inner Space" trzeba przyznać, że to prezentowane granie przez POLTERGEIST jest bardziej ambitne, bardziej zaskakujące, urozmaicenie. Wiele smaczków w postaci połamanych melodii, rozbudowanych sekcji, zróżnicowania motywów. Pierwszym takim spowolnieniem i poważnym zaskoczeniem dla mnie był taki "Wheel Of Sansara" który jest instrumentalnym wolny kawałkiem opartym na akustycznej gitarze. Mimo swojej skromności i innemu wydźwiękowi, jest bardzo przyjazny dla ucha i ma swoje atuty. Ktoś by powiedział że kolejny nudny i oklepany thrash, ano nie i nie brakuje tutaj aspektu przebojowości. Dobrze to odzwierciedla "You've Learned Your Lesson" z bardzo melodyjną solówką i zapadającym motywem czy też urozmaicony i zwięzły "Prophet" z chwytliwym refrenem i elektryzującą grą Pulvera. Zespół potrafi się dobrze bawić przeplatając różne ciekawe motywy, czasami mniej dynamiczny, bardziej stonowane, ocierające się o heavy/power metal tak jak to miejsce w przypadku złożonego "Ziita" czy tez dynamicznego "Shooting star".
Thrash metal nastawiony na techniczne granie, na połamane i wyszukane melodie, przebojowość i precyzję wykonania. Jest dbałość o szczegóły, jest wyborne, dobrze wyważone brzmienie, jest niezwykła praca muzyków i bez wątpienia bohaterami płyty są Pulver i Grieder. "Depression" to album który pochłania słuchacza w całości i sprawia że sięga po niego często i z dużym entuzjazmem. Jeden z najlepszych albumów thrash metalowych jakie słyszałem.Wysoki poziom CARRION został zachowany.
Ocena: 10/10