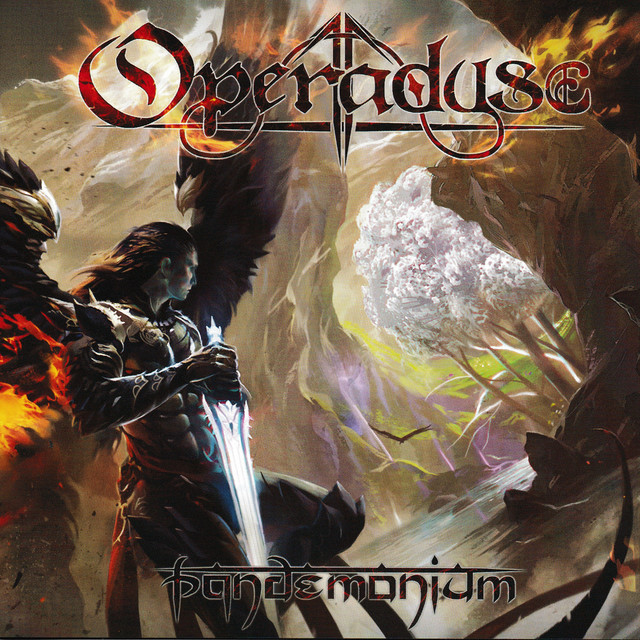 Kwestią czasu było wydanie przez francuski zespół Operadyse debiutanckiego albumu, bo sama kapela działa już od 2006 roku. Prędzej czy później nadszedł by dzień w którym ta młoda formacja by wydała swój debiutancki album. Ten moment nadszedł w tym roku i "Pandemonium" może przypaść do gustu tym którzy lubią muzykę w klimatach Rhapsody czy Helloween.
Sama płyta przyciąga uwagę, bo jest ozdobiona miła dla oka okładką no i do tego określenie muzyki tej formacji jako symfoniczny power metal też brzmi bardzo atrakcyjnie. Po odpaleniu płyty wszystko staje się bardziej zrozumiałe i przejrzyste. Dociera do nas informacja, że ta płyta jest jedną z wielu niezbyt wyróżniających się płyt. Dużo zapożyczeń i nawiązań do twórczości znanych zespołów pokroju Rhapsody czy Helloween, tak więc nie ma tutaj mowy o czymś oryginalnym czy pomysłowym. Patrząc w kategorii wtórności debiutancki album francuskiej formacji też nie błyszczy. Niby jest melodyjnie, szybko, momentami podniośle, niby nie brakuje dobrego wokalisty i dobrych partii gitarowych to jednak to nie przekonuje. Zastanawiacie się dlaczego? Problem tkwi w tym, że zespół nie stara się dać coś od siebie, zaskoczyć czymś słuchacza i co ciekawe też ciężko tutaj o przebój, który pozostał by najdłużej w głowie. "Celestial Sword", dynamiczny "Unfold Legend" to dobre kawałki, ale nic ponadto. To wszystko już było i to wiele razy. Helloweenowy "Kereper Of The Flame" brzmi dość dobrze, ale też brakuje mi tego czegoś, co by nadało kompozycji wyjątkowości. Ciekawy klimat, powiew epickości można uchwycić w dość ciekawie wykonanym "Pandemonium" czy melodyjnym i nieco progresywnym "Nevermore". Mocnym atutem zespołu jest z pewnością Frank Garcia i nie ma on problemów z technicznym i emocjonalnym śpiewaniem. Zaś gitarzyści tutaj troszkę idą na łatwiznę i dostarczają nam oklepanych motywów, a przecież nie o to w tym wszystkim chodzi.
Potencjał jest w zespole, ale jeszcze nie został w pełni wykorzystany i trzeba będzie poczekać na przebłysk talentu tego zespołu. Póki co przyciągnęli uwagę moją, ale tylko na chwilę. Nagrali solidny album, który niczym się nie wyróżnia i raczej po paru dniach mało kto będzie o tym wydawnictwie pamiętał. Zobaczy jak potoczy się ich kariera, a płytę póki co mogę polecić tylko zagorzałym fanom i tym co nie wiedzą jak spędzić wolny czas.