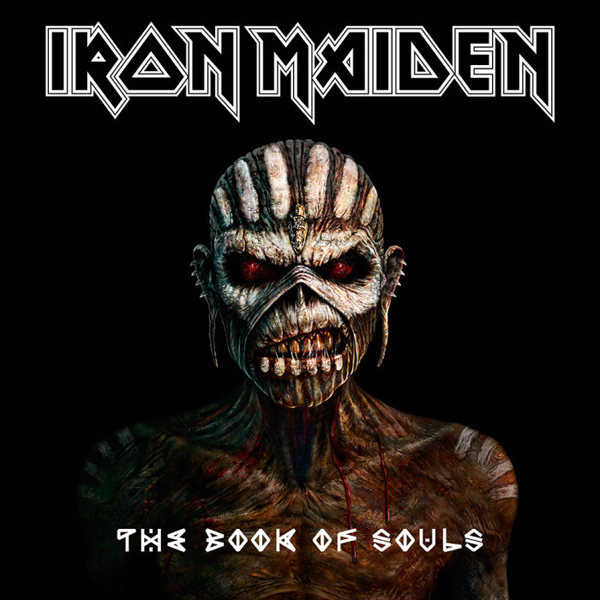 Eddie – maskotka Iron Maiden przybierała różne wcielenia jeśli chodzi o swoją budowę czy wygląd. Co ciekawe za każdym razem miało to swoje odbicie w muzyce. Można stwierdzić, że za każdym razem okładka, w tym Eddie była zobrazowaniem co nas czeka. Był Eddie polujący na ofiary przy użyciu siekiery, był też motyw piramid, czy przyszłości. Zespół zawsze próbował stworzyć odpowiedni klimat, nadać swojej muzyce pewną strukturę zostając gdzieś przy swoim stylu. Tak samo było z Eddiem. Ostatnio jego wygląd nie był zbyt ciekawy i okładki Iron Maiden nie wzbudzały już takiej euforii jak kiedyś. W sumie muzykę żelaznej dziewicy też to dopadło. Wypalenie? A może zbytnia chęć udowadnianie że panowie są w życiowej formie i mają głowy pełne pomysłów. Nie, Iron Maiden nie nagrał jeszcze słabej płyty i nawet progresywny i nieco przekombinowany "The Final Frontier" mógł się podobać. Jednak fani czuli głód i chcieli czegoś pośrodku. Z jednej strony album klasyczny i taki pełen smaczków z przeszłości. Tych charakterystycznych popisów gitarowych i klimatu z lat 80 czy 90. Z drugiej strony zachować umiejętność tworzenia świetnych kolosów przesiąkniętych progresywności. Coś nowego, coś starego, ale będące 100 % tworzywem Iron Maiden. Tego brakowało i w sumie przyszło poczekać 5 lat by się przekonać co ma jeszcze do powiedzenia największy zespół heavy metalowy.
O samym albumie i procesie tworzenia "The Final Frontier" było dość cicho. Znacznie głośniej było o walce wokalisty z ciężką chorobą jaką jest rak. Stąd też poniekąd pewne opóźnienie co do wydania następcy "The Final Frontier". Kiedy zespół ujawnił szczegóły nowej płyty to świat zamarł. 16 album w historii zespołu miał się okazać pierwszy dwu płytowym albumem, dający ponad 90 minut muzyki. Zespół poszedł krok na przód i nagrał jeszcze dłuższy materiał. Jednak pojawiły się niuanse, które dawały nadzieję, że czeka nas jednak miła niespodzianka. Po pierwsze widok starego loga, po drugie mroczna, tajemnicza okładka, z Eddie wzorowanym na starego mają, do tego sam tytuł wzbudzający nutkę nie pewności i grozy. Takie uczucie brakowało przy ostatnich płytach, a które towarzyszyło przy tych starych i dobrze nam znanych. Znów ten sam producent, choć zespół sam materiał nagrywał w studiu gdzie powstał "Brave New World". Kolejną jakże ważną rzeczą jest to, że na płycie mamy dwa kawałki skomponowane samodzielnie przez Dickinsona, a ostatni takie zjawisko miało miejsce na "Powerslave". Pierwszy z nich to otwierający "if Eternity Should Fall". Rozpoczyna się nie zwykle klimatycznie i faktycznie można odczuć klimat bijący z okładki. Można się poczuć jak w wiosce majów i ten klimat grozy. Troszkę tutaj można wyłapać progresji, która była motorem napędowym poprzedniego albumu. Sam utwór potem utrzymany jest w średnim tempie, z nieco szybszą i bardziej urozmaiconą solówką. To wszystko zbliżone jest do stylistyki ostatnich albumów, a najbliżej do "Brave New World" pod względem jakości. Refren spokojny, ale zapadający w pamięci,a najlepsze co jest w tym utworze jak i na całej płycie to niezwykle pomysłowe solówki. Pod tym względem dzieje się spory i w końcu wykorzystano potencjał trzech gitarzystów. Również w tym utworze Nicko pokazuje że też jeszcze potrafi grać bardziej różnorodnie. Nie do końca dobrze pomyślano z przetworzoną gadką pod koniec utworu. W sumie pełno tego było na dawnych płytach, więc i to można zaakceptować. Utwór progresywny, ale ma znamiona starych klasycznych kawałków. Na nowej płycie nie brakuje szybkości, nie brakuje smaczków dla starych fanów. Takim ukłonem do czasów "No prayer of Dying" czy "The Number of The Beast" jest bez wątpienia chwytliwy hit "Speed of Light". Może pierwszy raz jak usłyszałem ten singiel to czegoś mi brakowało, nie wiem w sumie czego. Teraz kiedy odpalam ten utwór, to słyszę mocny riff, zakorzeniony w latach 90 i 80, no i świetną solówkę. Sam kawałek ma jakże ciekawy i pomysłowy klip, który pokazuje że zespół wciąż ma się dobrze i chce ożywiać scenę metalową na tyle na ile jest to jeszcze możliwe. Dalej mamy kolejny utwór przy którym macał Adrian Smith. Wciąż pokazuje on swoje zapędy progresywny, lecz na nowym albumie chce też brzmieć ostrzej i bardziej klasycznie. "The Great Uknown" pod względem riffu czy konstrukcji przypomina "Brave New world" czy "A matter of life and death", Utwór z pewnością niezwykle rytmiczny i mający kopa. Troszkę zaniedbano refren, ale zostaje to nadrobione w kolejnym niezłym popisie umiejętności gitarzystów. Kolejną petardą na płycie jest 13 minutowy kolos autorstwa Steve'a Harrisa, czyli "The Red and Black". Ten pan wciąż mnie zaskakuje. Kiedy myślę że już wszystko co najlepsze już stworzył, a tu nagle wyskakuje z takim melodyjnym utworem, przepełnionym ciekawymi i złożonymi popisami gitarowymi zabierającymi nas do lat 80. Sam riff też mocno kojarzy się z wczesnym Iron Maiden. Jest też coś z ery "Fear of The Dark" czy też ostatnich płyt. Ciekawa mieszanka i jest nawet motyw wyjęty z "Heaven can;t Wait" i mam tu na myśli koncertowe "łooo". Energiczna kompozycja, która znów dodaje kopa płycie i nam. Jeszcze szybszy i bardziej klasyczny jest "When The River Runs Deep", który można wcisnąć w okres "Somewhere in Time" czy "Seventh Son of The Seventh Son". Jest to kompozycja szybka, przebojowa i mająca w sobie ducha starych klasycznych kawałków. Bruce Dickinson mimo swoich problemów zdrowotnych daje świetny popis swoich umiejętności. Ma już swoje lata, a wciąż brzmi jak za dawnych lat. To się nazywa talent. Pierwszą płytę zamyka tytułowy "The Book Of Souls" autorstwa Gersa. Dobrze, że został w zespole, bo wnosi on do każdej płyty naprawdę świetne kompozycje. To co tutaj mamy to naprawdę mroczny utwór, który zabiera nas gdzieś poniekąd do czasów "Powerslave" . Mocny riff, który konstrukcją przypomina Deep Purple czy Black Sabbath. Klasyka metalu i ciężkiego grania w prostej i pomysłowej formie. Do tego mroczny klimat, który powiązany jest z historią Majów i tego co się dzieję z duszą po śmierci. Czym wyróżnia się jeszcze utwór? Pewnym zapleczem symfonicznym i niezwykłymi solówkami, ale to w sumie nic nowego jeśli chodzi o ten album. Każdy utwór wykazuje podobne cechy. Dobra odpalamy drugą płytę a tutaj na wstępie kolejny hit i wycieczka do lat 80. "Death or Glory" to utwór w którym siły łączą Smith i Dickinson. Podobać może się tutaj energiczny riff, klimat z lat 80, przebojowy charakter, nutka zaskoczenia i kolejna porcja ciekawych solówek Adriana. Ciekawy jakby album brzmiał jakby było więcej takich treściwych kawałków? Nawiązania do klasyki i lat 80 ciąg dalszy w "Shadows of The Valley". Sam początek nawiązuje do "Wasted Years" , ale sama konwencja nieco inna. Dominuje tutaj średnie tempo, struktura nawiązująca do "Brave New World" i tutaj Gers pokazuje jak świetnie radzi sobie z melodyjnymi solówkami, które mają zapaść w pamięci. Cały kunszt i styl Ironów wybrzmiewa w tych solówkach i to jest właśnie piękne. Progresywność i era "The Final Frontier" wybrzmiewa w marszowym "Tears of Clown" który jest poświęcony Robinowi Williamsowi czy nieco balladowym "The Man of Sorrows" . Całość zamyka kolejny utwór, który samodzielnie skomponował Bruce Dickinson. "Empire of The clouds" porusza historię katastrofy sterowca rR101, który w 1930 roku pochłonął 84 istnień. Jest to kompozycja niezwykle podniosła, klimatyczna, epicka i pełna zawirowań. Niezwykłe emocje biją z tego kawałka. Dickinson gra na pianinie na wstępie i ten motyw jest po prostu piękny. Kawałek trwa 18 minut a ma się wrażenie, że jest krótszy. Dzieje się tutaj naprawdę i w sumie mamy pełno różnorodnych solówek, ale i tak najlepszy jest początkowy motyw, który buduje napięcie. Troszkę ma to filmowy wydźwięk, ale i tak nie zmienia to faktu, że kompozycja jest wyjątkowa i magiczna.
Tradycyjnie jak przy ostatniej płycie znów mamy podzielone zdania. Jedni krzyczą, że to jedna z najlepszych płyt żelaznej dziewicy, a inni, że koniec tej kapeli jest bliski. Ja bliżej jestem tej pierwszej grupy. "The Book of Souls" to z jednej nic nowego, bo w sumie pełno tutaj pewnych starych znanych nam smaczków, ale są też pewne nowe rozwiązania i próby zaskoczenia. Zespół podjął się wyzwania, żeby nagrać podwójny album i żeby nie okazał się on nudny w swojej formule. Jest klasycznie, jest mroczny klimat, nutka tajemniczości, jest przebojowość, są przede wszystkim znakomite i chwytliwe popisy gitarowe, które napędzały również klasyczne albumy. Wokalista mówi że to nie jest ostatni album żelaznej dziewicy i oby tak było, bo chce więcej takich kompozycji jak "Death or Glory", The Book of Souls" czy "Empire of The Clouds". Nie mogę się uwolnić od tej płyty, od tych dźwięków i chyba moja dusza została pochłonięta dogłębnie przez nowe dzieło Iron Maiden. I wy otwórzcie swoją duszę na "The Book Of Souls".
Ocena: 9/10