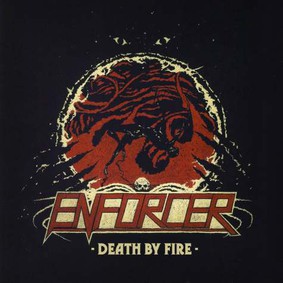 Czy żeby mówić o arcydziele, trzeba mieć do czynienia z płytą oryginalną, pozbawioną wtórności, wpływową, która wyznacza nowe trendy? Czy może jednak można nazwać arcydziełem płytę, wtórną, jednak perfekcyjną, płytę która pod względem wykonania czy też pomysłowości wyprzedza o kilka klas inne płyty w danym gatunku? W obu przypadkach można śmiało mówić o arcydziele, bo w obu przypadkach wytrzyma dana płyta próbę czasu, zostanie na dłużej w pamięci niż jeden sezon. W przypadku płyty wtórnej, która w tym roku zasługuje na to miano jest bez wątpienia ... ENFORCER. Sam jestem w szoku to co piszę, bo ta szwedzka kapela, która została założona w 2004 roku początkowo jako jedno osobowy projekt Olofa Wikstranda nie powaliła mnie wcześniej na kolana. Zarówno debiutancki album "Into The Night" jak "Diamonds" to bardzo dobre albumy, ale jednak brakowało im czynnika geniusza, argumentów przemawiających za tym, żeby nazwać je mianem arcydzieła. Choć w kapeli drzemał potencjał, to jednak nie był w pełni wykorzystany, a ja nieco ostudziłem zapał względem tej kapeli, może cierpliwość mi się skończyła, a może miałem wrażenie że dostaje to samo tylko odgrzane nieco inaczej. Jednak ciekawość w przypadku nowego albumu "Death By Fire" wzięła górę nad innymi uczuciami. Po przesłuchaniu zaś pojawiło się uczucie zaskoczenia, euforii, nie poskromionej radości i chęć zapętlenia tego albumu z kilka razy. Rzadkie uczucia, która ujawniają się tylko przy znakomitych albumach i takim z pewnością jest nowy album szwedów. W jaki sposób im się udało wywołać takie pozytywne uczucia u mnie, mimo tego że mam też swoje wymagania, oczekiwania? Jak młodej kapeli udało się nagrać taki perfekcyjny album?
Sztuka tkwi w tym jak wykorzystać oklepane motywy, jak czerpać z muzyki lat 80 tak żeby nie było mowy o totalnym kopiowaniu, a jednocześnie oddać to co najlepsze w heavy/ speed metalu z kręgu AGENT STEEL, EXCITER czy też ANVIL, by zagrać w starym stylu, a jednocześnie zaskoczyć słuchacza. ENFORCER ta sztuka wychodzi na nowym albumie naprawdę perfekcyjnie. Niby wszystko brzmi znajomo, jest sporo nawiązań do starych kapel typu IRON MAIDEN, MOTORHEAD, AGENT STEEL czy EXCITER, niby jest wtórny charakter, mało oryginalności, czy też odkrywania nowych rejonów muzycznych przez zespół, ale ENFORCER jako przedstawiciel fali młodych zespołów, które sięgają po patenty z lat 80, ma inną misją aniżeli oryginalność, a mianowicie ożywienie heavy/speed metalu znanego z lat 80, który nieco został okryty kurzem. Zespół podobnie jak STEELWING czy WHITE WIZZARD stara się przenieść słuchacza do lat 80 i zapewnić prawdziwą rozrywkę, szaleństwo do białego rana, prawdziwą ucztę muzyczną. By mówić o płycie oddającej w pełni charakter albumu z lat 80 zadbano o każdy szczegół, począwszy od klimatycznej, skromnej okładki, kończąc na mocnym, takim soczystym, zadziornym brzmieniu czy też lekkich, prostych, energicznych kompozycjach. Nie da się ukryć, że ten ostatni szczegół odegrał kluczową rolę i słychać tutaj wyraźnie starą szkołę grania heavy/speed metalu, czyli szybko i do przodu, ale z głową i sercem. Zespół w każdej kompozycji podkreśla lekkość grania, przebojowość, dynamikę, dobre wyszkolenie techniczne i to że dla nich liczy się muzyka i zaspokojenie żądz słuchaczy i fanów heavy/speed metalu. Gdyby nie duet gitarzystów Wikstrand/Tholl to nie wiem czy kompozycje były by takie perfekcyjne, czy album uzyskałby miano arcydzieła, czy kompozycje były takie znakomite? Nie ma co gdybać, tylko trzeba posłuchać i dać się rozkoszować tym szybkim, energicznym partią, które są takie szczere, lekkie, bez chrzty silenia się czy udawania, do tego finezja i szaleństwo. Dawno nie słyszałem takiej gitarowej jazdy bez trzymanki. To wszystko jednak świetnie pasuje do europejskiej sekcji rytmicznej, która przesiąknięta jest brytyjskim wydźwiękiem czy też specyficzny wokal Olofa, który przypomina mi bardziej amerykańską scenę, ale ma potencjał chłopaka i potrafi przyprawić o dreszcze zarówno śpiewając w górnych rejestrach czy też w niższych i do tego dysponuje intrygującą manierą. Brzmi to wszystko jakby faktycznie zostało żywcem wyjęte z lat 80. Nawet kompozycje brzmią jak z lat 80.
Charakterystyczne otwarcie albumu intrem w postaci "Bell Of Hades", które niczego nie zdradza i jeszcze bardziej zwiększa ciekawość słuchacza. No i oczywiste, że dalej musi być dynamicznie, jednak liczba killerów, dawka szybkości przerosła wszelkie moje oczekiwania. "Death Riders In The Night" to kawałek zagrany w starym dobrym stylu,z prostym, energicznym riffem opartej na motoryce MOTORHEAD i specyfice JUDAS PRIEST. Szybko, prosto, bez zbędnego silenia się, wydłużania utworu i bez kombinowania to dobra recepta na killera, ale tutaj wszelkie granice zostają przekroczone. Nie zapomniano tutaj o melodyjnych partiach gitarowych czy przebojowym refrenie no i szkoda że mało kto gra tak heavy/speed metal, z naciskiem na to drugie. Zespół obrał taktykę: szybko, energicznie, melodyjne, zwięźle i do przodu. Cały materiał trwa około 35 minut, więc nie ma mowy o przynudzaniu, smęceniu i nie potrzebnym wydłużeniu. Kawałki lecą z niezwykłą szybkością, a mimo to dostarczają sporo emocji. "Run For Your Life" nie ustępuje niczym poprzedniemu utworowi, a jedynie podkreśla dynamikę albumu oraz wysoki poziom muzyków. Znów ostry, prosty, energiczny motyw, ostra praca gitar, chwytliwy refren i pojedynki na solówki, sprawdzony sposób na stworzenie killera. Nie ma mowy o zwolnieniu i wciskaniu romantycznej ballady, bo "Mesmerized By Fire" to kolejny szybki, zwięzły kawałek, który również został uzbrojony w zapadający refren, czy też inne znane z wcześniejszych utworów elementy, choć tym razem można wyczuć więcej hard rocka w tym kawałku. Wykorzystywanie patentów IRON MAIDEN przyprawia mnie czasami o mdłości, ale nie w wykonaniu tego młodego zespołu i "Take me out of this Nightmare" jest właśnie utworem, gdzie dobrze zostaje wykorzystane dziedzictwo IRON MAIDEN i do tego chwytliwy refren nasuwający DOKKEN. Takie same skojarzenia mam w instrumentalnym "Crystal Suite", który brzmi jak zaginiony track albumu "Killers" IRON MAIDEN. Utwór dobrze wyważony, lekki, rytmiczny i ukazujące umiejętności muzyków. Im bliżej końca tym większe napięcie i pojawia się nieco dłuższy kawałek w postaci "Sacrificed" który jest bardziej urozmaicony, w którym sporo się dzieje i pojawia się nawet nieco kilka zwolnień. W podobnej rozbudowanej formie utrzymany jest rytmiczny "Silent Hour: the Conjugation" a całość zamyka rozpędzony "Satan", który najlepiej podsumowuje cały album.
Nie lada sztuką jest nagrać arcydzieło i to na bazie patentów oklepanych, znanych z innych zespołów, z lat 80, nie lada nagrać coś w starej konwencji na poziomie geniuszu/ arcydzieła, bo trzeba dysponować niezwykłą pomysłowością i biegłością w aranżacji. Słuchając tego albumu można stwierdzić że wygrała tutaj szczerość przekazu, chęć zadowolenia fanów i oddanie hołdu po raz kolejny dla heavy/speed metalu lat 80. ENFORCER rośnie w siłę i nagrywając takie arcydzieło umacnia tylko swoją pozycję i jest to obok SKULL FIST, STRIKER i STEELWING najlepszy band tworzący muzykę w stylu lat 80. Kandydat do płyty roku? Z pewnością tak, póki co zostaje pierwsze miejsce w podsumowaniu miesiąca stycznia. Gorąco polecam!
Ocena: 10/10