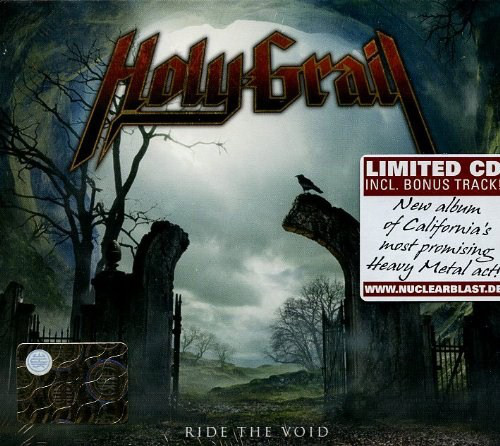 Modne się stało wykorzystywanie pewnych elementów thrash metalu w muzyce heavy czy też power metalowej. Przykładem tego zjawiska jest z pewnością ostatni album 3 INCHES OF BLOOD, czy tez recenzowanego ostatnio albumu REIGN OF FURY, a w tym rozpoczętym roku 2013 przykładem takiego miksu jest drugi album amerykańskiej formacji HOLY GRAIL, który nosi tytuł "Ride the Void". Jeśli lubi się twórczość 3 INCHES OF BLOOD, czy też WHITE WIZZARD, jeśli lubi się ostrą pracą gitar i dynamikę godną płyt thrash metalowych, jeśli ceni się lekkość, rytmiczność i melodyjność charakterystyczną dla heavy metalu, to jest to album, którego nie można pominąć rozglądając się za nowościami.
HOLY GRAIL to kapela, która została założona w 2008 roku początkowo pod nazwą SORCERER przez byłych muzyków WHITE WIZZARD, czyli wokalistę Jamesa Paul Luna, gitarzystę Jamesa J. LaRuea oraz perkusistę Tylera Meahla. Ten skład początkowo uzupełniał basista Eric Harris, jednak później jego miejsce zajął Blake Mount. W 2010 wydali debiutancki album "Criss in Utopia", a w międzyczasie z zespołu odszedł Blake, a w jego miejsce pojawił się Jessie Sanchez. W tym samym roku odszedł gitarzysta James Laruea i jego miejsce na kilka miesięcy objął Ian Scott. W roku 2011 funkcję gitarzysty na stałe objął Alex Lee z BONDED BY BLOOD, który wniósł sporo do zespołu, co zresztą słychać na drugim albumie "Ride The Void". Jest świeżość, więcej agresji, dynamiki, więcej brutalności, więcej rytmiczności i przebojowości, a całość brzmi bardziej dojrzale aniżeli debiut. Wraz z drugim gitarzystą Eli Santaną wygrywa naprawdę energiczne, zapadające w uchu solówki, żywiołowe motywy, które łącze w sobie agresję, dynamikę thrash metalową i melodyjność heavy metalową, ukazując przy tym dopracowanie na tle technicznym, nie sposób się przy tym nudzić. Pochwalić można również znakomitą pracę sekcji rytmicznej, która dostarcza sporo mocy i dynamiki owemu materiałowi, a wokalista James Paul Luna jest dobrze wyszkolony technicznie. Ma dość ciekawą manierę przypominającą wokalistę z BULLET FOR MY VALLENTINE i stara się połączyć tutaj nowoczesność z tradycją, co wychodzi bardzo dobrze. Nieco brutalniejszy w niektórych momentach wokal idealnie wpasuje się w agresywniejsze riffy. "Ride The Void" to dzieło dojrzałych muzyków, z doświadczeniem, którzy dopracowali swój album w każdej kwestii. Brzmienie jest tutaj ostre, soczyste, takie jakie być powinno, a okładka jest klimatyczna i z pewnością zachęca do sięgnięcia po album. Słabego utworu nie uświadczymy, nawet krótsze utwory jak choćby intro czy instrumentalny "
Wake Me when its over
" są warte uwagi i mają w sobie pomysłowość i solidne wykonanie. Jakie utwory dominują? Dynamiczne, gdzie słychać mieszankę starej szkoły heavy metalowej z lat 80 i thrash metalu. W takiej formie utrzymany jest szybki "
Bestia Triumphans
", melodyjny "
Dark Passenger
", energiczny "
Crosswinds
" i nie można tutaj wymienić jakiś słaby utwór. Bardziej stonowany "
Bleeding Stone
" potrafi zauroczyć ciężarem i chwytliwą linią wokalną.
"Ride The Void"
jest z koeli bardziej melodyjny, ale przez to bardziej przebojowy. W "
To Decayead To wait
" można wychwycić power metalową formułę, która dostarcza albumowi urozmaicenia. Właściwie każdy utwór to kawał porządnego heavy/thrash metalu na wysokim poziomie i każdy utwór ma w sobie cechy killera.
Nie przesadzę, jak stwierdzę że amerykański HOLY GRAIL mnie bardzo pozytywnie zaskoczył. Poprzedni album był dobry, ale mało wyrazisty jak dla mnie. "Ride the Void" z taką dynamiką, z taką zadziornością, z takim potencjałem, z taką melodyjnością i dopracowanie wyróżnia się i w tym roku może powalczyć o wysokie miejsce, może zdobyć szersze grono słuchaczy. Zasłużyli na to, bo odwalili kawał dobrej roboty, którą słychać i to wyraźnie. Gorąco polecam, niech was demolka tego miesiąca nie ominie.
Ocena:
8.5/10