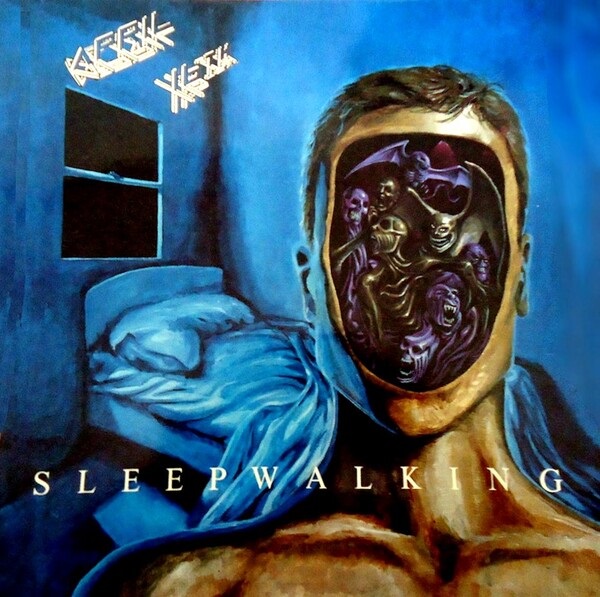 April 16 th co to za nazwa dla kapeli heavy metalowej? Dość dziwna, ale zarazem intrygująca. Tak udało mi się natknąć na zespół o nazwie April 16 th. Jest to brytyjska formacja heavy metalowa działająca w okresie 1985-1991 i choć nie był to jakiś długi okres działania, to jednak udało się wydać kapeli jeden album w postaci "Sleepwalking". Dobry tytuł albumu, ciekawa, klimatyczna okładka oraz intrygująca nazwa kapeli zachęciły mnie do sięgnięcia po to wydawnictwo.
Na samym wstępie przekonałem się, że zespół wyróżnia się na tle innych wokalistą, który śpiewa czysto i nie zadaje sobie trudu zmieniania charakteru choć na chwilę. Dave Russel swoim wokalem przypomina Joe Lynn Turnera czy Iana Gillana z Deep Purple. To akurat dobrze o nim świadczy, nawet jeśli jego wokal jest dość komercyjny jak na takie granie. Tak zespół gra heavy metal, choć nie trudno doszukać się w tym wszystkim hard rockowego feelingu. Dobitnie o tym świadczy rytmiczny "She's Mean", który brzmi jak kawałek Deep Purple z okresu "Perfect Strangers". To mało znane wydawnictwo zasługuje na większe zainteresowanie, a choćby ze względu na to co wygrywają Mills i Harris. Ci gitarzyści nie wiedzą co to nuda i monotonność, czerpią garściami z Deep Purple, Rainbow, jednocześnie nie stając się marnym klonem. Dzięki ich grze płyta jest bardzo melodyjna i zaskakująca jeśli chodzi o pomysły na utwory. Wystarczy posłuchać przeboju w postaci "Rattlesnake" żeby się przekonać o co mi chodzi. Otwieracz w postaci "Sleepwalking" raczej zwiastuje hard rockowe granie przesiąknięte Def Leppard, ale lekki "Let It Roll" pokazuje że zespół jednak chce nawiązać do melodyjnego metalu tworzonego niegdyś przez Ritchiego Blackmore'a. 7 minutowa ballada w postaci "Clapham Wood" jest po prostu piękna i właśnie tego się oczekuje od tego typu utworów. Słychać wpływy Scorpions, a przede wszystkim Nazereth. "Illusion" i "Blood Mary" przyozdobione są finezyjnymi solówkami, które zauroczą najbardziej wymagających słuchaczy.
Brytyjskie brzmienie, nawiązanie do korzeni w postaci brytyjskiego hard rocka które słychać na debiutanckim albumie April 16 Th dobrze świadczą o zespole i to przedkłada się na poziom prezentowanej muzyki. Choć zespół nie zdobył sławy ani szerszego grona fanów, to jednak płyta zasługuje na uwagę. Nie często słyszy się takie pomysłowe riffy, taki ciepły i emocjonalny wokal czy finezyjne solówki wzorowane na twórczości Ritchiego Blackmore;a. Szkoda, ze kapela się rozpadła, no ale cóż konkurencja w tamtym czasie nie spała. Gorąco polecam!