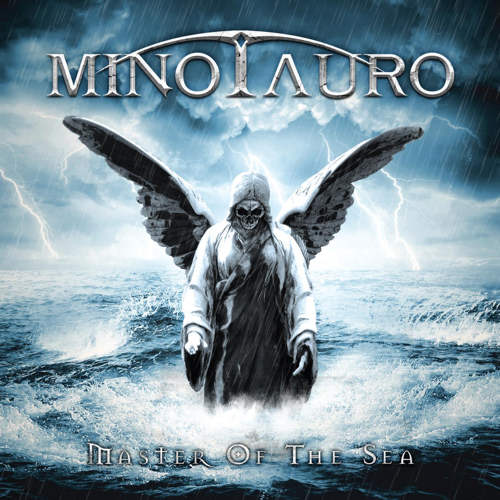 Gdy się widzi przed oczami ładną, klimatyczną okładkę i nazwę kapeli w postaci Minotauro to trudno nie zdobyć się na odwagę by przesłuchać albumu tejże formacji. "Master Of The Sea" to ich debiutancki album, który ukazał się w roku 2013. Czy szata graficzna to jedyny mocny punkt włoskiej formacji, która powstała w 2010 roku?
Co może się podobać w tym włoskim zespole, to fakt, że słychać w ich muzyce inspiracje Dragonhammer, Dionysus, Atrocity czy Angra, a to zawsze przyciąga fanów takiej muzyki. Minotauro nie utrudnia sobie życia i stawia na dość prosty, melodyjny heavy/power metal. Minusem jest tutaj komercyjny wydźwięk, brak prawdziwego metalowego kopa czy też wyrazistych kompozycji, które można by okrzyknąć przebojami. Pośród tych niedociągnięć należy wyróżnić Rudiego, który w roli wokalisty sprawdza się. Momentami śpiewa jak Andre Matos co akurat bardzo mi się podoba. Również partie gitarowe wypadają całkiem dobrze, zwłaszcza w takich szybszych utworach jak "This Is What we Need" czy "Master Of the Sea". Często jednak ta formuła jest jakby zbyt łagodna i ugrzeczniona. Taki właśnie jest otwieracz "The Idol". Co wypada dobrze na tej płycie to melodie wygrywane przez klawiszowca Alesa i słychać to choćby w takim "Hero". Kto wie może kiedyś zmieni kapelę na lepszą? Ballada "Another Day" nie porusza mnie w żaden sposób. Gdzie jest klimat, głębia w tym kawałku? Całość zamyka 7 minutowy "the Devils Sign", który też jest co najwyżej dobrym utworem. Co może przyciągnąć uwagę to fakt, że na płycie pojawiają się dwaj znakomicie goście. Tom Naumann i Goran Edman to muzycy których nie trzeba przedstawiać.
Ciekawość została zaspokojona i ostatecznie okładka to najlepszy element debiutanckiego albumu włochów. Zapewne jeszcze coś kiedyś nagrają, ale większego sukcesu im nie wróże. Płyta średnia i niezapadająca w pamięci. Można sobie odpuścić.