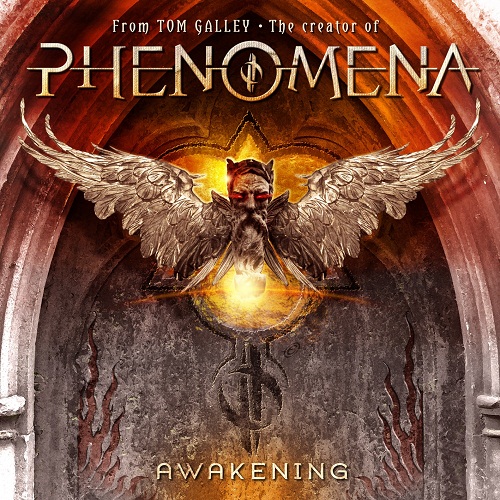 Tom Galley producent, założyciel magazynu METALHAMMER i przede wszystkim muzyk i założyciel rockowej super grupy PHENOMENA po wrócił po 2 latach przerwy z nowym albumem, a mianowicie "Awekening". Co się zmieniło? Jak ten album ma się do poprzednich? Jaką muzykę ze sobą niesie i jaki poziom przedstawia? O tym za chwile. Warto na chwilę wrócić do samego projektu PHENOMENA. Początki tego przedsięwzięcia sięgają roku 1984 i do tego czasu pojawiło się aż 7 albumów, które zawierają przede wszystkim muzyki rockowej i heavy metalowej. Jak przystało na projekt jest jeden mózg tej całej operacji i kilku gości dla ubarwienia samego przedsięwzięcia dając głównemu konstruktorowi materiału szeroki wachlarz różnorodności i możliwości związane z doborem różnych muzyków do różnych utworów. Tak różnorodność, bogactwo melodyjne, aranżacyjne i świetni goście to coś co oddaje w zupełności charakter tego projektu. To co przesądza o fenomenie tej kapeli to bez wątpienia niezwykły talent muzyków ją tworząca i każdy tutaj ma ogromny wpływ na ostateczny wydźwięk. To wszystko jest na nowym albumie z tym że "Awakening" jest albumem na pewno krążkiem już bardziej hard rockowym, rockowym, z elementami Aor, a mniej tutaj heavy metalu i taki układ bardzo mi pasuje. Zwłaszcza przez takie rozbicie gatunkowe poprzedni album jakoś mniej mnie zachwycił. Inną znaczącą różnicą która również bardziej do mnie przemówiła, to odejście od typowego koncept albumu i postawienie na luźniejsza formę, co sprawia że album jest jakby bardziej przejrzysty i bardziej przystępny dla słuchacza. Mimo braku koncept albumu można poczuć, że 10 kompozycji starannie dobranych stanowi harmonijną całość. Poza tym mam wrażenie że w końcu postawiono w tym projekcie na większą przebojowość i rytmiczność, a także bardziej atrakcyjniejsze melodie z pogranicza rocka, hard rocka czy Aor. Te cechy w połączeniu z niezwykłymi, przemyślanymi aranżacjami, wysoką formą muzyków tworzących muzykę PHENOMENY, a także z wysoką forma muzyków i dopieszczonym brzmieniem, który uwypukla te wszystkie detale sprawia że album ociera się właściwie o perfekcję.
Pod względem zawartości mamy tutaj wszystko. Ale najważniejsze są tutaj przeboje i zapadające kompozycje i te właściwie dominują na płycie. Już sam otwierający "Smash It Up" jest idealny w swojej hard rockowej konwencji. Starannie doprany wokal Lee Smalla do klimatycznego tła który zbudowany został na zadziornym riffie Magnusa Karlsonna. Jasno określona struktura przemawia od razu do słuchacza. Prosty i zapadający motyw i refren to stara i sprawdzona receptura, która i tutaj zdaje egzamin. Co jest też tutaj charakterystyczne dla tego albumu to niezwykły podkład emocjonalny i niezwykłe urozmaicenie utworów i to słychać choćby w takim bajkowym "Reality" który ma dwa oblicza. Jest momentami spokój, wręcz balladowy nastrój a czasami wręcz ostro zadziornie i ten kawałek przypomina mi komercyjną erę RAINBOW, nawet Toby Hitchock brzmi nieco jak Graham Bonnet. Również w podobnej stylizacji jest utrzymany "Homeland" gdzie jest raz szybko, raz wolno. Ciepły Aor też sprawdza się tutaj wybornie. Jeszcze prostszy się wydaję taki "Going Away" gdzie nie ma jakiś pokręconych melodii , choć tutaj można było bardziej urozmaicić ten kawałek bo brzmi to troszkę mało przekonująco. Świetna linia wokalna Jamesa Christiana i chwytliwy refren ratują w sumie kawałek. Bez wątpienia najbardziej metalową kompozycją na albumie jest "Gotta Move" który ma coś z JUDAS PRIEST ale właściwie progresywne zacięcie i nostalgiczne klawisze sprawiają że słyszę tutaj muzykę Arjena Lucasenna z STAR ONE. Podobne skojarzenia można wyłapać w mrocznym, nieco ponurym "How Long" który ma również coś z BLACK SABBATH. Świetnie przemyślany motyw, klimat i idealnie dopasowany Lee Small. Mike Di Mao jest atrakcją w ciężkim, metalowym "Shake" również w podobnej metalowej formie jest utrzymany "Fighter" i muszę przyznać, że lepiej projekt PHENOMENA się prezentuję w tych bardziej rockowych kompozycjach. Najłagodniejszą kompozycją na albumie jest "If You Believe" i wieje tutaj komercją na kilometr, zwłaszcza owe kościelne chórki mogą niektórym może przeszkodzić w odbiorze.
"Awakening" to idealny przykład jak tworzyć miłą dla ucha muzykę rockową, przepełnioną przebojami. Trzeba przyznać, że album bardzo starannie został przyrządzony zarówno pod względem technicznym, kompozytorskim , czy pod względem doboru gości. Można ponarzekać na kilka kompozycji, a że za spokojnie, że zzbyt komercyjnie, albo za mało przebojowo, jednak nie wpływa to jakoś negatywnie na całość i na moją ostateczną ocenę. Tom Galley podobno zapowiedział że to ostatni album pod tym szyldem. Jeśli tak, to jest to zakończenie historii w wielkim stylu.