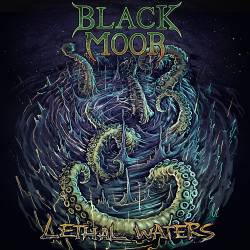 Do grona zespołów heavy metalowych, które starają się wylansować na muzyce opartej na patentach z lat 80, czy też 70 należy zaliczyć obok takiego STRIKER, ENFORCER, WHITE WIZZARD i innych tego typu zespołów również kanadyjski
BLACK MOOR
, który prezentuje muzykę metalowa z wyraźnymi inspiracjami NWOBHM, heavy metalu lat 80, czy też progresywnym rockiem lat 70. Kapela powstała w roku 2005 i ich debiutancki album "
The Conquering" ukazał się dopiero w roku 2009 co wynikało przede wszystkim z wypadku samochodowego w jakim udział wzięli w 2008 roku muzycy BLACK MOOR. Obrażenia ciała przyczyniły się do opóźnienia. Album odniósł spory sukces, zdobył nawet nagrodę w Molson Canadian Nova Scotia Music Week 2010. Po 3 latach zespół przedstawia światu swój drugi album zatytułowany "
Lethal waters"
. Nie ma się co oszukiwać ten album zawiera muzykę wtórną, muzykę wzorowaną na tym co już było kiedyś. Może nie znajdziemy tutaj jakiś świeżych pomysłów, może sam album nie podbije świata, ale jedno trzeba oddać Kanadyjczykom, a mianowicie solidność, która przesądza o tym, że dostajemy zgrabnie zagrane kompozycje, które cechują się dobrą aranżacją, atrakcyjnymi melodiami, a także pewną szczyptą przebojowości. W połączeniu z dopasowanym do stylu gry brzmieniem i nawet dobrym wyszkoleniem technicznym muzyków otrzymujemy naprawdę solidny album z muzyką metalową zabierającą słuchacza do przeszłości i ta wycieczka jest o dziwo przyjemna i nie przyprawia o bóle głowy czy inne nie przyjemne reakcje.
Słuchając owego materiału, można w łatwy sposób doszukać się inspiracji IRON MAIDEN, zwłaszcza w ramach sekcji rytmicznej czy też tworzenia melodii, co słychać wyraźnie już przy pierwszym utworze czyli
Hellraiser
" . Ale nie tylko, bo podobne skojarzenia przynosi melodyjny "
Lost In the shadows"
. Może jest to i wtórne, może takie oklepane, ale słucha się przyjemnie. Jest dynamika, chwytliwa melodia, dobrze zaaranżowane partie gitarowe duetu Jones/ Hanlin. Może w tym aspekcie brakuje piekielnego ognia, więcej szaleństwa, czy też nieco bardziej złożonych solówek, ale cóż musi wystarczyć melodyjność i swobodny wymiar ich rozegrania. Erick Hanlin pełni w kapeli również rolę wokalisty i z tym sobie radzi nieco gorzej. Nie, nie, inaczej. On ma talent i predyspozycje, ale nie do śpiewania w metalowym zespole. Brakuje zadziorności, ognia, drapieżności i czasami brzmi jak jakiś popowo rockowy młodzieniec i to słychać choćby w rytmicznym
"Thunderbird"
. Mocną stroną albumu jest to, że nie wciskano na siłę jakiś ballad czy innych udziwnień. Jest szybko i do przodu, z utrzymaniem przebojowego charakteru. Mianem przeboju można nazwać choćby szybki
"Midnight warrior
" z prostym i zapadającym w głowie refrenem, a także zadziorny i równie szybki
"Night Danger",
czy też rozpędzony "
Hatred's Maze"
. Poza szybkimi kawałkami znajdziemy tez dwa utrzymane w średnim tempie, z naciskiem na mrok i nieco cięższe motywy. Tymi kawałkami są "
Into Eternity"
i bojowy "
Leathel Waters"
.
Nowy album BLACK MOOR nie wnosi niczego nowego do gatunku, nie wyznacza nowe trendy, ale pokazuje za to, że można grać wtórnie, ale za to z pomysłem i na miarę swoich możliwości, stawiając na proste, sprawdzone motywy, na solidność i dobre aranżacje. To wszystko zaowocowało naprawdę udanym albumem, który wstydu zespołowi nie przynosi i można być spokojnym że sobie w przyszłości poradzą. Oczywiście są i wady jak choćby miałki i nijaki wokal Hanlina, ale są to szczegóły na które można nieco przymknąć oko, zwłaszcza kiedy muzyka sama się broni.