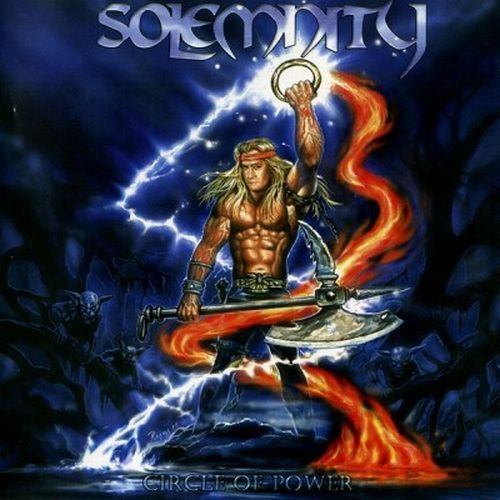 Powroty metalowych zespołów bywają groźne. Czasami pozostać nie pokonanym, zejść ze sceny kiedy już się nie ma nic do zaoferowania słuchaczom. Warto czasami powiedź sobie "dość". Jednak czasami coś muzyków zmusza do powrotu. Chęć przypomnienia o sobie słuchaczom, fanom, zarobić przy tym pieniądze i móc dalej funkcjonować zabijać przy tym nudę. Jednak nie udany powrót czasami może doprowadzić do przybrudzenia czystej czasami kartoteki. Ostatnio w takową pułapkę wpadł RUNNING WILD, a teraz wpadł kolejny niemiecki heavy metalowy zespół, a mianowicie SOLEMNITY. Jeden z tych zespołów przez niemal 14 lat trzymał jakiś poziom muzyczny. Zespół zapisał się w niemieckiej scenie heavy metalowej dość pozytywnie i nagrywał do tej pory solidne krążki, które wpisywały się poniekąd w nurt horror heavy metal jak to określa sam zespół, choć horroru zbyt wiele w tym graniu nie ma. Jest to formacja, która została zawiązana w 1998 r. i ma na swoim koncie 5 albumów, z czego ostatni ukazał się stosunkowo nie dawno i "Cicrcle Of Power" wbrew tytułowi nie ma w sobie mocy i nie można go zaliczyć do udanych powrotów kapeli, po 4 latach abstynencji albumowej. Co z tego, że kapela wzoruje się na patentach z lat 80, co z tego że nie sposób tutaj nie wytknąć wpływy takich kapel jak MANOWAR, HELLOWEEN, MANILLA ROAD, CIRITH UNGOL czy DEATH SS, skoro zespół wszystko swoje pomysły zużył na poprzednich albumach, skoro są to okruszki poprzednich albumach, marna kontynuacja, czasami wręcz odległa. Co z tego, że zespół stara się zatuszować wady, niedociągnięcia poprzez doświadczenie, staranne, soczyste brzmienie czy też umiejętności w graniu. Jednak niestety wszystko wychodzi szybko na jaw, bo kompozycje same w sobie są nijakie, przeciętnie i nudne w swoje konwencji.
Materiał jest niedopracowany i wtórny, ale w negatywnym znaczeniu tego słowa. Tutaj wadą są słabe pomysły i smętne aranżacje. Otwarcie w postaci "
Circle Of Power
" dowodzi jak nisko zespół upadł. Zawsze byli dobrymi rzemieślnikami, teraz nawet tego nie ma. Pomysł nie trafia do mnie. Aranżacja pozbawiona energii, melodyjności, kopa i atrakcyjności. Do tego dochodzi marna gra muzyków, zwłaszcza sekcji rytmicznej. Perkusista Harry Reischmann wali w gary bez przekonania, bez emocji, bez zaangażowania, niczym automat perkusyjny. Rockowe patenty wymieszone z średnim tempem i klawiszami sprawia że
"In Honour to the Beast"
jest tylko zbędną i mało wartościową kompozycją. Pierwszy przejaw dobrego grania mamy bez wątpienia wraz z wejściem
"Anubis"
które w przeciwieństwie do reszty ma nawet przyjemny dla ucha refren i jest jakaś melodia, czy też nieco szybsze tempo. Tutaj też przekonujący jest wokal Sven The Axe, który ma różne momenty na tym albumie, raz dobrze śpiewa, czysto i z energią, a czasami na odwal się. Równie dobrze wypada najkrótsza kompozycja na albumie, a mianowicie
"Return of the Hairführer"
, która utrzymana jest w konwencji power/thrash metalowej i to właśnie w takiej formie chciałbym ich usłyszeć. Krótki, zwarty kawałek, ale oddający to co najlepsze w tym zespole. Szkoda, że to jeden z nie wielu tak atrakcyjnych utworów na płycie. Poza szybki kompozycjami, mamy do czynienia również z bardziej rozwiniętymi kompozycjami, które starają się dostarczyć nieco emocji, pokazać jakiś nieco epicki charakter, lecz ani rockowy
"Tower"
będący coverem zespołu ANGEL, ani instrumentalny "
A Dragon's Tale"
nie porywają swoją formą, wykonaniem czy też pomysłem. O tym, że zespół ceni sobie klimat horroru można poczuć w ostatnich kompozycjach, zwłaszcza w takim
"Voodoo"
lecz nie jest to klimat grozy na miarę KINGA DIAMONDA, a jedynie jakieś marne próby zbudowanie groźnego klimatu na nijakich motywach, partiach gitarowych.
Zespoły z takim doświadczeniem jak SOLEMNITY nie powinny sobie pozwalać na takie nie powodzenia, na takie porażki. Gdzie zespół miał uszy, jak to tworzył, nagrywał? Nie ma tutaj nic takiego co można by pochwalić. 2 utwory to stanowczo za mało, żeby móc coś pozytywnego napisać o albumie. Zawodzi nie tylko materiał, nie tylko pomysły, ale również aranżacje. Umiejętności muzyków budzą wątpliwości,a największą bolączką albumu są pozbawione kreatywności, lekkości i melodyjności partie gitarowe Franka Pene, który tylko dobitnie uwypukla brak wizji co do stylu grania SOLEMNITY. Przyszłość jest pod znakiem zapytaniem i mam nadzieję że oszczędzą wstydu i na tym krążku poprzestaną.