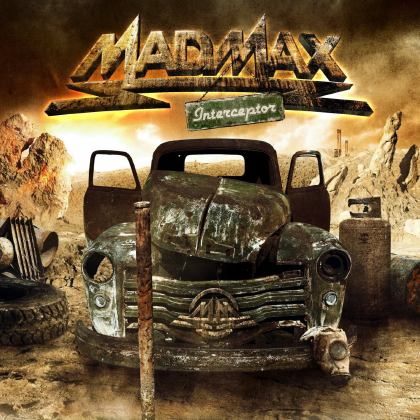 Znany w latach 80 niemiecki zespół heavy metalowy Mad Max powrócił na dobre o czym świadczy promowanie kolejnego albumu. Nowe wydawnictwo zwie się "Interceptor" i pokazuje, że kapela ma się dobrze i nie zamierza wybierać się na muzyczną emeryturę. Jednak czy nowy album jest warty tego zespołu i czy zasługuje na uwagę słuchaczy?
Już spieszę z udzieleniem odpowiedzi na te jakże ważne pytania. Przede wszystkim Mad Max ustabilizował swój skład oraz umocnił się na rynku wydając kolejne płyty po reaktywacji. Niestety żaden album już nie był tak udany jak te z lat 80. Poprzedni album "Another Night Of Passion" który ukazał się w 2012 r nie był genialny, ale był solidny i nadawał się do słuchania. Tego też się spodziewałem po "Interceptor". Niestety ale nowy album jest pełen niespójności i nie trafionych rozwiązań. Więcej hard rockowej stylistyki, mniej heavy metalowej, więcej komercyjnego i oklepanego grania, a mniej ciekawych pomysłowych kawałków i do tego niezbyt godne uwagi aranżacje. Choć muzycy grać potrafią i mają doświadczenie, to jednak w żaden sposób nie przedkłada się to na jakość muzyki zawartej na płycie. Otwieracz "Save Me" jest sygnałem ostrzegawczym, że ta płyta ma być hard rockowa. Wpływy Scorpions w "Sons Of Anarchy" nie pomagają, a szyki "Bring On The Night" też jest jakby bez mocy. Hard rock powinien być przebojowy i dynamiczny, niestety ale tutaj jedynie "Rock All your life" wpisuje się w standard takiej muzyki. Nie jest to cudo, ale pokazuje że można stworzyć dobry kawałek w takiej stylistyce.
Udało się niemieckiemu Mad Max powrócić i zebrać się aby nagrywać kolejne albumy. Wszystko pięknie, tylko muzyka straciła na jakości i nowy album jest tego najlepszym dowodem. Od takiej doświadczonej formacji wymaga się czegoś lepszego niż niskich lotów hard rock, który nie zapada w pamięci. Płytę zaliczam do tegorocznych rozczarowań.
Ocena: 3.5/10