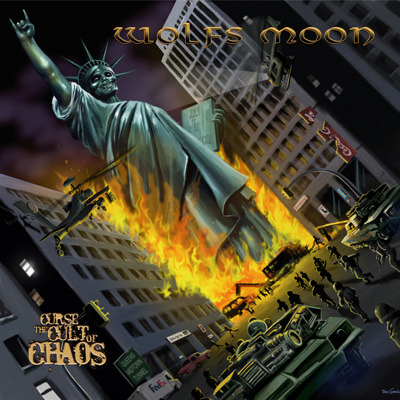 Fani niemieckiego Wolfs Moon troszkę musieli poczekać na nowy album tej formacji. W końcu po 5 latach od wydania "Unholly Darkness" zespołowi udało się nagrać i wydać swój 7 album, który został zatytułowany "Curse The Cult Of Chaos". Pewnie się zastanawiacie dlaczego tak długo? I jak ta przerwa odbiła się na Wolfs Moon?
Przyczyny takiego długiego postoju można upatrywać w problemach z składem i pojawieniem się w szeregach Wolfs Moon nowego wokalisty Roberta Rogge. Można by przypuszczać, że zmiana wpłynie na zespół pozytywnie i w końcu zespół zaskoczy nas dobry, solidnym albumem. Jednak się tak nie stało, bowiem w dalszym ciągu dostajemy toporną, nieco chaotyczną papkę heavy/power metalu z domieszką thrash metalu. Problem nie tyle tkwi w stylistyce co właśnie w samych pomysłach na kompozycje i w aranżacjach. Kompozycje bywają tutaj różne i najlepiej wypada tutaj energiczny otwieracz "Dead Eyes – Blind Justice" czy przebojowy "Omen In Nightfall". Niestety na tym się kończą dobre wieści i plusy tego wydawnictwa. Brzmienie niby solidne, ale zbyt toporne, podobnie jest z sekcją rytmiczną która brzmi nijako. Nie ma w tym ani dynamiki, ani ciężaru. Brakuje mi też emocji, pomysłowości w partiach gitarowych Gerda Simsona. Dużo tutaj mrocznego klimatu czego dowodem jest "Curse The Cult Of Chaos", który nasuwa Black Sabbath. Granie w kółko tego samego i monotonność to kolejny aspekt płyty, który działa na niekorzyść płyty. Słucha się tego ciężko i nie wiele się z tego słuchowiska wynosi.
Wciągu 5 lat można było przygotować znacznie ciekawszy materiał, można było wykreować ciekawsze melodie i stworzyć utwory o których można by dyskutować godzinami przy herbacie. Niestety Wolfs Moon nie próbuje nieco odmienić swojego losu i dalej pozostaje wierny topornemu graniu, które jest po prostu niskich lotów. Może przy następnej okazji się poprawią?
Ocena: 3.5/10