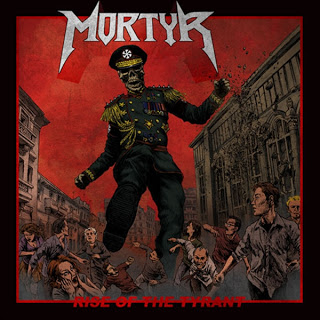 Cederick Forsberg to imponująca osoba, która dała się poznać jako dobry kompozytor i instrumentalista w heavy metalowym zespole Rocka Rollas. Ostatnio jakby tego było mało założył znakomity Blazon Stone, który przenosi nas do najlepszych lat Running Wild. Trzeba przyznać, że ma ten muzyk sporo pomysłów i wizji co do grania muzyki. Jakby tego było mało w tym roku pokazał też inne swoje oblicze. Trzecie wcielenia Ceda to thrash metalowy Mortyr, który nie tak dawno wydał debiutancki album "Rise Of The Tyrant".
Płyta jest skierowana do maniaków thrash/ speed metalu zakorzenionego w latach 80 czy też 90. Każdy kto ma słabość do wczesnego okresu Kreator, Destrcution, Death Angel, Sodom czy też Slayer to z pewnością przekona się do tego co serwuje nam Ced wraz ze swoim trzecim zespołem. Tutaj nie ma może jakiegoś oryginalnego grania, może nie ma nic świeżego, ale jeśli tak ma brzmieć współczesna wtórność to nie mam nic przeciwko. Jest dynamika, agresja, przebojowość, melodyjność i naturalny wydźwięk. Czego można chcieć więcej? Ano tak surowe, nieco przybrudzone brzmienie, który uczyni album bardziej drapieżny, czy też bardziej w klimacie starych albumów z lat 80. Oczywiście udało się takie na debiutanckim albumie wykreować, co znakomicie komponuje się z stylistyką w jakiej się obraca Ced na "Rise Of The Tyrant" oraz złowieszczym i zadziornym wokalem Janka. Wokal to jest jedna z tych rzeczy co potrafi zauroczyć. Za całą resztę odpowiada Ced i tutaj można pochylić czoło, że ktoś potrafi się zająć tyloma instrumentami i trzymając do tego jeszcze bardzo dobry poziom. Stylistycznie mamy szybki, agresywny thrash/speed metal w najlepszym wydaniu co potwierdzają takie perełki jak "Rise Of the Tyrant" , mroczniejszy "Dark Angel" czy melodyjny "Screams Of Death", które przypominają najlepsze czasy Slayer czy Kreator. Ced oczywiście nie zapomina o swoim zamiłowaniu do Running Wild i znalazło się miejsce na cover tejże grupy. "Mercilles Game" w thrash metalowej wersji brzmi znakomicie.
Tak o to mamy trzeci powód by uznać lidera tej grupy Ceda za geniusza i pomysłowego muzyka, który potrafi się odnaleźć w heavy metalowym graniu z Rocka Rollas, w speed/power metalowym z Blazon Stone i w thrash metalowym z Mortyr. "Rise Of The Tyrant" to płyta, która zapada w pamięci, potrafi przywołać wspomnienia i najlepsze czasy speed/thrash metalu pomimo że to wszystko już gdzieś było nie raz podane. Czekam na więcej takich płyt wydanych przez Ceda z Mortyr. Można brać w ciemno!
Ocena: 8.5/10