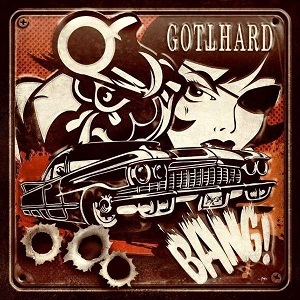 Każdy fan szwajcarskiego Gotthard przytaknie, że najlepsze lata ta kapela ma już dawno za sobą. Z jednej strony śmierć znakomitego wokalisty jakim był bez wątpienia Stevie Lee, a z drugiej wypalenie kompozytorskie, które zaczęło nękać zespół od czasu albumu "Open". Nie sądziłem, że Gotthard nagra jeszcze kiedyś coś na miarę debiutu czy "Dial Hard". Jednak nowy album zatytułowany "Bang!" to najlepsze wydawnictwo od czasów "G" i nie ma co tego ukrywać.
Pierwsze 3 albumy to istotne wydawnictwa dla Gotthard, ale też dla muzyki hard rockowej. Dzięki tym krążkom zespół zyskał sławę i spore grono fanów. Co przesądziło o sukcesie tych płyt to bez wątpienia wdanie się w starą szkołę hard rocka. Na tamtych płytach słychać wzorowanie się na takich tuzach jak Def Leppard, Deep Purple,Led Zeppelin,Aerosmith czy Whitesnake. Z biegiem czasu kapela gdzieś wolała pójść w stronę komercyjnego, może nawet nieco popowego rocka, porzucając tradycję i to co im dało siłę na początku. Nie sądziłem, że kapela powróci jeszcze do swoich korzeni, że jeszcze raz postanowi zaczerpnąć nieco z klasyki i "Bang!" jest pełen takich miłych nawiązań i brzmi niczym album stworzony na początku kariery Gotthard, może w okresie debiutu czy "Dial Hard". Choć nie ma Steviego lee, to jednak jest ten klimat z pierwszych płyt, jest powiew klasycznego wydźwięku i jest 100% hard rocka. Nic Maeder spisuje się znakomicie jako następca Steviego. Potrafi wyrazić emocje poprzez swój głos, potrafi wzruszyć i rozgrzać do czerwoności, to jest prawdziwy rockowy wokal. Jest charyzmatyczny jak Stevie lee i dopiero na tym albumie pokazał ile jest wart i że Gotthard bez niego nie byłby tym samym. Lekki, przebojowy "Feel what i Feel" pokazuje atuty wokalisty i powrót do starych dobrych rytmów Gotthard. Dlaczego pierwsze trzy albumy zdobyły takie grono fanów i dlaczego uchodzą za najlepsze? Tam też były najciekawsze póki co motywy gitarowe i nie brakowało finezyjnych popisów gitarzystów, które ocierały się o geniusz Ritchiego Blackmore'a. Na nowym albumie o dziwo też nie brakuje chwytliwych i pomysłowych motywów gitarowych. Freddy i Leo postanowili sięgnąć do klasyki hard rocka i słychać to nawiązanie do lat 80. Słychać inspirację Deep Purple i innymi wielkimi kapelami i to już w utworze "Bang!" ale to właśnie jest Gotthard taki jaki lubię. Rytmiczny, lekki, przebojowy, zadziorny i zapadający w pamięci. Prawdziwy przebój, ale na tym się nie kończy listach hitów na tej płycie. Nie brakuje nawet przyspieszania i ducha prawdziwego rock'n rolla. Znakomicie to uchwycono w "Get up 'n' move on", w którym słychać klawisze wzorowane na twórczości Deep Purple i to jest też coś czego Gotthard dawno nie zawierał w swojej muzyce. Na debiucie czy "Dial Hard" nie brakowało ciepłych i wzruszających ballad. Na "Bang" mamy "C'est la Vie", który jest jedną z piękniejszych ballad jakie słyszałem w tym roku. Jest spokojna, romantyczna i chwytliwa. Taka jest właśnie rola ballad, mają łapać za serce. Nieco Ac/Dc można wyłapać w ciężkim "Jump The Gun", który ma coś nawet z heavy metalu. Klasyczny wydźwięk ma też "Spread Your Wings", który brzmi jak kawałek zakorzeniony w latach 70, nawiązując do Deep Purple czy też Whitesnake. Voodoo Circle na swoim ostatnim albumie nie brzmiał tak przekonująco i autentycznie. Więcej jakby epickości i podniosłości można uchwycić z kolei w "I won't Look Down" i to kolejny znakomity utwór, który tylko pokazuje jaką metamorfozę przeszedł Gotthard nawet porównując względem "Firebirth", który był tylko dobry i daleki od tego co zespół grał na początku. "My Belief" to jeden z najlepszych utworów na płycie i prawdziwa petarda, która pokazuje że Gotthard wrócił na dobre do korzeni swoich i żeby tylko Voodoo Circle też zechciało na nowy albumie zawrzeć takie hity. Kolejne szybsze tempo słychać dopiero w "What You Get" i co ciekawe to kolejny hit, który można zaliczyć do grona tych najlepszych jakie zespół stworzył w swojej karierze. I tak szybko dotarliśmy do znakomitego "Mr. Ticket Man", który jest perełką. Nie chodzi już o to, że riff brzmi jak dzieło Richiego Blackmorea, ani też o chwytliwy refren, tylko o to że tak powinien brzmieć hard rockowy kawałek. Definicja hard rocka w najlepszym wydaniu. Jedyną lekką przesadą jest tutaj zamykający utwór "Thank You", który trwa 10 minut. Utwór lekki i bardziej spokojny i można było go bardziej urozmaicić i chyba jest tutaj przerost formy nad treścią.
Nie wierzyłem, że nadejdzie dzień, w którym będę jeszcze tak chwalił muzykę Gotthard, że będę tak zachwycał się nowy album jak niegdyś debiutem czy "Dial Hard". Gotthard dokonał nie możliwego i nagrał jeden ze swoich najlepszych wydawnictw. Miło jest usłyszeć, że Gotthard wraca do swoich korzeni i wzorowania się na takich tuzach jak Whitesnake czy Deep Purple. Płyta jest energiczna, przebojowa i ma sporo zwrotów akcji. Więcej takich płyt hard rockowych poproszę w najbliższym czasie.
Ocena; 8.5/10