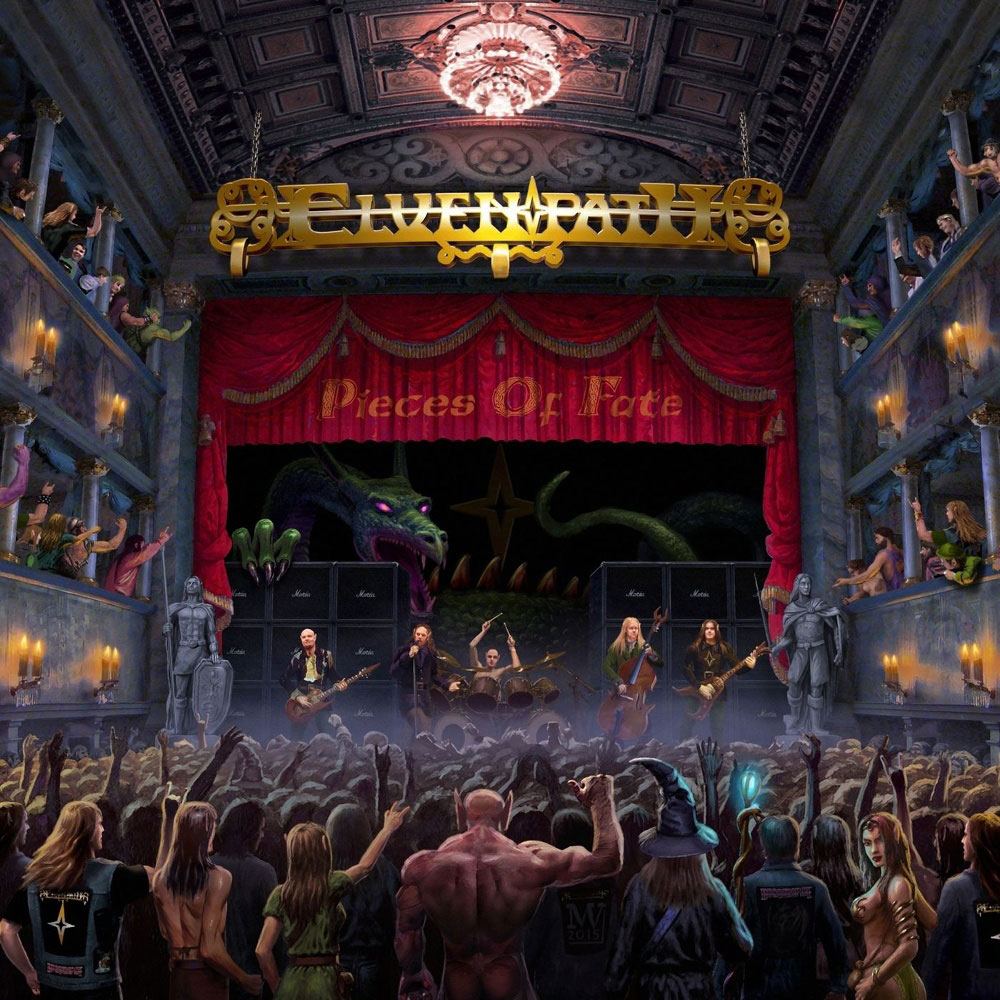 Niemiecka scena metalowa kryje wiele uzdolnionych kapel, które stać na wiele. Jedną z takich młodszych zespołów, który sukcesywnie z każdym albumem podbija serca fanów heavy/power metalu jest Elvenpath. Istnieją od 2002 r i sukces zawdzięczają dobry kompozycjom, a także temu że grają proste z serca i z pasją. Mówi się o nich, że naśladują takie kapele jak Custard, Majesty, Wizard i choć coś faktycznie w tym jest to nigdy nie popadli w kopiowanie danego zespołu. Mają swój styl, mają pomysł nagranie i radzą sobie całkiem dobrze. Najnowsze dzieło "Pieces of Fate" które zespół wydał w tym roku to bodajże najlepszy dowód na to, że Elvenpath urósł w siłę i trzeba liczyć się z nimi w heavy/power metalowym świecie.
Elvenpath to doświadczona kapela, która już wykreowała swój styl opierający się na prostych motywach gitarowych, na specyficznym wokalu Dragutina, na szczerości i pasji do heavy/power metalu z lat 80 i 90. Może nie ma w ich stylu za grosz oryginalności, ale mimo tego potrafią zauroczyć słuchacza. Ten kto zna ich poprzednie albumy nie będzie zawiedziony "Pieces of Fate", a ci którzy nie znają też mogą śmiało sięgać po to wydawnictwo. Album jest tak dobry, że może być idealnym otwarciem naszej przygody z niemieckim zespołem. Miłym dodatkiem jest pojawienie się gościnnie na płycie Uwe Lulisa czy Fanny Herbsta. To kolejny powód dla którego warto sięgnąć po nowe dzieło Niemców. Ciekawa okładka frontowa i solidne brzmienie, które eksponuje umiejętności zespołu są tutaj pewnego rodzaju podstawą i czymś co dobry zespół zawsze zapewni. Tak więc od strony wizualnej i technicznej jest tak jak być powinno. Sam materiał trwa ponad godzinę i to jest jeden z tych minusów, który można by skorygować. Album heavy/power metalowy trwający ponad godzinę może stać się monotonny i nudny na dłuższą metę. Na szczęście zespół urozmaica i bawi się motywami na ile to możliwe by nie doprowadzić do tego. Zaczyna się dość tradycyjnie bo od melodyjnego "
Mountain of Sorrows
", który zadowoli fanów klasycznych riffów i prostych melodii. Stary Helloween, Iron Maiden, Gamma Ray i co tylko chcecie to usłyszycie w tym kawałku. "
Battlefield of Heaven"
to z kolei ukłon w stronę NWOBHM i klasycznego heavy metalu. Stonowane tempo, nieco toporny riff i prosty układ kompozycji, to jest właśnie co charakteryzuje ten utwór. Coś z Metal Church można uchwycić w ostrzejszym
"Sons of the Blood Cult
" i tutaj duet Oliver/Till daje nie zły popis umiejętności. Panowie potrafią zagrać ostro, ale też zaskoczyć, jest harmonia w tym wszystkim, jakiś pomysł i technika. Dobry dowodem na to są zwłaszcza takie kolosy jak "
Testament of Tragedy"
czy "
On the Elvenpath
". Dobrze odzwierciedlają właśnie ten aspekt zespołu. Dzieje się sporo w tych kawałkach i to właśnie Till i Olivier stają na wysokości zadania, by kawałki te nas nie nudziły. Mamy też spokojny, instrumentalny "
Coming home
" i progresywny
"Sentinel of The past
"
, który jest jednym z mocniejszych momentów na płycie.
Może niemiecki band nieco przesadził z długością materiału, może nie zabrakło kilku killerów w celu podgrzania atmosfery, ale mimo pewnych błędów jest to solidny materiał. Słucha się go przyjemnie i zespół dostarcza nam sporo frajdy. Mamy przede wszystkim proste i łatwo wpadające w ucho melodie czego efektem jest solidny krążek jakim jest "Pieces Of Fate". Nic tylko odpalić i słuchać, aż się znudzi.
Ocena: 7.5/10