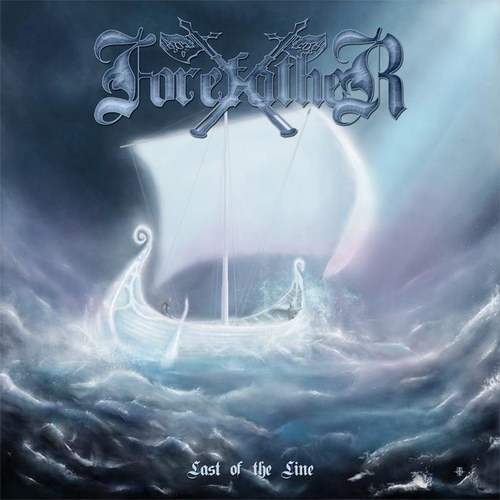 Wielka Brytanii to nie tylko NWOBHM, progresywny rock czy wielkie kapele heavy metalowe. Jak się ukazuje to właśnie stamtąd wywodzi się jedna z ciekawszych kapel reprezentujących viking/black/folk metal. Forefather to zespół, który działa od 1997 roku i do tej pory wydał 6 albumów, z czego ostatni "Last of The Line" ukazał się w 2011 roku. Była to nie lada gratka dla fanów takiej muzyki, ale co ciekawe fani heavy metalu też mogli tutaj coś znaleźć dla siebie. Zespół postawił na melodyjność i nie tylko wpływy Falkenbach czy Finntroll tutaj słychać, bowiem wiele kawałków swoją motoryką, klimatem i melodyjnością przypomina stary dobry Running Wild.
Okładka w sumie przejawia cechy viking metalu, ale są też odesłania do Running Wild. Mnie to bardzo cieszy, bo uwielbiam Running Wild i im więcej skojarzeń z tą kapelą tym lepiej. Stylistycznie Forefather mnie bardzo miło zaskoczył. Dlaczego? Bo nie dostałem oklepanego viking metalu wymieszanego black metalu. Black metal co najwyżej może się momentami przejawić w energicznej sekcji rytmicznej i w wokalu Wolfstana. Kawał dobrej roboty odwalają dwaj muzycy tj Alchastan i Wolfstan. Wszystko brzmi na wysokim poziomie. Wokal mimo brutalności, porywa klimatem i nieco folkową manierą. No i najpiękniejsze są tutaj popisy gitarowe. Wszystko przesiąknięte formułą Running Wild. Przede wszystkim słychać to w głównych motywach, riffach i solówkach. Znakomicie udało się to wpleść w motorykę viking/folk/black metalową. Tak można opisać pokrótce styl angielskiej formacji. Instrumentalny otwieracz "Cometh The King" pokazuje jaki ładunek melodyjności został zawarty na tej płycie. Szybko wkracza do akcji tytułowy "Last of The Line", który ma nie tylko cechy folk/black metalu, ale też przede wszystkim power/speed metalu rodem z Running Wild. Główny motyw gitarowy od razu nam zdradza skąd zespół czerpie inspiracje. "Chorus of Steel" to kompozycja o ostrzejszym charakterze i można nawet tutaj wyłapać cechy epickiego heavy metalu. Płyta nie jest zagrana na jedno kopyto, bo już taki "By Thy Deeds" zaskakuje średnim tempem i niezwykłą rytmicznością. Płyta też może się podobać, ze względu na folkowo/ vikingowy klimat, który nasila się się w stonowanym "Up High" czy epickim "Doomsday Dawns", który jest bardziej rozbudowanym kawałkiem. Fanom szybkiego grania spodoba się bez wątpienia energiczny "Wolves of Prayers", który ma bardziej power metalową motorykę. Trochę black metalu można wyłapać w złowieszczym "Shadows of The dead".
Forefather to doświadczony zespół, który nie ma problemu z nagrywaniem solidnych albumów. Po raz kolejny dostaliśmy dopracowany album pod względem stylistycznym, brzmieniowym jak produkcyjnym. Muzycy dają się poznać jak pomysłowi goście, którzy wiedzą jak połączyć viking/black/folk metal z melodyjnością i Running Wild. Wyszła z tego nie zła mieszanka, która zadowoli szerokie grono słuchaczy. Mimo upływu czasu, ta płyta wciąż porywa i brzmi świeżo. Polecam.