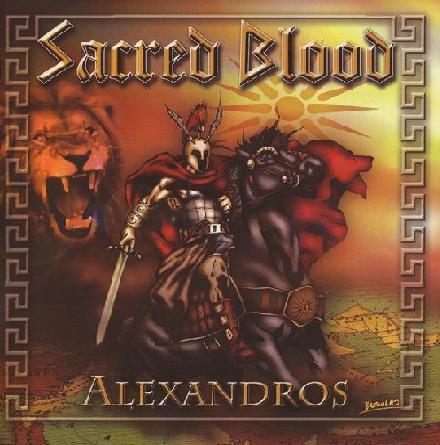 Aleksander Wielki to postać, które zapisała się w historii na długie lata i po dzień dzisiejszy historia o jego dokonaniach i podbojach inspiruje wiele muzyków. Najlepiej to widać i słychać na drugim albumie greckiej formacji Sacred Blood. Grecka formacja postanowiła na podstawie bogatej historii Aleksandra Wielkiego zbudować koncepcyjny materiał. Tak o to powstał "Aleksandros", który ukazał się w 2012 r. Dla wielu jest to jeden z mocniejszych albumów Sacred Blood. Czy faktycznie tak jest?
Nie da się ukryć, że Sacred Blood znalazł swoje miejsce na rynku heavy metalowym. Od samego początku obrali sobie za cel granie epickiego heavy metalu w rycerskiej oprawie. Szybko udało im się wykreować własny styl, w którym nie brakuje pewnych elementów progresji. W ich muzyce słychać nawiązania do Battleroar, Manowar czy Elwing. Tak jak w tamtych kapelach tak i tutaj wszystko buduje podniosły i bojowy głos wokalisty. Epeios Phoceus odnajduje się w tym co gra zespół i faktycznie można poczuć ten rycerski klimat,który zagrzewa do walki. Jeśli chodzi o sferę instrumentalną to tutaj bardziej musiał się wykazać Polydeykis. Może nie wygrywa nic nowego, może gdzieś tam inspiruje się dokonaniami Manowar czy Elwing i wcale nie kryje się z tym. Plusem jest to, że nie trzyma się jednego motywu i stara się nam pokazać różne strony Sacred Blood. Mamy motywy ostre, dynamiczne, ale też takie które łapią za serce swoim klimatem, podniosłością czy złożonością. Z pewnością nie jest to tez muzyka, która jest łatwa i szybko wpadająca w ucho. Jak przystało na koncept mamy wiele instrumentalnych przerywników, mamy spory nacisk położony na epickość, na klimat. Słychać bogate aranżacje i urozmaicenie, a czasami tego wszystkiego jest jakby za dużo. Na szczęście jest jest kilka mocnych kompozycji, które czynią ten album atrakcyjny. Mamy rozbudowany "The Bold Prince of Macedonia", które znakomicie interpretuje styl grupy i pokazuje jednocześnie co to znaczy wysokich lotów epicki heavy/power metal. Jest też niezwykle melodyjny i bardziej klasyczny "The Battle of the Granicus (Persian in Throes)", w którym można podziwiać zgrabnie zagrane melodyjne solówki. Nie brakuje marszowego tempa, toporności i pełno tego mamy w "Marching to war" czy "Macedonian Force". Jeśli chodzi o bardziej energiczne i ocierające się o power metal granie to z pewnością warto tutaj wyróżnić "Death behind The walls" czy ostrzejszy "Ride Through the Achaemenid Empire". Nie można narzekać na rutynę jeśli chodzi o materiał, szkoda tylko że nie wszystkie utwory trzymają równy wysoki poziom.
"Aleksandros" to kawał solidnego epickiego heavy metalu, który zadowoli fanów gatunku. Mamy sporo ciekawych, melodyjnych solówek, jest rycerski klimat i dbałość o urozmaicenie. Zabrakło tylko większej liczby przebojów i bardziej równego poziomu, bez wdawania się w niepotrzebne wstawki. A to już coś.
Ocena: 6/10