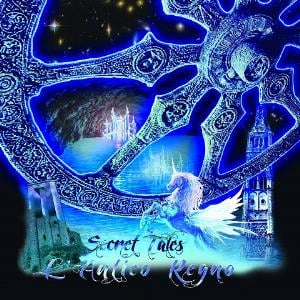 Czasami okładka frontowa płyty potrafi o wiele więcej nam powiedzieć niż nam się wydaję. W przypadku włoskiego Secret Tales i ich debiutanckiego krążka "L'Antico regno" można wiele wyczytać z okładki. Przede wszystkim fakt, że na płycie jest baśniowy, czy też klimat fantasy wymieszany z s-f. Można też wyczytać, to że okładka kryje coś tajemniczego, coś nie łatwego do pojęcia, a co najważniejsze... od razu widać z czym mamy do czynienia. Jest to płyta z kręgu gotyku, progresywnego rocka i nieco mrocznego heavy metalu.
O samym zespole warto wiedzieć to, że został założony w 2012 roku z inicjatywy Tav, Gabranella, a także Radis. Włoska wytwórnia Black Widow umożliwiła zespołowi wydanie swojego albumu, który skierowany jest do fanów takich kapel jak Goblin, Faust, czy też Pink Floyd. Jak się dobrze poszuka to znajdzie się pewne inspiracje Black Sabbath czy Deep Purple z lat 70. Kapela jest inna niż wszystkie i to z pewnością może niektórych koneserów ambitnej muzyki zaciekawić. Styl nie jest taki łatwy do zdefiniowania, bowiem są tu cechy mrocznego heavy metalu, są elementy progresywnego rocka, jest też coś z psychodelicznego rocka, czy też muzyki pokroju Black Sabbath i Pink Floyd. Zespół nie kryje też zamiłowań folkiem i gotykiem. Całość spina wokal pani Radis, który stawia na podniosłość i klimat. Coś dla fanów symfonicznego metalu czy tez typowego gotyku. Nadaje ona całości niezwykłego mrocznego klimatu i nutki nie pewności. Dobrze to współgra z partiami klawiszowymi Tava i popisami gitarowymi Gabranella, Ten ostatni naprawdę ma niezłe pomysły i potrafi zaskoczyć swoją grą. Może nie jest to nacisk na szybkość, energię, melodyjność, ale na finezję i magię, a to się ceni. Mocnym atutem jest tutaj bez wątpienia soczyste brzmienie. A jak jest z muzyką? No cóż, tutaj mamy wyzwanie, bo zespół nie chce nas zasypać prostymi pomysłami i właściwie nie uświadczymy tutaj typowych hitów, co jest pewną udręką. Jednak jak się skupimy na pomysłach, aranżacjach to wtedy jesteśmy wstanie uchwycić pewne piękno tej płyty. Już "Stargate" na samo otwarcie jest czymś wielkim i budzi respekt do zespołu. Spokojny motyw duża dawka epickości i niezwykłego baśniowego klimatu. Coś pięknego. Deep Purple wybrzmiewa bez wątpienia w finezyjnym "L antico Regno", gdzie gitarzysta pokazuje swój kunszt i talent. Fani Blackmorea nie będą zawiedzeni. Jednym z mocniejszych momentów na płycie jest "In faust o Goblin", który jest takim ukłonem chyba w stronę kapel, które ukształtowały ich styl. Na płycie jest pełno folkowych wtrąceń i dobrze to odzwierciedla spokojniejszy "Princ Elfa". Również godnym uwagi jest stonowany "Tornano Le Fate" , który zabiera nas w mroczne rejony. Po raz kolejny możemy delektować się piękną solówką rodem z twórczości Deep Purple. Reszta utworów jakoś aż tak bardzo nie porusza i nie zapada w pamięci. Płyta jak i sama muzyka jest bardzo specyficzna, ale z pewnością znajdzie swoich odbiorców.
Nie tak łatwo skatalogować Secret Tales, ale z pewnością nie jest to typowo metalowy album, nie jest to też typowy progresywny rock. Płyta bardzo specyficzna, z ciężkim, mrocznym klimatem i z wyszukanymi melodiami i ciężko strawnymi aranżacjami. Nie jest to może najlepsze co słyszałem w swoim życiu, tak samo nie można spisać ich na straty, ale jest to na pewno coś zupełnie innego niż pojawiało się dotychczas. Pozycja skierowana do poszukiwaczy dziwnych dźwięków.
Ocena: 4.5/10