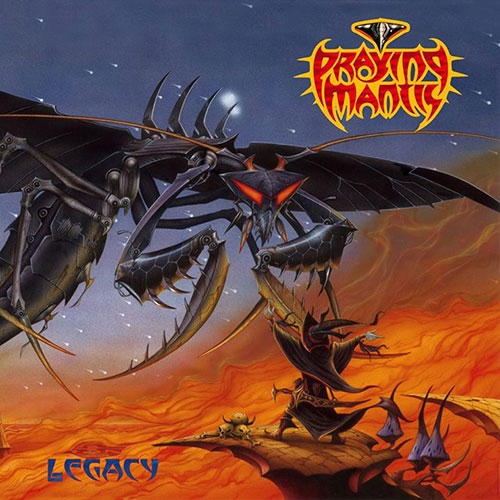 Praying Mantis to jeden z najważniejszych zespołów jeśli chodzi o brytyjską scenę metalową. Jeden z tych zespołów, który zaczynał jako przedstawiciel nurtu NWOBHM. Obecnie więcej w ich muzyce melodyjnego metalu, hard rocka czy heavy metalu. Co ciekawe zespół mimo niezbyt dużej aktywności przetrwał lata i do dziś istnieją i mają się całkiem dobrze. Mija 6 lat od wydania "Sanctuary", a Praying Mantis w odświeżonym składzie podbija świat nowym albumem "Legacy". Dawno ten zespół nie nagrał tak udanego i przemyślanego albumu.
To już 10 album studyjny Brytyjczyków i trzeba przyznać, że brzmi świeżo. Może brzmi nieco jak ostatnie albumy Magnum, ale ma to swój urok. Przez 6 lat może się wiele zmienić i czasami taka przerwa dobrze robi zespołowi. W szeregach pojawił się wokalista Jaycee Cuijpers i perkusista Hans in't Zandt, którzy sprawili że Praying Mantis brzmi świeżo. Jest klasyczne brzmienie, podejście do kompozytorstwa, aranżacji, a całość brzmi po prostu świetnie. Każdy utwór to niezapomniana wycieczka w rejony melodyjnego heavy metalu czy hard rocka, z nutką progresywności. Świetne partie wokalne Jaycee to prawdziwy atut nowej płyty i właściwie na każdym kroku imponuje mi ten muzyk. Wkłada sporo serca w to co robi. Gitarzyści Tino i Andy też jakby bardziej przemyśleli kilka kwestii i ich partie, popisy są też na wyższym poziomie. Więcej tutaj rytmiczności, pasji i miłości do muzyki. Jest lekkość, finezja i niezwykły klimat. Oczywiście wszystko utrzymane w klimacie lat 80. Zaczyna się od przebojowego "Fight For Your Honour" który ma coś z Rainbow, Stargazery, czy stare Pretty Maids. Piękna kompozycja, przyozdobiona syntezatorami, co nadaje jeszcze więcej przestrzeni. Dawno ten zespół nie nagrał tak udanego przeboju i to już pozytywnie nastraja. "The One" już bardziej spokojniejszy i bardziej utrzymane w stylizacji AOR. Jednak wciąż jest magia, niezwykły baśniowy klimat. Emocje biorą górę tutaj. Zespół bardzo dobrze miesza starą szkołę hard rocka z melodyjnym metal i dobrze to wybrzmiewa w "Believable", który wyróżnia się nieco mocniejszym riffem i lekkim refrenem. Piękne melodie to jest coś co wyróżnia ten album, a jest ich tutaj naprawdę pełno. Wystarczy wsłuchać się w spokojniejszy "Tokyo" by właśnie w pełni to pojąć. Marszowy "Better Man" to kolejny mocny punkt tego wydawnictwa. Nieco progresywny "Eyes of Child" to kolejny uroczy kawałek. To kolejny dobry przykład, że płyta jest urozmaicona i pełna smaczków. Im bliżej końca tym robi się w sumie jeszcze ciekawej. Przede wszystkim więcej metalu, więcej harmonijnych solówek i chwytliwych melodii. Nowy wokalista naprawdę świetnie wpasował się w styl Praying Mantis i jego popisy są godne uwagi, zwłaszcza w takim "The Runner". Jeśli miałbym wskazać najlepsze kawałki na płycie to wybrałbym te dwie ostatnie kompozycje, które wyróżniają się prze piękną współpracą gitarzystów, niezwykłą harmonią i przebojowością. "Fallen Angel" w lżejszej formie i niezwykle melodyjny "Second Time Around", który definiuje idealnie melodyjny metal.
W siłę Praying Mantis nigdy nie wątpiłem, ale nie sądziłem że stać ich jeszcze na taki zryw i nagranie naprawdę świetnego albumu. "Legacy" to świetna wycieczka do lat 80 do świata hard rocka i melodyjnego metalu. Toi klasyczne brzmienie, niezwykłe popisy doświadczonych gitarzystów i duża dawka emocji. Nowi muzycy sprawili, że Praying Mantis ożył i jest silny jak nigdy przedtem. Gorąco polecam. Klasa sama w sobie.
Ocena: 9/10