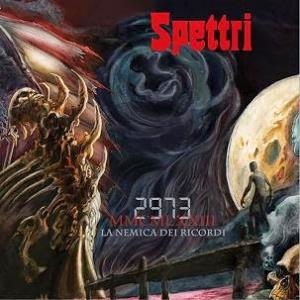 Niektóre historie zespołów potrafią zszokować i dla wielu z nas są szufladkowane w kategorii "nie do wiary". Jednak są takie historie, które budzą podziw i jedną z takich jest historia włoskiego Spettri. Ta mało znana kapela zrodziła się w 1964 roku, a ich pierwszy album został zarejestrowany w 1972 roku. Pech chciał, że nigdy nie udało im się wydać tego dzieła, aż do roku 2011 kiedy to marzenie spełniła wytwórnia Black Widow. Debiut to był koncepcyjny album który opowiadał o człowieku, który wyrusza w podróż w poszukiwaniu alternatywy na przemoc i szuka jej w zaświatach. Teraz mamy rok 2015, a Spettri wydaję kolejny album zatytułowany "2973 la nemica dei ricordi". Tak więc mamy kontynuację debiutu i dalszy ciąg tej niezwykłej podróży w nieznane rejony.
Spettri to kapela, która gra mroczny progresywny rock i nie kryje swoich zamiłowań Black Sabbath, King Crimson czy Deep Purple. Niezwykle imponująca jest współpraca gitarzysty Raffaela i klawiszowca Stefaniego Maleni. Oboje się uzupełniają i tworzą prawdziwy futurystyczny klimat, który wprawia w osłupienie bo mamy z czymś nieznanym i obcym. Brzmi to wyjątkowo dobrze, jeśli skupimy się na klasycznym brzmieniu wzorowanym na latach 60 czy 70. Ten duch tutaj jest i faktycznie słychać, że zespół zaczynał w tamtych latach. Raffael stawia na finezję, lekkość i wybiera naprawdę pokręcone i złożone motywy. Momentami jest to ciężko strawne, ale bez wątpienia jest to bardziej intrygujące i wciągające na swój sposób. Wokalista Ugo może nie jest najmocniejszym punktem tej płyty, ale pasuje do tła i ma coś z hard rockowej maniery. Nie jest to Demons Eye czy The Vintage Caravan, bo Spettri brzmi bardziej specyficzniej i jest to bardziej wymagająca muzyka. Na samym wstępie mamy mroczny i ponury "Il lamento dei gabbiani", który wprowadza nas w niezwykle mroczny klimat. Słychać że zespół nie idzie na łatwiznę i to wszystko musi robić wrażenie i zainteresować słuchacza. To z pewnością się udaje. "La nave" to z kolei kompozycja bardziej magiczna, bardziej baśniowa i taka lekka w przekazie. Tutaj mamy o wiele ciekawsze partie gitarowe i dzieję się o wiele więcej przez te 7 minut. Bardzo podoba mi się o wiele żywszy i radośniejszy "La profezia" czy pokręcony "La nemica Dei Ricordi", które przypominają stare dobre czasy Deep Purple i nawet Raffael nie kryje swoich inspiracji Ritchie Blackmorem. Troszkę odstaję tutaj akustyczny "Il Defino Bianco" który nic nie wnosi do całości. Do grona ciekawych kawałków z pewnością trzeba też zaliczyć energiczny "La stiva".
Nie jest to może łatwa muzyka, może też drażnić co niektórych rodzimy język muzyków, a także brak typowych hitów. Jednak ta płyta ma w sobie coś intrygującego, coś co budzi nie pokój i zaprasza nas do ponownego zwiedzania po jakimś czasie. Coś dla smakoszy lat 70, dla fanów progresywnego rocka czy też bardziej futurystycznej muzyki rockowej. Warto poszukać i zapoznać się z włoskim Spettri i ich nowym albumem czyli "2973".
Ocena: 7/10