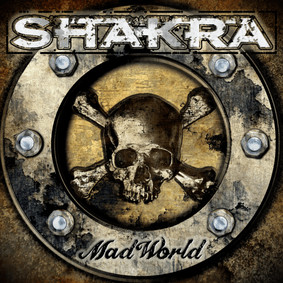 To już 25 lat istnienia szwajcarskiej formacji Shakra. Band postanowił uczcić to święto nowym albumem i "Mad world" to kolejny mocny krążek w ich dyskografii. Lata lecą a Shakra to wciąż hard rock na wysokim poziomie i mało kto tak długo trzyma wysoki poziom. Band potrafi brzmieć współcześnie, a przy tym jest wierny klasycznym patentom. Płyta skierowana do maniaków Ac/Dc, Krokus czy Gotthard.
Ta płyta to kwintesencja stylu jaki wypracował Shakra przez lata i to jest hard rock jaki słucha się z przyjemnością. Mocny riff, soczyste brzmienie, klimat lat 80 i duża dawka przebojowości, to jest znak rozpoznawczy tej kapeli. Nie byli by sobą gdyby nie charyzmatyczny wokalista Mark Fox. Jego wokal przyprawia o dreszcze i od razu wiadomo co to jest hard rock z prawdziwego zdarzenia. Na nowej płycie Thomas i Thom dają upust swoim fantazją i w efekcie dostajemy dużo mocnych, wyrazistych riffów. Każdy z nich buja i dostarcza sporo frajdy. Zabawa jest przednia, a band gra z polotem i świeżością. Wszystko działa jak w szwajcarskim zegarku.
"Mad World" składa się z 12 kawałków i każdy z nich to rasowy hit. Zaczynamy od energicznego
"Fireline
", który porywa swoją mocą i hard rockowym szaleństwem. Płytę promował heavy metalowy "
Too much is not enough
" i tutaj można wyłapać ducha Ac/Dc. Co za hit, co za przebój i to jest Shakra jaki kocham. Czasami wystarczy prosty motyw gitarowy i nutka melodyjności, a w efekcie możemy dostać znakomity killer. Tak właśnie jest z przebojowym "
Mad World".
Elementy Ac/Dc można uchwycić w komercyjnym i rockowym "
When he comes around
". Stonowany i nieco marszowy "
I still rock
" to świetny kawałek, który sprawdzi się na koncertach. Dalej mamy lekki i przyjemny "
Fake news
" czy melodyjny
"Sons of fire
". Całość zamyka klimatyczna ballada
"New Tommorow"
.
"Mad world" to bardzo dobry album hard rockowy, ale tutaj nie ma niespodzianki, bowiem Shakra przyzwyczaił nas do takiego poziomu. Nie ma słabych kawałków, a każdy to rasowy killer. To trzeba znać!
Ocena:
8.5/10