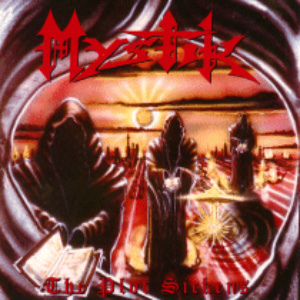 W latach 90 pewna kapela amerykańska wydała dwa albumy z kręgu power/thrash metal i potem się rozpadła i choć nie działa zbyt długo, choć trzymała wysoki poziom, to nie należało do grona znanych i w sumie dalej mało kto słyszał o tej kapeli. O jakim zespole mowa? Dlaczego warto nadrobić zaległości, jeśli się ich nie zna?
Mowa o amerykańskim MYSTIK, który został założony w 1988 r i zespół dorobił się dwóch albumów, z czego pierwszym zniszczeniem muzycznym był debiutancki album z 1992 r czyli "The Plot Slickens". To właśnie na tym albumie zespół ukształtował swój styl,który można określić jako miks power i thrash metalu, a który opiera się na wokalu Patricka Hughesa, który stylem śpiewania, techniką, czy manierą przypomina wokal Belladony z ANTHRAX, a także na szybkich, ostrych, energicznych i bez kompromisowych partiach gitarowych Roya Gorstenberga, który na debiutanckim albumie nie żałuje dynamicznych, zadziornych motywów, riffów i atrakcyjnych melodii, które sprawiają że krążka słucha się z wielkim zafascynowaniem, a przy tym nieźle się bawiąc. No jak tu nie kiwać głowa, nie ruszać nogą, kiedy każdy utwór kipi energią, kiedy każdy utwór to prawdziwa petarda?
Niby debiutancki album, a jednak nie daje po sobie tego poznać, co widać po znakomitej okładce, która potrafi zauroczyć potencjalnego nabywcę, co słychać po dobrym, takim thrash metalowym brzmieniu. Również kompozycje są zagrane wysokim poziomie, z przemyślaną aranżacja i właściwie każdy utwór dostarcza sporo emocji. Czy to rozpędzony "Reflection Of Dying", czy rytmiczny "Psychosis" wypadają znakomicie, choć może brakować nieco przebojowości. Melodyjność i lekkie urozmaicenie, zwolnienie dają o sobie znać w "Commandment". Poza rasowymi petardami mamy tez nieco dłuższe kompozycje jak "The Plot Sickens" czy "Method To Madness" które pokazują, że zespół nie ma większych problemów z stworzeniem rozbudowanej kompozycji, gdzie można posłuchać też w większej ilości popisów muzyków, co należy uznać za plus. Nie ma tutaj wypełniaczy i każdy utwór potrafi zauroczyć swoją dynamiką, agresją, melodyjnością.
Na próżno szukać jakiś większych wad, bo takowych nie ma. Można by wytknąć nieco oklepaną formułę, czy barak przebojowości w znacznie większej ilości, jednak te problemy są niczym w porównaniu z umiejętnościami muzyków, z materiałem, który sprawia, że album jest bardzo energiczny i godny uwagi. Mimo, upłynęło kilkanaście lat od premiery wydawnictwa, choć zespół nie zdobył sławy i się rozpadł, to jednak zasługuje na uwagę, bo takie płyty z taką muzyką, na takim poziomie to prawdziwy skarb.