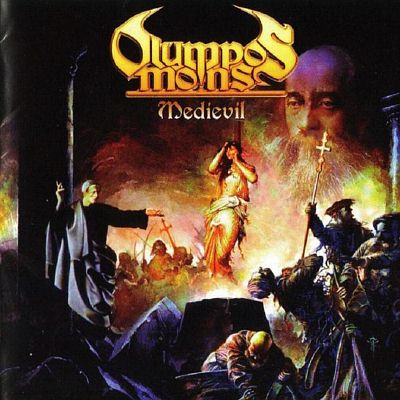 Jednym z tych zespołów power metalowych, który na długo nie zagościł na rynku muzycznym, a mimo to wpisał się do listy tych zespołów z górnej półki jest fiński OLYMPOS MONS. Zespół, który potrafił stworzyć ciekawe melodie, nawiązując do klasyki typu HELLOWEEN – Keeper Of The seven Keys czy GAMMA RAY – Land Of The Free, a jednocześnie wymieszać power metal radosny i energiczny, prosty i melodyjny, z epickim charakterem i podniosłością, z mrocznym klimatem, które wypełniały teksty dotyczące historii czy mitologii.
Fiński band, który został założony w 2002 roku z inicjatywy gitarzysty Jari Sundströma i wokalisty Ian E. Highhill. Ich celem było połączenie melodyjności, połączenia kilka patentów nasuwających symphonic metal, epic metal czy w końcu progresywny, a wszystko zdominowane przez energiczny, dynamiczny power metal. To wszystko można usłyszeć zarówno na debiutanckim albumie jak i na drugim krążku o tytule "Medievil" który ukazał się w roku 2007. Na drugim wydawnictwie pojawia się nowy basista, a mianowicie Krister Lundell jednak nie zmienia to drastycznie stylu formacji. "Medievil" to dzieło skończone, to wydawnictwo o którym można dyskutować przy herbacie, dzieło którym można się zachwycać mimo upływu 5 lat, to album który wciąż brzmi świeżo, który wciąż porywa i zaskakuje. Fiński zespół nie odkrywa ameryki i nie robi niczego nowego, jednak potrafił mimo owej wtórności wykreować swój własny styl, ukształtować ciekawe, melodyjne, energiczne kompozycje, które przesiąknięte są epickim charakterem. Tak też zespół się prezentował na swoich dwóch albumach, a "Medievil" to ich ostatni krążek i ostatni przejaw działalności. Szkoda, bo zespół znakomicie radził sobie z kompozytorstwem, z stworzeniem energicznego, zróżnicowanego, melodyjnego, a przede wszystkim równego materiału, który brzmiał atrakcyjnie w dużej mierze dzięki wyczynom muzyków. Ian to wokalista, który nasuwa takie nazwiska jak Kotipelto czy Kiske. To wokalista, który śpiewa czysto, podniośle, ukazując na każdym kroku swój warsztat techniczny i emocje jakie niesie śpiewając. Również rozpędzona i dynamiczna sekcja rytmiczna napawa optymizmem, ale i tak to wszystko jest niczym w porównaniu z ostrymi, zadziornymi, szybkimi riffami Jariego, który stawia na szybkość, melodyjność i energiczność, które dostarcza słuchaczowi pewnych emocji. Świetnie on współpracuje z klawiszowcem Villi Oillia, który jest muzykiem tylko sesyjnym. Oboje muzycy tworzą ciekawą wieź, uzupełniają się, tworzą klimat, przestrzeń i taką lekkość, a przez co melodyjność jest przeniesiona na jeszcze wyższy wymiar.
Dopracowanie daje o sobie znać na każdym kroku. Piękna, taka typowa dla gatunku okładka autorstwa Jean Pascal Fournier czy mocne, soczyste brzmienie, to tylko część tego. Słuchając materiału można tylko się utwierdzić w tym przekonaniu, że nie ma mowy o wpadce i kiepskim, nudnym i męczącym power metalu. Każda z 10 zawartych kompozycji to rasowy przebój co słychać po otwierającym "One Word" który przypomina HELLOWEEN - "Keeper Of The Seven Keys" czy GAMMA RAY - "Land Of The Free" i to wymieszanie z epickim charakterem i klawiszami jest bardzo ciekawym rozwiązaniem, który sprawia, że kapela wpisuje się do czołówki gatunku. Podobna konwencja przewija się w zadziornym "Frozen", w bojowym "The Emperors Return" gdzie daje się wyłapać nieco epickiego heavy metalu, czy w melodyjnym "The Price" odzwierciedlający to co najlepsze w gatunki, czyli melodyjny motyw, zadziorna sekcja rytmiczna, czy przebojowy refren. Mrok i ciężar to cechy "Wolves" zaś spokój i romantyczny wydźwięk to cechy ballady "Fire And Ice". Oprócz szybkich petard typu "Kingdom Of Winter" na albumie pojawia się epicki kawałek w postaci "Locked In Chains".
"Medievil" to przykład jak grać power metal na wysokim poziomie, to przykład że można stworzyć własny styl mimo zapożyczenia kilku sprawdzonych patentów, to przykład że można nagrać wyśmienity album na patentach odkrytych kilka lat wcześniej. Szkoda, że zespół się rozpadł niedługo po wydaniu, bo drzemał w nich ogromny potencjał. Pozycja obowiązkowa dla prawdziwych fanów power metalu.