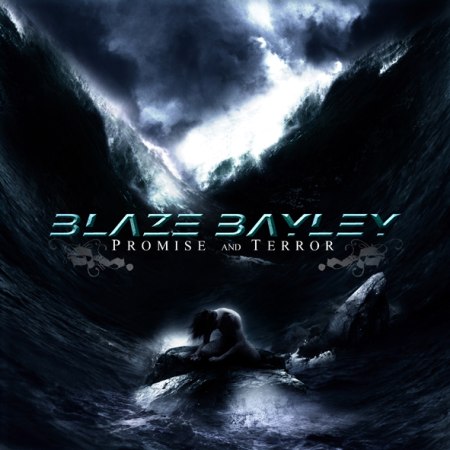 Wielka tragedia potrafi być dla artysty furtką do innego wymiaru, może być źródłem nowych pomysłów. Dla jednych tragedia może być tak dobijająca, że artysta pogrąża się w smutku, albo może być narzędziem, które pchnie artystę do wyrażenia tego wszystkiego w swojej sztuce. Jeden z najbardziej znanych wokalistów metalowych Blaze Bayley po śmierci swojej żony postanowił dać upust swoim emocjom na płycie. Pamiętne czasy "The X Factor" ponownie powróciły na "Promise and terror", który się ukazał w 2010 roku.
Płyta ta ma wiele wspólnego z wspomnianym albumem Iron Maiden. Podobny ładunek emocjonalny lidera grupy, duża dawka melancholii, mroku, smutku i takiej niepewności.
Potwierdzeniem tego stanu rzeczy jest również mroczna okładka, soczyste, ale tez nieco przybrudzone brzmienie czy też w końcu sam wydźwięk materiału. Mimo nieco innej formuły jest to dalej heavy metal do jakiego nas przyzwyczaił Blaze'a Bayley. Duża dawka ciekawych melodii, chwytliwych refrenów czy ostrych popisów gitarowych. Ten album jest udaną kontynuacją "The Man who would not Die" i wynika z tego że udało się zachować stabilny skład zespołu, wspólne granie i pracowanie nad kompozycjami. Płyta została skonstruowana z podobnych elementów, a mianowicie charakterystycznego mrocznego wokalu Blaze'a, dynamicznej sekcji rytmicznej oraz popisów gitarowych Wlsha i Bermundeza. Ten duet naprawdę się sprawdza i płyta jest pełna różnych urozmaiceń i atrakcyjnych solówek. Można zapomnieć o nudnych i oklepanych melodiach, tutaj stawia się na pomysłowość, melodyjność i przebojowość, choć ta w nieco mniejszej ilości niż na poprzednim albumie. W zamian mamy bardziej rozbudowane, przekombinowane kawałki, w których pojawia się jakby więcej smaczków. Gdzie to można uchwycić?
W mrocznym "Comfortable in Darkness" , stonowanego "Letting Go Of The World" czy "City Of Bones".
Nie brakuje szybkich I charakterystycznych kawałków dla tego wokalisty,w
którym jest duch Iron Maiden. Najlepiej ten styl oddaje energiczny
"Watching The Night Sky"
, dziki "
Madness And Sorrow
" czy marszowy
"1633"
z wejściem basu godnym Iron Maiden. Płyta urozmaicona co dodaje tylko jeszcze większego uroku.
O tej płycie można napisać wiele, ale na pewno nie będzie to jakieś złe słowo. Pomimo smętnego, ponurego klimatu, nieco przekombinowanego stylu płyta się broni. Broni się za sprawą ciekawych pomysłów, klimatu, aranżacji i samych muzyków. Ten skałd który pracował przy tej płycie jak i poprzedniej to najlepszy zespół z jakim pracował Blaze i szkoda że ten etap został zamknięty. Nowi ludzie z Blaze na czele nie potrafią oddać tego charakteru z tej płyty. Szkoda, bo Blaze pokazał za sprawą tych albumów jak znaczący jest jego zespół. "Promise And Terror" to pozycja obowiązkowa dla maniaków heavy metalu i talentu Blaze'a Bayley bo to w końcu jeden z jego najlepszych albumów.
Ocena: 7.5/10
P.s Recenzja przeznaczona dla magazynu HMP