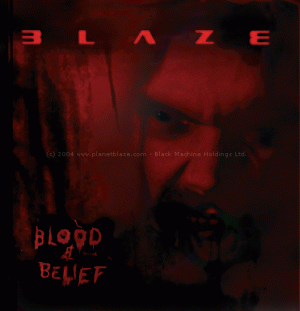 Ktoś powie, że Blaze Bayley miał lekko bo nagrał albumy z Iron Maiden, bo był już znany w metalowym świecie, bo jego kapela Blaze sobie dobrze radziło i też znalazła swoje miejsce na rynku. Lecz mało kto wie, że Blaze zawdzięcza swój sukces upartości, pracowitości i trwania przy swoim. Wielu muzyków poddaje się w ciężkich chwilach, ulega nałogom i popada w problemy, ale nie Blaze, który jest prawdziwym wojownikiem. Sukces dwóch pierwszych płyt sygnowanych nazwą Blaze mogły dawać nadzieję na łatwą przyszłość, jednakże nie było to dane. Trzecia płyta zatytułowana "Blood & Belief" powstawała w bólu i cierpieniu. Jednak o dziwo wiele tych negatywnych i przykrych czynników sprawiły że powstał jeden z mocniejszych albumów jakie nagrał Blaze Bayley.
Nie jeden muzyk załamałby się i poddałby się na miejscu Blaze w tamtym czasie. Problemy z utrzymaniem się, pracowanie w fabryce by mieć za co żyć, problemy z alkoholem, odejście z zespołu Naylora i Singera, problemy z wydawcą i wreszcie rozstanie się z kobietą. O dziwo te wszystkie problemy spowodowały że Blaze dał upust swoim uczuciom w muzyce. Dostaliśmy tym razem równie mroczny, drapieżny, agresywny materiał heavy metalowy, który stylistycznie nie odbiega od tego co mogliśmy usłyszeć na dwóch poprzednich płytach. Różnica polega na tym, że "Blood & Belief" jest bardziej melodyjny, bardziej dojrzały, bardziej dopracowany od strony aranżacyjnej. Mięsiste, soczyste, ocierające się o nowoczesność brzmienie, ale nie to jest tutaj najważniejsze. Przede wszystkim kompozycje jakie znalazły się na tej płycie potwierdzają, że jest to jeden z najlepszych albumów Blaze, który jest mieszanką thrash metalowych patentów i tych bardziej heavy metalowych. Blazowi udało się znakomicie znaleźć złoty środek między agresją, drapieżnością a melodyjnością. Styl to jedno, poziom to kolejna rzecz, ale nie było by mowy o znakomitym albumie gdyby nie znakomita forma Blaze, który wspina się tutaj na wyżyny swoich umiejętności, przenosząc emocje. Nie każdemu się ta sztuka udaje co słychać w takim rozbudowanym "Blood & Belief" czy ponurym, wręcz doom metalowym "Tearing Yourself To Pieces".Największymi przebojami z tej płyty jest ciężki "Alive" oraz melodyjny "Ten Seconds", w którym nie brakuje echa Iron Maiden. Balladowe zwolnienia w "Life and Death" też brzmią imponująco podobnie jak nowoczesny wydźwięk "Hollow Head". Ta płyta jest pełna dobrych i godnych uwagi melodii, popisów gitarowych duetu Slater/Wray, którzy dwoją się i troją, żeby działo się sporo podczas kompozycji. To właśnie dzięki nim takie kompozycje jak "Will To Win" czy "Soundtrack Of My Life" brzmią jak rasowe przeboje o których nie tak łatwo zapomnieć.
Prywatne życie Blaze nie było usłane różami, ale to właśnie życiowe doświadczenie, rozdarcie i emocje, które nim targały sprawiły, że wylał on to wszystko w kompozycjach. Wyraził siebie, to co czuje, ten gniew i frustracje w utworach na "Blood & Belief", który jest jednym z największych osiągnięć Blaze'a. Niestety ten album okazał się ostatnim sygnowanym nazwą Blaze. Znów dochodzi do zawirowań w życiu muzyka. Jednak "Blood & Belief" wciąż mimo upływu czasu jest znakomitym, rasowym heavy metalowym albumem. Ten krążek trzeba mieć w swojej kolekcji.
Ocena: 8.5/10
P.s Recenzja przeznaczona dla magazynu HMP