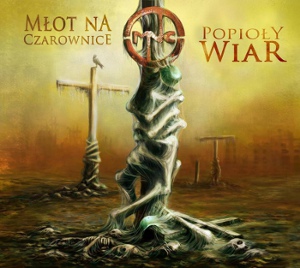 Czas poczuć prawdziwe uderzenie młota, młota na czarownice.
Młot ten został wykuty w miejscowości Pionek. Jego przeznaczeniem jest
niszczenie obiektów i przekonywanie niedowiarków, że heavy metal w naszym kraju ma się bardzo dobrze.
Kapela gra od roku 1999 i właściwie teraz po tylu latach udało im się wydać swój debiutancki album "Popioły Wiar".
Ich celem jest tworzyć muzykę będącą mieszanką hard rocka i heavy metalu lat 80.
To właśnie znajdziemy na pierwszym albumie grupy z Pionków.
Trzeba przyznać, że styl grupy jest prosty i budowany jest w oparciu o ostre riffy, mocną sekcją rytmiczną, a także na wyrazistym wokalu
Dawida Siweckiego. Same utwory poruszają kwestię dualizmu i naszego związku z siłami natury, a także różnego rodzaju motywy mitologiczne.
Zespół niekryte swoich inspiracji takimi zespołami jak Iron Maiden, Turbo, Saxon czy Judas Priest. Tak więc jednym słowem zespół dobrze się czuje w tradycyjnym heavy metalu.
Płyta jest dobrze przyrządzona i widać, że zadbano o każdy detal. Mroczna i klimatyczna okładka, czy soczyste i wysokiej klasy brzmienie to tylko pierwsze z brzegu przykłady.
Jak jest z materiałem? No solidna porcja heavy metalu i już "
Napój głupców
" dobrze nas wprowadza w ten świat młota na czarownice.
Nie zabrakło bardziej rozbudowanych kompozycji, które mają w sobie więcej urozmaicenia i
tego przykładem jest
"Młot na Czarownice
". Dalej mamy dobrze zaczynający się "
Czas zastygłych Istnień
", który wyróżnia się ciekawą i pomysłową partią basu.
Krzysztof Kuśmierz odwalił też kawał dobrej roboty w partiach gitarowych. Mamy tutaj ostry riff, ale też wtrącono trochę akustycznej gitara co pozwoliło stworzyć mroczny klimat niczym z pierwszych płyt Metal Church. "
Fantasmagoria"
to z kolei ukłon w stronę wczesnego Iron Maiden i takie brytyjskiego heavy metalu lat 80. Zespół potrafi też postawić na mroczniejszych klimat, zagrać ostrzej i dobrze to uchwycono w "
Za złamany krzyż".
Wizytówką albumu powinien być bezwątpienia tytułowy kawałek i w sumie tak jest też w przypadku MNC. "
Popioły Wiar"
to utwór który prezentuje idealnie styl zespołu i to, że grają tradycyjny heavy metal zakorzeniony w latach 80 i to na wysokim poziomie.
Nieco słabiej wypada wolniejszy
"Przedwiosenny Świt
".
Na samym końcu mamy marszowy "
Psy ogrodnika
" gdzie słychać echa Manowar, a "
Nija"
to utwór utrzymany w szybszym tempie.
Na Polskiej scenie metalowej pojawił się nowy zawodnik i
Młot na Czarownice
z pewnością zagości na długo. Ta młoda formacja wie jak stworzyć solidny materiał, jak wykreować hit i jak trafić do słuchacza. Nagrali szczery materiał, który zabiera nas do lat 80 i takiego heavy metalu na jakim wielu z nas się wychowało.
Płyta od samego początku po prostu niszczy formą i wykonaniem i właściwie można tylko pochwalić zespół, że nagrali takiej klasy album. Ostre riffy, mocne uderzenie sekcji rytmicznej i złowieszczy wokal Dawida czynią ten krążek wartym uwagi każdego miłośnika starego Turbo, Iron Maiden czy Judas Priest. Polecam.
Ocena: 8/10