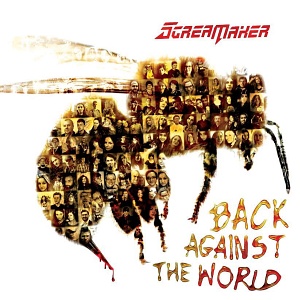 Kiedy w 2014 r ukazał się debiutancki album polskiego zespołu heavy metalowego o nazwie Scream Maker to świat oszalał. Fani NWOBHM dostrzegali w nich sporo Judas Priest czy Iron maiden, a każdy był dumny że mamy zespół, który może powalczyć z takim Steelwing czy Enforcer. Niestety, ale ja tego zachwytu nie podzielałem. Album był nijaki i zbyt hard'n heavy i za bardzo radosny. Brakowało uderzenia, hitów i większej dawki heavy metalu zwłaszcza tego z lat 80. W zespole drzemał potencjał, ale go nie wykorzystali w 2014 roku. Teraz po dwóch latach czas na nowe dzieło w postaci "Back Againts the World".
Fani i kto tylko mógł wsparł finansowo zespół, by ten album mógł powstać, a w nagrodę ci bohaterowie znaleźli się na okładce autorstwa Olgi Pycii. Niby prosta okładka, a już nasuwa klasykę z lat 80. Od czasu debiutu zespół nie tylko dojrzał, nie tylko poprawił to co nie sprawdzało się,ale również zmienił skład personalny. Pojawił się Dawid Pięta w roli drugiego gitarzysty obok Arjonmajka. Nadał muzyce bardziej heavy metalowego wydźwięku i materiał stał się o wiele bardziej energiczny. Jest mniej hard'n heavy, a więcej klasycznego heavy metalu w stylu Iron maiden, Scorpions, Judas Priest czy Anvil. Scream Maker się rozwinął i poprawił to co wymagało poprawy. W końcu materiał jest przejrzysty, energiczny i przebojowy. Tak każdy kawałek coś wnosi do płyty, ma swój charakter i swoją wartość. Nie ma mowy tutaj o wypełniaczach i półśrodkach. Zespół idzie na całość i nie ma zamiaru się rozdrabniać. Zaczyna się od klasycznego "
Can You See the Fire"
, który niszczy cały debiut. Mocny, wyrazisty riff osadzony w starym NWOBHM, heavy metalu lat 80 i twórczości Iron Maiden, czy Scorpions. Do tego wszystkiego Sebastian Stodołak, który brzmi jeszcze lepiej niż na debiucie. Jego głos jest mocniejszy i o wiele barwniejszy. Momentami przypomina mi Graham Bonneta z okresu Rainbow. Dynamika, echa starego Helloween można wyłapać w rozpędzonym "
Nosferatu
". Dawno na polskiej scenie nie było tak dobrze skonstruowanego heavy metalu w stylu lat 80. Pięta i Ajronmajk stworzyli zgrany duet, który stawia na lekkość, finezję i klasyczne rozwiązania. Słucha się tego naprawdę dobrze. Nie ma efektu monotonności jak w przypadku debiutu. "
Far Away"
bardziej hard rockowy przypominając Dokken, Scorpions czy też Accept. To prosty i bardzo solidny kawałek, który pokazuje elastyczność polskiej formacji. Takiej petardy jak "
King is dead"
raczej nikt by się nie spodziewał. Szybkie tempo, konwencja przypominający stary Iron Maiden i niezwykła przebojowość. Nasz polski heavy metal w tym przypadku może równać się z zagranicznym i to jest powód do dumy. Bałem się na początku, że panowie przesadzili z liczbą utworów. Jednak zadbali o urozmaicenie i dzięki temu płyta wcale nie nudzi i z każdym utworem jeszcze bardziej wciąga. Tytułowy "
Back against the world
" to dobra mieszanka hard rocka i heavy metalu. To taka kwintesencja stylu Scream maker. Nawet rozbudowany i stonowany "
Godsend
" potrafi wciągnąć w swój tajemniczy klimat. Momentami przypomina to twórczość Dio czy Black Sabbath, co zresztą nie dziwi, bo zespół robi akcję oddawania hołdu Ronniemu poprzez granie jego utworów.
"Retribution
" to kolejny kolos i kolejny kawałek, który pokazuje, że zespół się rozwinął i to pod każdym względem. Co warto jeszcze wyróżnić? Na pewno energiczny i nieco power metalowy "
Black Fever
" czy hard rockowy
"All Because of You
".
Diametralna zmiana stylu, dopracowanie swojego stylu, poprawienie kompozytorstwa i zatrudnienie nowego gitarzysty dało pożądany efekt. Powstał album z klasycznym heavy metalem wzorowanym na latach 80, na płytach iron maiden, Scorpions, Anvil czy Judas Priest. To co nie zadziałało na debiucie, w końcu sprawdziło się na drugim albumie. Miłe zaskoczenie i w końcu wiem, że ten band to obecnie jeden z naszych najbardziej wartościowych zespołów na rynku. Brawo, dobra robota i oby tak dalej.
Ocena: 8.5/10