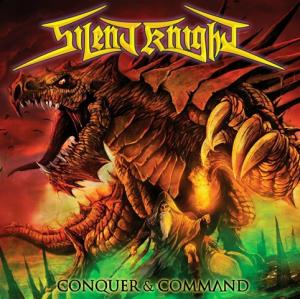 Nie dawno Lemmy Kilmister odszedł i to daje jasno do zrozumienia, że wszyscy wielcy kiedyś odejdą. Oni już mają zagwarantowane miejsce wśród żyjących pośród nas i tak naprawdę ich muzyka na zawsze będzie z nami. Pytanie tylko, kto będzie dla nas grał i tworzył nową muzykę? Czy wśród młodych bandów są takie, które będą wstanie podołać temu zadaniu? Jak się dobrze poszuka to znajdzie się odpowiednich kandydatów. Taki australijski Silent knight ma spore szanse, by przejąć pałeczkę po Helloween czy Gamma Ray. Odpowiedni ładunek emocji, energii, podobny styl, podobna jakość i umiejętność tworzenia hitów. Silent Knight to prawdziwy wojownik, który dąży do perfekcji, a ich ostatni album w postaci "Conquer and Command" to prawdziwa uczta dla fanów gatunku.
Od takiej płyty oczekuje się prawdziwych przebojów, które porwą słuchacza i przypomną klasykę gatunku. Taki hity mają sprawić, że płyta będzie łatwiejsza w odbiorze i bardziej zapadająca w pamięci. Nowe zespoły jednak mają jakby problem z tym czynnikiem bo nie tak łatwo stworzyć dobry przebój. Australijski Silent Knight wie jak to robić i słychać, że wzorowali się dużo na Helloween, a to przenosi pożądany rezultat. Mcgill i Nicholas stworzyli zgrany i dobrze rozumiejący się duet, który wie jak porwać słuchaczy. Jest sporo przejść, spora dawka energii, a najlepsze są te pojedynki na solówki, które w takim graniu odgrywają ważną rolę. Jesse Onur Oz to nowy nabytek, ale jego wokal świetnie się wpasował w styl grupy. Teraz gdy w zespole jest wokalista o manierze Kiske to można działać cuda.
Okładka może i kiczowata, ale ma w sobie pewien urok. Podobnie jak to rasowe europejskie brzmienie, które ma nam przybliżyć erę power metalowych płyt z lat 90. "A call to arms" ma nas wprowadzić w ten świat i przypomnieć jednocześnie "The Keeper of The seven Kyes". Po minucie do akcji wkracza pierwsza petarda czyli tytułowy "Conquer and Command". Mocny riff, dobre, szybkie tempo, dobrze rozegrane partie gitarowe i pędząca sekcja rytmiczna sprawiają, że mamy pierwszy killer na płycie. "Empty threat" to kolejny żywioły kawałek, który pokazuje co to znaczy europejski power metal. Nutka heavy metalu i nieco rycerski klimat pojawia się dynamicznym "The Call of the crow", który też tylko podkreśla atuty tego zespołu jakim jest odnajdywanie się w szybkich i melodyjnych kawałkach. Jednym z agresywniejszych utworów na płycie jest "The Strike of the Sword", który przybliża nam twórczość Gamma Ray. Silent Knight potrafi stworzyć hit o którym nie tak łatwo zapomnieć. Właśnie taki jest "The Raven's Return", który jest kwintesencją power metalu. Nie ma miejsca dla ballad, czy nie potrzebnych eksperymentów. Panowie od samego początku do samego końca serwują nam petardy i nic dziwnego, że na koniec mamy energiczny "One by one" w rycerskiej odsłonie, czy dynamiczny "power metal supreme". Nawet cover Europe w postaci "The final countdown" ma w sobie sporo power metalu w wykonaniu Silent Knight.
Silent knight wyrósł na bardzo dobry zespół, który wie jak grać power metal na wysokich obrotach. Niby nic nowego a bardzo cieszy, zwłaszcza co raz ciężej o taki właśnie europejski power metal osadzony w latach 90. Fani Helloween czy Gamma ray nie będą zawiedzeni.
Ocena: 8.5/10