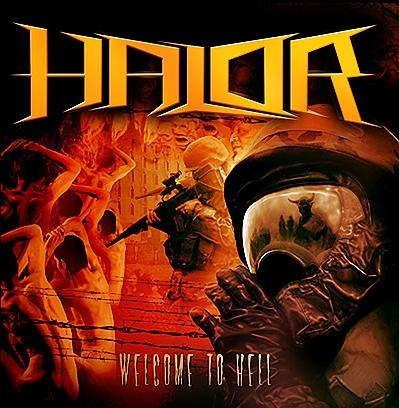 Jednym z tych egzotycznych miejsc na ziemi, które nie należy do tych obfitujących w kapele heavy/ power metalowe jest państwo Węgierskie i tamtejsza scena metalowa. Do grona tych najbardziej znanych i tych najbardziej trafiających w mój gust muzyczny z tamtejszego regionu jest oczywiście zespół HALOR. Dlaczego akurat ten zespół zapadł w pamięci i dlaczego warto o nich napisać kolejną recenzję?
Zespół nie może się pochwalić z pewnością bogatą historią ani jakimiś wydarzeniami, bo właściwie działają od roku 1999 i również nie mogą zauroczyć nas bogatą dyskografią, jednak 5 śmiałków z tamtego rejonu założyło kapelę grającą heavy metal z pewnymi elementami power metalu i to taką co może śmiało robić karierę międzynarodową. Kapela nie wstydzi swojego wtórnego charakteru, ani tego że czerpie garściami z IRON MAIDEN, JUDAS PRIEST, czy RUNNING WILD, bo ich celem jest nie odkrywania nowych rejonów muzyki metalowej, a jedynie dobrze się bawić, tworzyć muzykę, będącą pochodną stylów swoich idoli. Takie proste, wtórne, melodyjne granie, w którym jest sporo radości, energii i zadziorności uświadczymy na pierwszym albumie zespołu "Welcome To Hell", który ukazał się w 2006 r. Choć kapela mało znana i mało kto się nimi zainteresował to jednak album zebrał sporo pozytywnych opinii, co akurat mnie nie dziwi, bo choć album taki pełen znanych chwytów, taki wtórny i nieco oklepany, to jednak nadzwyczaj melodyjny, prosty w odbiorze, że jest świetnym sposobem na umilenie sobie czasu wolnego.
Prostota, brak większych ambicji można dostrzec na "Welcome to Hell" właściwie w każdej sferze począwszy od własnoręcznie wypracowanego brzmienia, umiejętności muzyków, kończąc na wykonaniu utworów, jednak mimo wszystko ów album cechuje się solidnością, melodyjnością i pojawiają się chwytliwe melodie i przeboje. HALOR to zespół w którym brak specjalistów od techniki, to muzycy, którzy robią to co lubią i według własnego uznania i tak wokalista Akos Komandi ma wokal specyficzny, niezbyt wyszkolony technicznie i czasami ocierający się o wokal Rock'n Rolfa, a sekcja rytmiczna jakby grająca w jednym rytmie, bez większego urozmaicenia. Tak i duet Csaba/ Laczo daleki jest od dostarczania odbiorcy czegoś nowego w dziedzinie heavy metalu, ale grają tak zgrabnie, tak lekko, tak solidnie, że wszystko jest do zaakceptowania, do wysłuchania i to bez większego narzekania. Solidność i ciężka praca się opłaciła i owocem tego jest 10 zwartych, zadziornych kompozycji, które cechują się przebojowością, chwytliwymi refrenami i prostymi, mocnymi riffami. Choć album jest utrzymany w średnim tempie, w konwencji bardziej heavy metalowej, to jednak pojawiają się elementy power, czy też nawet thrash metalu co słychać w otwierającym "Hell is Rising", w nieco topornym "Gods Of war" czy dynamicznym "No Way Out" z wyraźnymi wpływami IRON MAIDEN. Zespół zyskał sławę również dzięki nagraniu coveru RUNNING WILD - "Little Big Horn", ale HALOR stać na nagranie własnego utwory w takich klimatach czego dowodem jest choćby melodyjny "Face To Face". Nie jest im obce również granie nieco w stylu JUDAS PRIEST co słychać po takim "Chance To Be Free" . Wyraźnymi przebojami na tym krążku są utrzymany w średnim tempie "Break Down The Walls" , ostrzejszy "Welcome To Hell" będącym miksem JUDAS PRIEST i GRAVE DIGGER, rozpędzony "The Powers Breaking Loose" który przesiąknięty jest power metalem, czy też zamykający album "Horsepower" nasuwający stary IRON MAIDEN. Najcięższym i zarazem najsłabszym utworem na płycie jest tutaj "Final Warning".
Jakie wnioski można wyciągnąć? HALOR jest solidnym zespołem, który jak na debiutanta całkiem dobrze sobie poradził i nagrał melodyjny i heavy metalowy album, który ma kilka mocnych utworów, który porywa swoim prostym charakterem, swoją melodyjnością i słucha się nadzwyczaj przyjemnie. Tego nawet nie jest zepsuć oklepany styl, wtórny charakter, czy przeciętne umiejętności muzyków. Jeśli chodzi o ten kraj to z pewnością HALOR należy do czołówki, a z pewnością tych najbardziej rozpoznawalnych zespołów metalowych. Nie jest to album, który królował w roku 2006, ale z pewnością warto go przesłuchać.
Ocena: 7/10