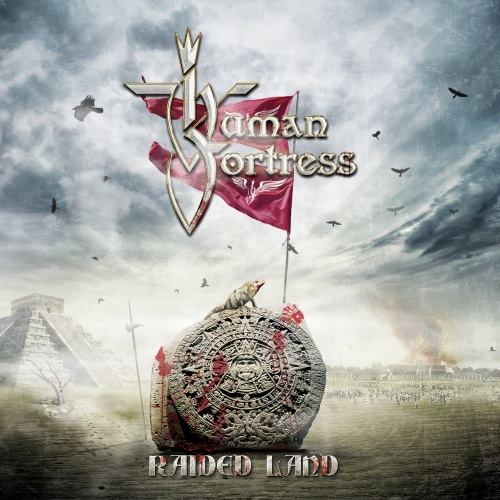 Niemiecki Human Fortress przerywa 5 letnie milczenie i robi to w najlepszy sposób a mianowicie poprzez wydanie nowego albumu,który jest zatytułowany "Raided Land". Wielkie wyczekiwanie, niecierpliwość i ciekawość towarzyszyły od samego początku powstawania albumu i jest to jedno z ważniejszych wydarzeń roku 2013.
Nie wszystkim spodobało się nowe oblicze zespołu, jakie zostało zaprezentowane na "Eternal Empire" z 2008 roku. Zespół tam odszedł od bardziej klasycznego brzmienia znanego choćby z debiutu, na rzecz nowocześniejszego grania, w którym można było doszukać się coś z metalcoru. Mimo że zespół tam zaprezentował się z innej strony, to jednak do dziś miło wspominam ten album. Dużo się tam dzięje, dużo energii tam upchano, a całość ma niezłą dynamikę. Sądziłem, że te cechy zostaną przerysowane na nowy album i tutaj się zawiodłem. "Raided Land" nagrany w nieco innym składzie i w nieco innym, bardziej klasycznym stylu nie porywa tak jak poprzednik, ani też nie zapada w pamięci jak debiut. W czym leży problem? Zespół uzupełnili Andre Hort jako basista i Gus Monsanto z Revolution Rennaisance jako wokalista. Sprawdzają się oni w takim graniu i najlepiej wypada Gus, który ma w swoim głosie coś urzekającego i przekonującego. Choć jest agresja i energia, to jednak nie przedkłada się to na kompozycje, które są nieco ospałe i takie bez werwy. Dobre kompozycje, które jako tako są atrakcyjne można policzyć na palcach ręki, a przecież tą kapelę stać na więcej. Dobrze wykreowana melodia otwierającego "Raided Land" dobrze otwiera album i jest to jeden z najlepszych momentów na płycie. Szkoda tylko, że cały album nie jest taki intrygujący. "Child Of war" miał być epicki i marszowy i ostatecznie wyszło to dość średnio. Prawdziwą perełką jest tutaj bez wątpienia dynamiczny "The Chosen One". Nie można było stworzyć więcej takich przebojów? "Shelter" już spokojniejszy i bardziej progresywny w swoim stylu, ale też nie do końca mnie ta mieszanka przekonuje. Bardzo podniosły klimat udało się stworzyć w "Restless Souls". Brakuje tej płycie ciekawych melodii, brakuje mocy i energii, z której ten zespół słynął. Zawsze mieli ciekawe pomysły na aranżacje, a w tym przypadku zabrakło tego i przez co kompozycje brzmią jakby nie były dopracowane i nie przemyślane. Na koniec chciałbym wyróżnić jeszcze "Under Siege" który jest jakby na pocieszenie.
Human Fortress wrócił do swoich korzeni, grając heavy metal i to bez zapędów do nowoczesnych patentów, będąc wiernym stylowi z debiutu. Jednak coś kosztem czegoś. Wrócili do starego stylu, jednak zatracili energię i pomysłowość w sferze tworzenia nowych utworów. Kilka utworów to za mało, żeby cieszyć się z tego powrotu Human Fortress. Po nowym krążku został wielki niedosyt i rozczarowanie.