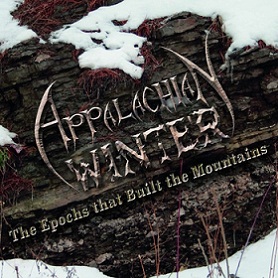 Czy black metal może być piękną i pełną emocji muzyką? Czy ten rodzaj metalu może być wzruszający i poruszający duszę? Jak się ukazuję może być. D.G Klyn założył w 2008 roku ciekawy projekt muzyczny w postaci Appalachian Winter. Na swoim koncie mają 6 albumów, z czego ten ostatni ukazał się w 2014r. "The Epochs that built mountains" to coś więcej niż tylko długi tytuł i dziwna okładka. To coś więcej niż typowy agresywny i przewidywalny black metal. Słychać, że Klyn mocno inspirował się takimi kapelami jak Ensiferum, Therion czy Wintersun. Styl nie jest taki banalny jak mogłoby się wydawać. Co znajdziemy na ostatnim wydawnictwie? Mnóstwo ciekawych i wyszukanych melodii, które przenoszą do filmowego świata. Najlepsze jest to, że materiał jest podniosły i epicki. Nie sposób się nudzić. Mike o Brian odpowiada za chórki, zaś Randy Smith za partie gitarowe. Jednak liderem grupy bez dwóch zdań jest D. G Klyn, który odpowiada za aspekt komponowania. To właśnie on czuwał nad ostatecznym szlifem i nadał całości właściwego mrocznego, black metalowego charakteru. Jego głos idealnie wpasował się w całość. Do tego dochodzi dobrze wyważone brzmienie i solidny materiał, co w efekcie daje naprawdę dojrzały album. Warto zwrócić uwagę na nieco progresywny "
Close the ocean
", nieco baśniowy "
Rise to the heavens
", czy podniosły
"Clay becomes Stone
". Nie brakuje intrygujących melodii i nutki przebojowości co potwierdza taki marszowy "
Withstand The Ages".
Na koniec jest bardziej rozbudowany
"Hymn to The Ancient Mountains
", który pokazuje jak zróżnicowany jest materiał. To tylko potwierdza, że można nagrać klimatyczny i podniosły black metal, który od samego początku wciąga i pochłania do reszty. Bardzo ciekawa forma i pomysł na kompozycje skutkują udanym albumem. Polecam.
Ocena: 7/10