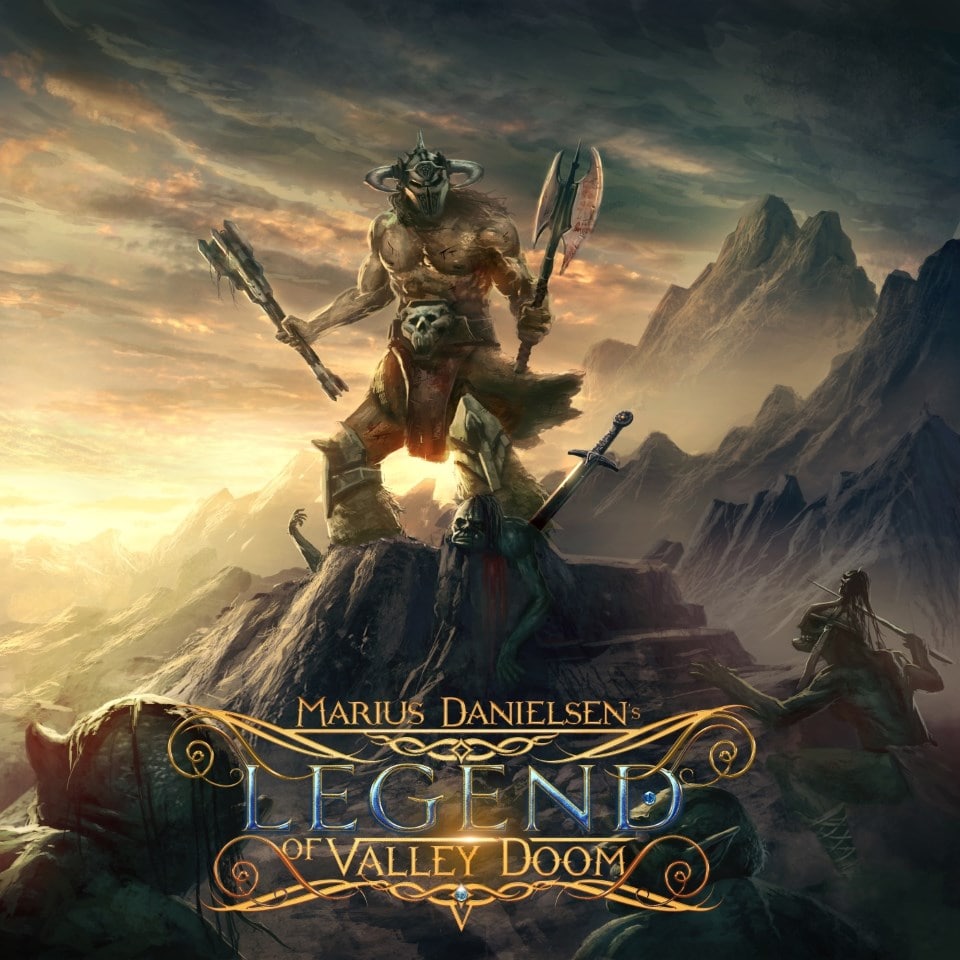 Metalowe opery z ciekawymi gośćmi zawsze przyciągają spore rzeszę słuchaczy, jednak już dawno nie było ciekawego albumu. Wiele muzyków którzy tworzą takie metal opery po prostu tracą się w komercji, przez co owa metal opera traci na swojej wartości. Wielu z nas chciałoby znów poczuć się jak przy pierwszym albumie Avantasia, kiedy nie tylko nazwiska działały na wyobraźnie ale również sama muzyka. To nie nazwiska mają być ostoją tego albumu, lecz muzyka i ich wpływ na zawartość. Ich obecność ma być przejawem geniuszu i przypieczętowaniem sukcesu nagranej płyty i przyczynić się do tego, że będzie zapamiętana na długie lata. To ma być coś wielkiego, a nie tylko zbiór nazwisk. Marius Danielsen to muzyk znany z Darkest Sins i to właśnie on podjął się wielkiego wyznania i postanowił stworzyć metalową operę z prawdziwego zdarzenia. Tym razem mamy prawdziwą śmietankę świata power metalu i niektórzy będą w szoku że udało się zebrać tylu muzyków w jednym miejscu. Każdy z nich sprawił że ta płyta jest magiczna i już ponadczasowa. "Legend of Valley Doom part I" to płyta która ma szansę być tą najlepszą w roku 2015 i czymś wyjątkowym i godnym zapamiętania. Nie chodzi o to że mamy świetnych gości, ale sama muzyka pokazuje że można stworzyć power metalową perfekcję, w której będą echa takich kapel jak Rhapsody, Freedom call, Timeless Miracle czy właśnie Avantasia znaną nam z pierwszych płyt. To co było jeszcze do tej pory marzeniem każdego fana power metalu stało się rzeczywistością.
Marius zebrał ponad 40 świetnych muzyków, którzy uczynili ten album jeszcze bardziej szczególnym i zróżnicowanym. Lista muzyków jest długa i najlepiej ją rozpisać w kolumnie byście mogli ogarnąć rozmiar tego przedsięwzięcia i poziom owego albumu. A poniżej lista muzyków :
Wokal:
Marius Danielsen (Darkest Sins)
Edu Falaschi (ex-Angra, Almah)
Tim Ripper Owens (ex-Judas Priest, ex-Iced Earth, ex-Yngwie Malmsteen)
Mark Boals (ex-Yngwie Malmsteen, Iron Mask, Royal Hunt)
Jonas Heidgert (Dragonland)
Elisa C. Martin (Hamka, ex-Dark Moor, ex-Fairyland)
Alessio Garavello (ex-Power Quest, A New Tomorrow)
Kai Somby (Intrigue)
Artur Almeida (Attick Demons)
George Tsalikis (Zandelle)
John Yelland (Disforia, Judicator)
Simon Byron (ex-Crystal Empire, Sunset)
Mikael Holst (Timeless Miracle)

Gitara:
Timo Tolkki (ex-Stratovarius, Avalon)
Chris Caffery (Savatage, Trans-Siberian Orchestra)
Ross the Boss (ex-Manowar, DeathDealer)
Robb Weir (Tygers of Pan Tang)
Tobi Kersting (Orden Ogan)
Jimmy Hedlund (Falconer)
Marco Wriedt (Axxis, 21Octayne)
Olivier Lapauze (Heavenly)
Felipe (Twilight Force)
Alex TheKing Mele (Kaledon)
Esa Ahonen (Cryonic Temple)
Kristian Tjelle (ex-Nocturnal Illusion)
Gard Austrheim (My Decending Ark, ex-Fatty Sunroad)
Marius Danielsen (Darkest Sins)
Sigurd Kårstad (Darkest Sins)

Syntezatory/klawisze:
Peter Danielsen (Eunomia, Darkest Sins)
Alessio Lucatti (Vision Divine, Etherna)

bas:
Barend Courbois (Blind Guardian)
Mike LePond (Symphony X)
Anniken Rasmussen (Darkest Sins)
Ignacio Lopez (Skiltron)
Giorgio Novarino (ex-Crystal Empire, ex-Bejelit)
Marius Danielsen (Darkest Sins)

perkusja:
Alex Holzwarth (Rhapsody of Fire)
Ludvig Pedersen (Darkest Sins)
Trzeba przyznać, że jest to imponująca lista i niektóre nazwiska wręcz zaskakują. Bo kto by się spodziewał dawną wokalistkę z Dark Moor czy też wokalistę z nieco zapomnianego Timeless Miracle. Marius stworzył naprawdę coś wyjątkowo i tutaj już nawet nie chodzi o świetnych gości i ich ilość, ale też chodzi o samą historię, w której osadzony jest projekt, a także to co można usłyszeć po odpaleniu płyty. Sama historia opowiada o miejscu zwanym doliną przekleństwa, w której mieszkańcy żyli spokojnie i w pokoju. Jednak czyha na nich niebezpieczeństwo, które rodzi się za ich granicami. Niestety dochodzi do wojny i początkową nie udaje im się pokonać mrocznego króla. Szukają odpowiedzi w starożytnych podziemiach i tam poznają przypowieść o wojowniku, który przywróci pokój i zbawi ich od złego. Trzeba przyznać, że sama historia jest imponująca i przypomina te historie z starych płyt Rhapsody. Muzyka odpowiednio została dopasowana i właściwie mamy epicki power metal, który od samego początku wciąga nas w ten świat fantasy. Mamy 12 utworów i razem stanowią piękną i jednolitą całość. Zaczyna się od podniosłego intra, które wprowadza nas w świat magii, królów i doliny przekleństwa. "The Battle of Bargor Zun" to pierwsza próbka mocy i to czego można się spodziewać po tym projekcie. 7 minut czystego power metalu w stylu lat 90 i tutaj mamy wpływu wielu wielkich kapel. Cieszy to, że brzmi to tak klasycznie i naturalnie. Dawno nikomu nie udało się tak brzmieć. Łezka w oku się kręci i chce się tylko więcej. Epicki i bardziej urozmaicony jest taki "Prophecy of the Warrior King", który ma w sobie pewne elementy progresywnego metalu. Bardzo dobrze wpasował się tutaj Tim ripper Owens i może czas by też może założył jakiś własny band bo szkoda jego talentu. Czekać pozostaje tylko na nowy album beyond Fear. "Chamber of Wisdom" jest bardziej klimatyczny, bardziej podniosły i to tylko pokazuje jak to wszystko idealnie współgra z samą historią. Sam utwór zabiera nas do starych płyt Freedom Call czy Rhapsody. Prawdziwa klasyka wybrzmiewa w utworach Mariusa. Każdy utwór to prawdziwy przebój i dobrym przykładem jest tego nieco marszowy, ale niezwykle melodyjny "Mirror of Truth", który ma coś z Timeless Miracle co mnie bardzo cieszy. W podobnym klimacie utrzymany jest "Haunting My dreams", który jest wielkim powrotem Mikeala Hosta znanego właśnie z Timeless Miracle. To jest przejaw jego wielkiego powrotu i wystarczy czekać na wydanie nowego albumu przez ten band. Póki co są na etapie rejestrowanie nowego materiału. Sam utwór przypomina utwory z debiutanckiego albumu Timeless Miracle co tylko pokazuje jak świetnym kompozytorem jest Marius i jak idealnie dopasował wokalistów do utworów. Punktem kulminacyjnym jest 14 minutowy "The Legend of Valley doom", który jest taką wisienką na torcie. Dzieje się tutaj sporo i przewija się sporo ciekawych motywów i właśnie tak powinien brzmieć epicki power metal. Dawno nie było tak udanego kolosa w power metalowym światku i to jest kolejny przejaw geniuszu Mariusa oraz jego metalowej opery. Elisa C martin znana z starych płyt Dark Moor to jedna z moich ulubionych wokalistek power metalowych i miło jest znowu ją usłyszeć. W takim energicznym i klimatycznym "Lost in a Dream" odnajduje się idealnie. Kompozycja spokojnie mogłaby się znaleźć na starych płytach Dark Moor. Imponuje że Marius zabiera nas w podróż po największych płytach power metalu, pokazuje jakby różne etapy i różne formy power metalu i to jest po prostu piękne. Muzyka power metalowa w pigułce. Ostrzejszy i złowieszczy "Raise Your shields" to popis świetnego Marka Boalsa, który jest jednym z najlepszych współczesnych wokalistów. To co on wyprawia przyprawia o dreszcze. Marius wpasował go idealnie do kompozycji, która jest przesycona Iron Mask czy twórczością Yngwie Malmsteena. Coś pięknego i chce się tylko jak dłużej go słuchać w takim wydaniu. Spore ilości Avantasia i Dark Moor pojawia się w prostym i przebojowym "Free as The wind". Co ciekawe nawet ballada "Fallen Heroes" łapie za serce i pokazuje jaki ładunek emocjonalny panuje na płycie. Całość zamyka "Outro" i szkoda że to już koniec.
To co wydawało się jeszcze nie tak dawno marzeniem każdego fana power metalu stało się rzeczywistością. W końcu jesteśmy świadkami wielkiego wydarzenia, bowiem o to światło dzienne ujrzał album, który jest bez wątpienia najlepszą metalową operą jaka kiedykolwiek powstała. Marius stworzył coś ponadczasowego, pokazał że można zebrać prawdziwą śmietankę muzyków, zebrać całą rodzinę power metalową rodzinę w jednym miejscu. Nagrać płytę, które będzie odzwierciedleniem wciągającej historii. "Legend of Valley Doom" to power metal w pigułce, to jakby nie tylko historia fantasy, ale historia power metalu i opowiedziana przez wielkich muzyków tego gatunku. Coś pięknego i to się nazywa płyta roku! Bohaterowie power metalu powracają!
Ocena: 10/10