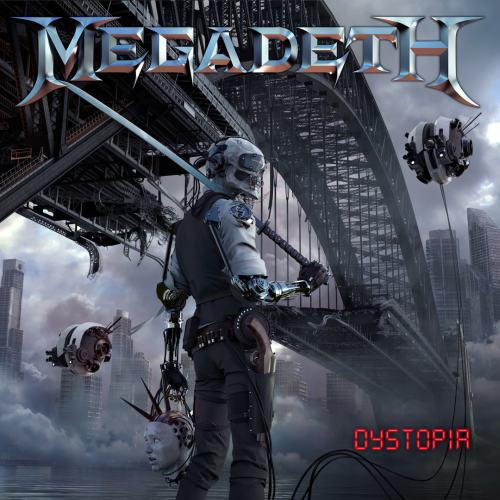 Kiedy źle dzieje się w zespole, kiedy brzmienie i jakość muzyka sięga dna, kiedy wszystko staje się parodią dawnego stylu to jakie jest najlepsze rozwiązanie dla zespołu? Jak się okazuje zmiany personalne potrafią wiele wnieść do grupy muzycznej, nadać nowego charakteru, nadać nowej jakości, sprawić że wszystko zacznie brzmieć zupełnie inaczej. To właśnie świeża krew jest we stanie wprowadzić nowy porządek i przypomnieć najlepsze czasy danego zespołu. Taki zabieg pomógł Anthrax, który przeżywa drugą młodość. Jak się okazuje to samo spotkało inny wielki thrash metalowy zespół, a mianowicie Megadeth. Kiedy w 2014 r kapelę opuścił gitarzysta Chris Boderick i perkusista Shawn Drover którzy byli w Megadeth przez 10 lat to mogło się wydawać, że to cios dla Megadeth. W końcu za ich czasów powstał całkiem udany i dość klasyczny "Endgame". Jednak ostatnie albumy to spadek formy i sięganie dno i tylko zmiany mogły wyprowadzić zespół na prostą. 3 lata oczekiwania, wielkie zmiany i w końcu nowy album "Dystopia", który w swojej formule przypomina bardziej klasyczne albumy. Jednak czy faktycznie mamy wielki powrót Megadth?
Nie trzymając Was w napięciu powiem, że tak. Megadeth powraca w wielkim stylu i nie było się zabrać nas w rejony "Rust in Peace" czy "Peace sells... but who's buing?". Jednocześnie jest powiew świeżości, zespół znów gra z pasją i nie boi się ciekawych i intrygujących rozwiązań. Udało się im połączyć nowoczesność, klasyczne patenty z domieszką progresywności i melodyjności. Nowy nabytek w postaci Kiko Loureiro tchnął w ten upadający band życie i wypełnił go swoim duchem. Jego wkład w muzykę Megadeth i nową jakość jest olbrzymia. Na "Dystopia" mamy świetnie rozplanowane i zagrane solówki. Jest technika, pazur, jest pomysłowość, a wszystko zagrane tak lekko, przejrzyście i dbałością o detale. Solówki jak i riffy po prostu płyną i są główną atrakcją "Dystopia". Dziw bierze, że wokalista, który słynie z działalności w power metalowym bandzie o nazwie Angra odnajdzie się tak idealnie w thrash metalowym Megadeth. Ciężko było przewidzieć, że nada takiej nowej jakości i że będzie miał taką swobodę. Niby wiemy, że to Megadeth, jednak w takiej nowej formie. Jest nutka tej progresywności i melodyjności z Angry i to słychać. Taka mieszanka sprawia, że Dystopia to jeden z najlepszych albumów Megadeth. Nie ma mowy o nudzie, nie ma miejsca na średniaki czy wypełniacze, które nie mają znaczenia. Tutaj każdy utwór ma swoją wartość. Perkusista Chris Adler też odgrywa swoją rolę bezbłędnie i szkoda tylko, że wokal Dave Mustaina na przestrzeni lat troszkę stracił na mocy i agresywności. Jednak i to da się przeboleć i zaakceptować, dopóki panowie będą nagrywać taki album jak "Dystopia".
Darowano sobie intra i nie potrzebne wstawki. Album zaczyna się od znanego nam z promocji płyty "
The threat is real"
. Jest to bardzo energiczny i zarazem agresywny kawałek, który przez swoje techniczny warsztat jak najbardziej nawiązuje do takiego "Rust in Peace" czy "Peace Sells". Słychać to co kiedyś zespół z sobą prezentował, czyli pomysłowe i dość oryginalne riffy, charakterystyczne partie gitarowe i nutkę przebojowości. Tutaj klasę pokazuje Kiko i właśnie dzięki niemu nowe oblicze Megadeth jest takie imponujące. Świetny kawałek i dobry start. W "
Dystopia"
można najwięcej uświadczyć wpływów Kiko. Kawałek jest bardziej power metalowy, bardziej melodyjny. Jest lekki i bardzo przyjemny i w sumie przypomina "Peace Sells" pod wieloma względami. Podobne emocje wywołuje singlowy "
Fatal Illusion
", który łączy sobie agresywność i melodyjność, co również przypomina nam wczesny okres Megadeth. Wszystkie te trzy spełniły się w promowaniu albumu i to dzięki nim zainteresowanie tym albumem wzrastało z każdym dniem. Co dzieje się po tych kawałkach? Czy poziom zostaje utrzymany? Jak najbardziej tak i taki "
Death from Within"
to też taki klasyczny i techniczny Megadeth do jakiego przywykliśmy. "
Bullet to the Brain
" to bardziej mroczny i progresywny kawałek. Mimo nowoczesnego wydźwięku to kawał soczystego heavy/thrash metalu i tutaj też słychać ile wnosi Kiko do muzyki Megadeth. Dzięki niemu nawet proste kawałki nabierają nowej jakości i brzmią fenomenalnie. "
Post American World"
to kompozycja, która również mocno osadzona jest w klasycznych albumach Megadeth. Dawno Megadeth nie grał tak ostro i z takim pazurem. Wokal Dave'a brzmi bardzo intrygującego. Jest moc i nawet mimo swoich lat wciąż zachwyca swoją manierą. Co tutaj dużo pisać, kolejny hicior na płycie. Najdłuższym kawałkiem na płycie jest
"Poisonous Shadows
". Dzieje się tutaj sporo i wystarczy pochwalić zespół za ciekawe, klimatyczne otwarcie. Dawno Megadeth nie stworzył tak wciągającego, rozbudowanego kawałka. Echa starych płyt mamy też w thrash metalowej petardzie w postaci "
Lying state"
. Może i jest w niej sporo power metalu i może kipi melodyjnością, ale jest to jeden z najlepszych kawałków jakie stworzyli wciągu ostatniej dekady. Kompozycja kipi energią, świeżością, a solówki po prostu rzucają na kolana. Podobne emocje wywołuje rytmiczny "
The Emperor
" i instrumentalny "
Conquer or Die
". Na koniec mamy cover Fear czyli "
Foreign Policy
". To kolejny dowód na to, że Megadeth przeżywa drugą młodość i jest w szczytowej formie.
Ostatnie albumy Megadeth nie dawały nadzieję na poprawę i na to, że panowie nagrają kiedyś album, który śmiało będzie umieścić obok największych dzieł zespołu. Jednak zmiany personalne, ściągnięcie do zespołu Kiko z Angry i perkusisty Lamb of God sprawiły, że Megadeth ożył. Mamy przeboje, ostre riffy, mamy wciągające i płynące solówki, które przenoszą Megadeth na zupełnie nowy poziom. "Dystopia" to przemyślany i dopieszczony album, który od samego początku do końca trzyma wysoki poziom i zaskakuje pod każdym względem. Jedno z największych niespodzianek tego roku. Gorąco polecam.
Ocena: 9/10