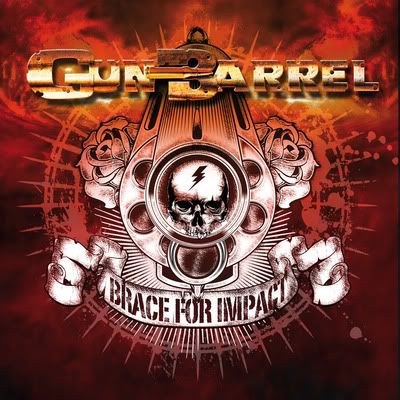 Ten kto śledzi karierę niemieckiego GUN BARREL, ten zapewne wie że w tym roku zespół wydał swój piąty album o tytule "Brace For Impact" i fanów zapewne ucieszy fakt, że niemiecki zespół w dalszym ciągu robi to co na wcześniejszych wydawnictwach, czyli gra przebojowy heavy metal z wpływami hard rocka. Trzeba przyznać, że zespół balansuje na granicy obu gatunków i robi to nadzwyczaj dobrze. Cały materiał został tknięty do tego takim rasowym brzmieniem z lat 80 i można tutaj wyczuć ducha lat 80 także w samej muzyce. Znajdziemy nawiązania do MOTORHEAD, JUDAS PRIEST, SAXON, czy też KROKUS, a nawet AC/DC. Nigdy nie byłem jakimś wielkim fanem tego zespołu, ale muszę przyznać że zmiana na pozycji wokalisty zrobiła dobrze zespołowi. Patrick Suhl to prawdziwy rockowiec i muszę przyznać że jego wokal idealnie kooperuje z zadziornym, rockowym tłem. Potrafi śpiewać z zadziorem, a kiedy trzeba to i nawet wejść w nieco wyższe rejestry. Tego trzeba było GUN BARREL, powiewu świeżości.
Co można powiedzieć o zawartości? W skrócie mógłbym napisać że jest prosto, przebojowo i różnorodnie, więc większych wpadek też nie można uświadczyć. Słychać przede wszystkim nacisk kapeli na chwytliwość i szaleństwo. Fani grania z lat 80 w stylu wcześniej wspomnianych kapel będą usatysfakcjonowani. Mamy utwory szybkie, dynamiczne jak choćby przebojowy "Brace For Impact" z riffem nawiązującym do "Rapid Fire" JUDAS PRIEST, rozpędzony "Books Of Live" z bodajże najbardziej zapadającym głównym motywem gitarowym. Dużo kompozycji to właściwie mieszanka heavy metalu i hard rocka tak jak to jest w przypadku zadziornego "Dancing On Torpedos" , stonowanego "Stand Your Ground". Niektóre kompozycję idą z kolei w stronę bardziej hard rocka tak jak ma to miejsce w "Start A riot" czy też nieco pokręcony "Turbolence and Decadence". Tylko czy to jest atrakcyjne i przyjemne dla ucha? Czy w przypadku tych rockowych kompozycji można mówić o świetnych kompozycjach które zapadają w pamięci? No nie bardzo i właściwie album można podzielić na słabsze kompozycje i na te mocniejsze wśród których na pewno znajdzie się miejsce jeszcze na mroczny, ciężki, ale rytmiczny "Big Taboo" czy też dla rozpędzonego "The Wild Hunt", które zacierają złe wrażenie po słabszych kawałkach.
"Brace For Impact" mimo swoich słabszych momentów jest bardzo udanym albumem, w którym na szczęście przeważają te lepsze kompozycje i to one sprawiają, że krążek słucha się z uśmiechem na twarzy. Płyta fakt nie równa, może nieco odtwórcza, ale ostatecznie jest to wydawnictwo które dostarcza wiele miłych wspomnień. Kawał dobrej roboty odwalili muzycy, zwłaszcza nowy nabytek kapeli, jednak mam wrażenie że zespół nie wykorzystał maksymalnie swojego potencjału, mam wrażenie że stać ich na coś więcej niż tylko przyzwoity/ dobry album. Jeśli ktoś polubił album DEVILS TRAIN, to powinien zapoznać się z nowym wydawnictwem GUN BARREL.