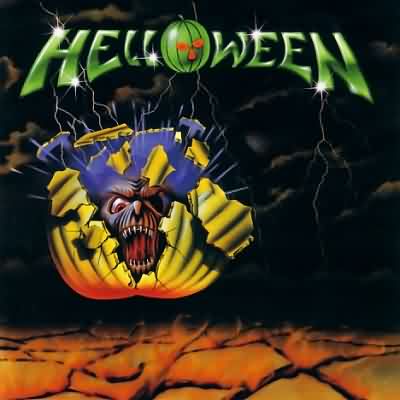 Każdy gatunek heavy metalu ma swój początek, każdy rodzaj ma swojego pioniera. W przypadku power metalu jednogłośnie wszyscy powiedzą ...HELLOWEEN. Zespół legenda i choć dzisiaj już są cieniem siebie, choć grają nieco inaczej, to jednak trzeba im oddać hołd za to co zrobili. Stworzyli podwaliny pod nowy gatunek, który dzisiaj ma się bardzo dobrze i ciągle ulega ewolucji. Historia HELLOWEEN jest bardzo bogata i o tym zespole już napisano właściwie wszystko i samych faktów, wydarzeń jest na tyle, że starczyło by to na pracę magisterską. Oszczędzę wam tutaj jakiś długaśnych biografii, bo od tego są fanowskie strony, czy też oficjalna strona zespołu, do których odsyłam. Początków HELLOWEEN można się doszukiwać pod koniec lat 70 kiedy to został założony zespół GENTRY z inicjatywy śpiewającego gitarzysty Kai'a Hansena i jego znajomego Pieta Sielcka. Obaj panowie są dzisiaj metalowemu światu bardzo dobrze znani. Piet Sielck kieruje IRON SAVIOR, a Kai Hansen ma GAMMA RAY. Nie muszę chyba dodawać że oba zespoły grają oczywiście power metal. W 1980 r kapelę obu panów zasili basista Markus Grosskopf oraz perkusista Ingo Schwichteberg. Wtedy też została zmieniona nazwa kapeli na SECOND HELL. W tamtym okresie powstały takie utwory jak "Victim of Fate" czy też "Murder" do których dojdziemy przy opisywaniu mini albumu. Wracając do wątku historycznego, styl kapeli nie odpowiadał Pietowi, to też dał sobie spokój z graniem i powierzył się roli producenta płyt metalowych. Jego miejsce zajął oczywiście Micheal Weikath z POWERFOOL, który stał się bardzo istotnym elementem zespołu i dziś doczekał się nawet roli lidera zespołu. Wtedy też po raz kolejny ze spół zmienił nazwę kapeli na IRON FIST. Jak się dobrze poszukam w internecie to można znaleźć demo tej formacji. Piet jak wiadomo po wrócił do muzyki zakładając wraz Kaiem IRON SAVIOR. Rok 1984 to również ważna data, bo wtedy oficjalnie zostaje powołana do życia nowa nazwa kapeli, a mianowicie "Helloween" będąca zapożyczeniem z nazwy filmu "Halloween" Johna Carpentera. W tym samym czasie pojawiła się na rynku muzycznym składanka wytwórni NOISE RECORDS "Death metal" na której znalazł się "Metal Invaders" i "Oernest To Life". To otworzyło zespołowi bramy do wielkiej kariery. Te dwa utwory tak przypadły do gustu szefom wytwórni, że popisali z zespołem profesjonalny kontrakt płytowy. I tak rok później ukazuje się mini lp zatytułowany po prostu "Helloween". Ten mini lp to jest przedsmak tego czego będzie można się spodziewać na pełnym albumie czyli "Walls Of Jericho" . Choć lp i pełny album są ściśle powiązane, to można odczuć że mimo wszystko pod względem wokalu Hansena, brzmienia, riffów, całej konstrukcji jest to jeden z ostrzejszych materiałów. Tutaj można doszukać się inspiracji thrash metalem. Jest takie ostre, nieco surowe, mięsiste brzmienie, niezwykłe umiejętności muzyków Markusa, który ma charakterystyczny styl szarpania strun gitar, Ingo robi demolkę swoim dynamicznymi, głośnymi i pełnymi energii partiami. Duet gitarzystów jest wręcz idealny, jest chemia, nic porozumienia. Oczywiście bez problemu można wskazać lidera. Hansen to człowiek dzięki któremu ten mini lp brzmi tak a nie inaczej, to on ukształtował styl zespołu, nadał temu krążkowi charakteru. Tutaj zespół już wyrobił swoją charakterystyczną formułę, która w dużym stopniu zależała od Hansena. To on był głównym kompozytorem, to jego styl gry na gitarze oraz charakterystyczna maniera wokalna sprawiła że muzyka jaką grał HELLOWEEN była czymś nowym. Mini lp można traktować osobno bo tak wymaga tego historia, ale muzycznie świetnie się uzupełnia z "Walls Of jericho" w takiej formie było już później wydawane.
Mini album powiecie, co tam może się dziać, pewnie jakieś same odrzuty i mało interesujące kompozycje. No jednak te pięć utworów które znalazły się na tym krążku to 5 killerów i właściwie utwory po które HELLOWEEN jak i sam Kai w GAMMA RAY nie sięga, a jak już to bardzo rzadko. Obecnie kto jedynie ma odwagę i dobre predyspozycje do grania tego materiału to STORMWARRIOR, gdzie często zapraszają Kai'a do roli wokalisty. Wracając do materiału, dominują właściwie szybkie, dynamiczne kompozycje, gdzie mamy miks dzikości, ostrości, która przypomina thrash metal oraz melodyjności wyjętej z heavy metalu. Do historii zespołu przeszedł melodyjny "Starlight" z zabawnym intrem nawiązującym do filmu "Halloween" , rozpędzony, momentami wręcz thrash metalowy "Murder", rytmiczny "Warrior" który oddaje znakomicie styl Kaia jako kompozytora i gitarzysty. Co może się podobać to niesamowicie melodyjny motyw i ciekawa współpraca dwóch wioślarzy. Na jeszcze większe wyróżnienie zasługuje mroczny "Victim of Fate", który wydaje się być bardziej złożoną kompozycją. Przede wszystkim trwa ponad 6 minut, ma nieco bardziej stonowane tempo, nieco bardziej połamaną melodię, do tego rytmiczna linię wokalną Hansena. Ciekawie się robi w połowie utworu, kiedy zespół zwalnia i słychać tylko upiorny motyw i demoniczny wokal Hansena, który przypomina poniekąd wyczyny Kinga Diamonda. Jedna z moich ulubionych kompozycji HELLOWEEN jak i samego Hansena. Całość zamyka nieco wyróżniający się na tle pozostałych "Cry For Freedom". Przede wszystkim wyróżnia się tym że jest bardziej zróżnicowaną kompozycją i mamy tutaj zarówno nastrojowy, wręcz balladowy początek i power metalowe rozwinięcie z rycerskimi chórkami. Zakończenie godne mistrzów. Utwór jest idealnym pomostem między mini lp a "Walls Of Jericho".
Materiał może i krótki, może i można było od razu skręcić pełny album, ale nie zmienia to faktu że zespół stworzył dzieło wybitne, które pozwoliło zespołowi się wpisać na listę pionierów power metalu. Kapela stworzyła własny styl opierający się na energicznych solówkach, riffach, chwytliwych melodiach, rozpędzonej sekcji rytmicznej i oryginalnym wokalu Hansena. To plus kompozytorski talent i pomysł na siebie. To wszystko się przedłożyło że HELLOWEEN stworzył dzieło wybitne, które jest tylko zwiastunem kolejnego dzieła, który tylko umocni pozycję zespołu i przyniesie im jeszcze większą sławę. "Helloween" to przede wszystkim popis talentu Kaia Hansena.
Ocena: 10/10