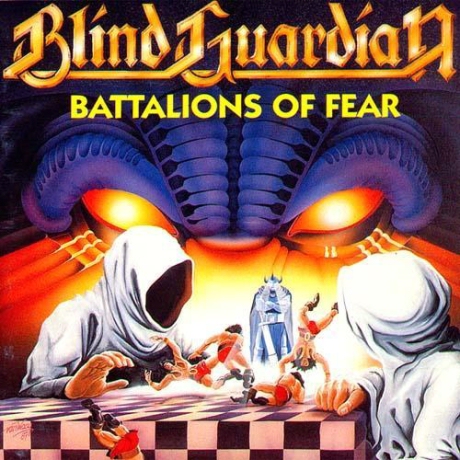 W latach 84-85 kiedy to właściwie większość kapel umacniała swoje dość wysokie pozycje, narodził się BLIND GUARDIAN, choć w pierwotnej formie nosił nazwę LUCIFERS HERITAGE. W początkowym stadium zespołu był Hansi Kursch wokalista oraz gitarzysta Adre Olbrich. Po jakimś czasie ukształtował się już ten skład, który wytrzymał na dobre i na złe aż do roku 2005 z Thomen Stauchem za bębnami i Marcusem Siepenem w roli drugiego gitarzysty. W roku 1987 zmieniono nazwę zespołu na BLIND GUARDIAN i w 1988 światło dzienne ujrzał ich debiutancki album "Battalions Of Fear". Gdyby tak z kontrastować debiut jak i drugi album niemieckiej formacji z pozostałymi dziełami to są one dość specyficzne i odstają nieco od reszty. Przede wszystkim stylistycznie co zresztą słychać od samego początku. Dynamit, szybkość i takie pędzenie do przodu z szybkością światła poddając się speed metalowej strukturze. Z jednej strony jest to zaleta tego albumu, a z drugiej gwoźdź do trumny, który uczyni owe wydawnictwo ślepego strażnika nieco monotonne i jednowymiarowe. Zestawiając styl z początkowej działalności zespołu z tym późniejszym to śmiało można stwierdzić że muzyka zaprezentowana na debiucie jest prostsza, pozbawiana elementów zaskoczenia, pozbawiona owej różnorodności i tej lekkości. Inny poziom muzyczny co słychać zarówno w samych kompozycjach, jak w umiejętnościach muzyków. Hansi śpiewa na tym albumie ostro, zadziornie, ale słychać że może on znacznie więcej. Tutaj brzmi niczym rasowym heavy metalowy wokalista z potencjałem na coś więcej. Duet Siepen/ Olbrich spisuje się przyzwoicie i dostarcza kawał porządnego łojenia. Ale czy to wszystkich zadowoli ? Na pewno nie, bo brakuje tutaj spontaniczności, nie przewidywalności, elementu zaskoczenia. Wszystko zrobione zostało na granicy przyzwoitości. Brzmienie raczej bardziej charakterystyczne dla jakiś thrash metalowych kapel. Jest brud, jest też nieco toporny wydźwięk co już może utrudnić przeprawę przez materiał. Niestety na granicy dobrego poziomu są też skonstruowane same kompozycje.
Co z tego, że jest ogień, co z tego, że jest dynamit, szybkość i ciekawe solówki, kiedy na dłuższą metą materiał staje się uciążliwi i zbyt monotonny. Co podciąga poziom albumu to na pewno sfera liryczna, w której zespół jako jeden z pierwszych porusza tematykę Tolkiena, ponadto Stephena Kinga. Jeśli chodzi o najlepsze kawałki to są nimi bez wątpienia: nieśmiertelny "
Majesty"
nawiązujący do horroru "To" Stephena Kinga za sprawą cyrkowej melodii na początku, a także ostry
"Guardian Of The Blind"
czy też nieco bliższy późniejszemu stylowi zespołowi "
Run For The Night".
Są to bez wątpienia największe hity zespołu, pokazujące jak brzmiał ślepa strażnik na początku swojej kariery. Przede wszystkim prosto, opierając się głównie na rozpędzonej sekcji rytmicznej, melodyjnych solówkach i ostrym riffie. Ogólnie styl brzmi jak nieco przekształcenie stylu IRON MAIDEN , czy też HELLOWEEN. Jeśli o mnie chodzi zawsze miałem słabość do instrumentalnego "
Trial By The Archon"
będący mieszanką nieco HELLOWEEN z ery Hansena na wokalu oraz wczesnego IRON MAIDEN. Sam pomysł na melodie i aranżację najbardziej mi zaimponowały. Może i jest to wtórne, ale nadzwyczaj przebojowe. Najważniejsze że idealnie się komponuje z "
Wizard's Crown
" który jak dla mnie jest wyjątkową kompozycją. Spytacie dlaczego? Otóż w porównaniu z innymi utworami ów kompozycja nie ma takiego nacisku na ostry riff, nie ma też tej jednostajności, tutaj mamy wręcz coś przeciwnego. Melodyjny riff upiększony różnymi smaczkami typu zwolnienie, zmiana rytmu, motywu, a to pojawienie się solówki gdzieś w niespodziewanym miejscu i zakończenie nawiązujące do poprzedniej instrumentalnej kompozycji. Gdyby było więcej takich petard, zapewne sam album by więcej zyskał na takim rozwiązaniu. Sporo ciekawych motywów, pomysłowych melodii zawiera dynamiczny "
The Martyr"
, który jest kolejną długą kompozycją. Kompozycja właściwie nie wyróżnia się niczym specjalnym, bo znów mamy identyczny riff do poprzednich, takie same tempo, ale tak jak wspomniałem jest sporo intrygujących motywów, które ratują kompozycją przed totalną kompromitacją i nudą. Czy ciągnięcie tego wszystkiego do 6 minut było dobrym rozwiązaniem? Inną kompozycją do której miałem zawsze słabość jest tytułowy "
Battalions Of fear"
i to z oczywistych względów. Liczne urozmaicenia kawałków jak na ten album, a to jest szybkie pędzenia w stylu wczesnego HELLOWEEN, a to są zwolnienia i taki chwytliwy refren wspartym tym charakterystycznym chórkiem dla późniejszych wydawnictw. Również mało wyrazistą kompozycją na albumie jest instrumentalny "
By The gates Of Moria
", gdyż szybkość i melodyjność to nie wszystko.
Gdyby tak rozebrać kompozycje na czynniki pierwsze to w same w sobie nie są one złe, ba są nawet bardzo dobre. Tylko całościowo wydawnictwo już nie jest tak atrakcyjne. I nie chodzi o to że to jest wtórne czy coś, tylko że jest przewidywalne i właściwie na jedno kopyto. Kompozycje są bliźniaczo do siebie podobne i tylko niektóre tutaj wyróżniają się ponad szarość. Oparcia nie ma też w brzmieniu, które właściwie pogrąża jeszcze bardziej młodziutki wówczas band, który nie potrafił za wiele, umiejętności wymagały oszlifowania i dalszego rozwoju. Atutem "
Battalions Of fear"
jest dynamiczność, niezwykła energia, melodyjność, szkoda że ta cechy przewijają się przez cały album, bo przydałoby się nieco urozmaicenia i pewnego elementu zaskoczenia. Ciekawy czy zespół dorobiłby się sławy i takiego wielkiego statusu, gdyby tkwił w tym stylu dłużej niż przez dwa albumy? Z tym pozostawię was samych, jednocześnie polecając debiut ślepego strażnika, gdyż jest to kawał porządnego speed/power metalu.
Ocena: 7.5/10