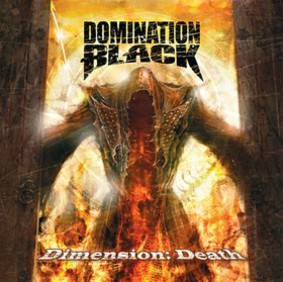 Zacieranie między gatunkami jest coraz bardziej słyszalne w heavy metalu i nie ma tak rygorystycznych przesłanek czy wymogów co do przesłanek do danego gatunku. Zespoły bez większych konsekwencji bawią się w mieszanie różnych odmian metalu. Jednym to wychodzi nieco gorzej a innym nadzwyczaj bardzo dobrze. Weźmy taki fiński
DOMINATION BLACK
, który w tym roku wydał swój trzeci album, a mianowicie "
Dimension Death
". I ten zespół jak i sam album jest świetnym przykładem, gdzie można mieszać różne gatunki i nie musi z tego wyjść nijaki i mało atrakcyjny album, a wręcz przeciwnie coś bardziej oryginalnego i bardziej zaskakującego niż cała masa innych płyt z danych rodzai metalu. Jest przede wszystkim power metal, jest też symphonic, gothic, momentami można też wyczuć thrash metal czy też progressive metal. Do tego zespół niczym KING DIAMOND lubi bawić się klimatem grozy i nie sposób tego wyczuć. "Dimension Death" to dojrzałe dzieło, może nieco odbiegającego od tego co zespół grał na początku, jest to też album zróżnicowany, wzbogacony o różne smaczki i staranność, dbałość o najmniejszy szczegół, a także tarcia między muzykami sprawiły że album był przygotowywany przez 6 lat i to była ciężka próba fanów. W zamian za ich cierpliwość zespół dał im to co najlepsze, czyli wyśmienity krążek, w który spotykają się takie emocje jak agresja, niepewność, tajemniczość, a czasami radość, czy też strach. I nawet zmiana wokalisty na
Matiasa Palma znanego z power metalowego MARGIN FLARE, po tym jak w 2009 funkcję tą porzucił Kapa Kilgast. Tak czy siak obaj panowie są znakomity wokalistami, a Matias pokazuje że może śpiewać emocjonalnie, agresywnie i tutaj jego partie wokalne są godne podziwu i na pewno atrakcyjniejsze niż w power metalowym MARGIN FLARE.
Dawno nie odczuwałem takiej głębi, takiej mocy jak w przypadku brzmienia "Dimension Death". Kapitalna robota, jest czystość, przestrzeń, no i ta dynamika, moc która wraz z różnorodnym materiałem stanowi zgrany duet, który zauroczy nie jednego słuchacza. Otwieranie albumu kolosem liczącym ponad 10 minut wymaga nie lada odwagi i pewności siebie. "Legacy of fears" jest niczym "I am " na ostatnim albumie THEOCRACY i oba kawałki łączy podobny nacisk na klimat, zróżnicowanie poprzez różne smaczki, motywy, zwolnienia czy przyspieszenia. Mroczny, pełen grozy klimat i słychać jak znaczącą rolę odgrywają pełne mroku partie klawiszowe. Jest przestrzeń, która świetnie się komponuje z mocnym, ostrym, czasami podniosłym wokalem Matiasa. Bardzo ciekawy został tutaj skonstruowany główny motyw. Można odczuć zarówno agresję, zadziorność, a także melodyjność. Są oczywiście progresywne elementy, a także chwytliwy refren który zaspokoi nawet najbardziej wymagającego słuchacza. W dobie klonów i wtórnego grania, to brzmi bardzo nowatorsko i świeżo. Jest też ukłon w stronę JUDAS PRIEST i takiego miksu ciężkiego heavy metalu z elementami power metalu w dynamicznym "Passage of the Dead" który został oparty na ostrym, agresywnym riffie i niezwykłej linii wokalnej Matiasa, który momentami zbliża się do stylu Roba Halforda. Ciekawy kontrast między agresją, a niezwykłym klimatem grozy można usłyszeć w progresywnym "Porter at the Gates of Hell". Thrash metalową odmianę stylu zakorzenionego w JUDAS PRIEST można usłyszeć w demonicznym "The Final Sigh" z ciekawym popisem wokalnym Matiasa. Chwilę wytchnienia dostarcza instrumentalny "Dimension: Death" który dostarcza ciekawej parady partii klawiszowych i niezwykłego klimatu grozy. Z kolei taki "Cold Touch" oddaje charakter sceny fińskiej, która jest pełna takich kawałków przesiąkniętych melodyjnością i partiami klawiszowymi. "The Angel dark" to świetny przykład jak nie wiele i jak zarazem dużo trzeba do skonstruowania pięknej, romantycznej ballady. Z jednej strony wystarczy pianino, skromna warstwa instrumentalna, a z drugiej niezwykła pomysłowość wykonania. Trochę JUDAS PRIEST znów można uświadczyć w ciężkim, agresywnym "Evilizer" z bardzo melodyjnym riffem, zaś "Hellbound" w idealny sposób podsumowuje cały album i jego zawartość. Kawałek świetnie odzwierciedla biegłość zespołu w mieszaniu stylów, gatunków muzycznych. Znów mamy wszystkiego po trochu, ale nie ma mowy o chaosie, lecz o niezwykłym zróżnicowaniu.
Ktoś by pomyślał, że zmiana na funkcji wokalisty odbiję się na muzyce zespołu, że przyczyni się do obniżeniu lotów. A tutaj niespodzianka i właściwie jest na odwrót. Jest powiew świeżości i to słychać. Mamy zróżnicowany materiał, który składa się z różnorodnych kawałków, które tworzą jedną znakomitą całość. Nie można narzekać ani na melodyjność, ani na brak mocy, czy przebojów, bo pod tym względem album nie zawodzi. Co przyczynia się do atrakcyjności owego wydawnictwa to niezwykła forma muzyków, zwłaszcza Matiasa, który jako nowy członek grupy spisuje się znakomicie. "Dimension Death" to album który zadowoli fanów szeroko rozumianej muzyki heavy metalowej o charakterze melodyjnym. Rzecz godna polecania.