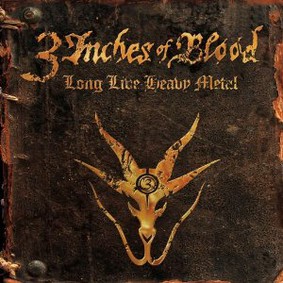 Drodzy metalowcy jednoczmy się w ten cudowny dzień w którym światło dzienne ujrzał bodajże najbardziej heavy metalowy album roku 2012. Tytuł "Long Live heavy Metal" nawiązujący do słynnego tytułu "Long Live Rock'n Roll" RAINBOW do czegoś zobowiązuje a tak nazwał swój nowy album kanadyjski 3 INCHES OF BLOOD który jest dość nie typowym zespołem jak na owe czasy. Łączenie w swojej muzyce elementu heavy metalu, nwobhm, power metalu, thrashu z dwoma rodzajami wokalu czyli czystym Camem Pipsa , który wspiął się na wyżyny swoich możliwości mieszając przy tym styl Udo Dirkschneidera, Kinga Diamonda czy też Kaia Hansena i harsh wokalu gitarzysty Justina Henberga. Historia tego nietypowego zespołu zaczęła się w 2000 r i właściwie największą zmorą były nieustanne zmiany personalne zespołu i właściwie wraz z nowym albumem doświadczymy poraz pierwszy stabilność w tej sferze gdyż mamy skład z poprzedniego wydawnictwa i słychać że stabilność i sprawdzony skład służy zespołowi dając jednocześnie słuchaczom, fanom album, który ma szanse podbić serce nie jednego słuchacza heavy metalu. Album jest świeży, łączy w swojej konstrukcji tradycję, a także nowoczesne patenty. Muzycznie mamy dynamit z genialnego "Advance And Vanquish" który do dziś jest dla mnie jednym z najlepszych albumów heavy metalowych ostatniej dekady z urozmaiceniem i elementami NWOBHM z "Here Waits Thy Doom".
Właściwie przyszło mi czekać 8 lat na taki materiał jak ten tutaj zaprezentowany, bo w końcu zespół wraca niczym syn marnotrawny do dawnego, ostrego niczym brzytwa brzmienia, gitary tez brzmią jak te z albumu wydanego w 2004 r Oprócz dynamiki,pazura mamy też niezwykłą melodyjność, przebojowość czy też coś czego mi brakowało na poprzednim albumie, a mianowicie równości i naprawdę zapadających motywów, które będą zachęcać do powracania do wydawnictwa. Niby zespół niczego nam nie przedstawia bo dalej mamy ten sam styl, z tym że bardziej dopieszczony, nieco odświeżony i bardziej upiększony ciekawymi melodiami motywami. Tak jak to ma miejsce w otwierającym "Metal Woman" który jest oparty o tradycyjne patenty, a to melodyjne wejście gitar nawiązujące do NWOBHM, rytmiczny riff, czy taki typowy dla gatunku refren. Sama konstrukcja utworu czyni go bardzo atrakcyjnym. Poza typowymi zagraniami Kanadyjczyków można też doszukać się pewnych skojarzeń z MANOWAR, czy też JUDAS PRIEST co świetnie słychać zadziornym "My Sword Will Not Sleep" , w rozpędzonym "400 Torches" z bardzo urozmaiconą partią perkusyjną, czy też w dzikim "Leatherlord" który ma nieco podłoże blackmetalowe i też można śmiało tutaj przytoczyć "Painkiller" JUDAS PRIEST i niechodzi mi tutaj tylko o kwestię instrumentalną, ale też wokalną, gdzie Cam świetnie podrabia wokale Roba Halforda, dając sporo swojego własnego charakteru. Sam utwór przypomina mi "Deadly Sinners" i najlepszy album grupy. Mamy też dwa instrumentalne kawałki, a mianowicie "Chief and the Blade" z nieco wiejskim, westernowym klimatem a także "One For The Ditch" który świetnie przedstawia jak powinien brzmieć epicki kawałek z elementami folku, viking metalu i słuchając tego kawałka można poczuć smak zwycięstwa. Z kolei w takim rytmicznym "Dark Messenger" i melodyjnym "Storming Juno" można pochwalić za udane wymieszanie melodyjności IRON MAIDEN z europejskim power metalem, które znakomicie urozmaicają album, czyniąc go wydawnictwem pełnym niespodzianek, które całościowo tworzą jednolitą całość. Mamy też odesłania do DIO, czy też RAINBOW w dynamicznym "Look Out" z jedną z najpiękniejszych tegorocznych solówek, gdzie świetnie to upiększył organ, czego jakoś nie było spotykane dotychczas w muzyce tego zespołu. Oczywiście mamy też takie agresywne kompozycje czerpiące z natury thrash metalu i w tej roli świetnie się sprawdzają "Leave It On The Ice" czy też "Die For Gold" nawiązujący do słynnej trylogii z "Advance and Vanquish". Również zespół pokusił się jak przystało na prawdziwych metalowców o bardziej progresywny kawałek i w tej roli rozbudowany do 7 minut "Man Of Fortune". I o ten typ utworów najbardziej się bałem, bo na poprzednim albumie były one dość uciążliwie, były męczące i było słychać że zrobiono je na siłę. Tutaj jest wręcz odwrotnie, śmiało można mówić o znakomitym utworze który jest ciekawie urozmaicony wolnymi, bardziej nastrojowymi elementami, a jego głównym motorem jest niezwykle melodyjny riff, który na pewno będzie dla mnie największym przeżyciem tegorocznym no i zapadającym refrenie.

Niech żyje heavy metal, niech żyję 3 INCHES OF BLOOD, niech żyją długo. Zespół po licznych turbulencjach wrócił na właściwy tor i jest on bliski temu co można było usłyszeć na "Advance And Vanquish" i to zapewne ucieszy fanów tego zespołu. Z drugiej strony fani poprzedniego albumu też będą zachwyceni bo jest podobne urozmaicenie i różnorodność i też sporo się dzieję, a skojarzeń z nwobhm nie brakuje. Stabilność i odświeżenie formuły dobrze zrobiła tej młodej kapeli, która zaprezentowała materiał z górnej półki dając innym kapelom że można grać nowocześnie i zarazem klasycznie. Ten album połączy pokolenia. Najlepsze dzieło od czasów "Advance And Vanquish" i jeden z bardziej heavy metalowych albumów roku 2012 i to trzeba głośno wykrzyczeć.
Ocena: 10/10