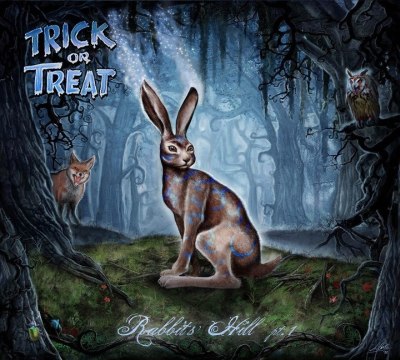 Cukierek albo psikus? W przypadku gdy taką ofertę składa włoski zespół TRICK OR TREAT to trzeba jednak się zastanowić kilka razy co wybrać, czy cukierek w postaci stylu jakiego słynął do tej pory power metalowy zespół, czyli kopiowanie HELLOWEEN z czasów strażnika siedmiu kluczy, które było jak dla mnie zbyt słodkie i niezbyt przekonujące, nawet dla mnie jako fanatyka HELLOWEEN czy może psikus w postaci urozmaicenia swojego stylu o kilka nowych świeżych pomysłów? W takim wypadku chyba bym się skłonił ku psikusowi, bo chętnie bym posłuchał zespół w nieco innej konwencji, w nieco bardziej własnych kompozycjach, nie będących wypisz, wymaluj HELLOWEEN.
A jednak psikus, bo nowy album włoskiej formacji TRICK OR TREAT "Rabbits Hill part I" jest albumem bardziej zróżnicowanym niż dotychczasowe wydawnictwa tej kapeli, o wiele bardziej przemyślany i dojrzalszym pod względem muzyki. TRICK OR TREAT to jedna z tych formacji, która po dzień dzisiejszy wzbudza skrajne opinie, od tych pozytywnych aż po te negatywne, gdzie zarzucono zespołowi wtórność i cukierkowatość. Wtórności nie udało się na nowym albumie pozbyć, ale to było do przewidzenia skoro kapela od roku powstania tj od roku 2002 zaczynała jako kapela grająca covery HELLOWEEN i na późniejszych albumach nagrywała swoje własne utwory, które w dalszym ciągu były przesiąknięte HELLOWEEN i ta formuła właściwie jest powielona na nowy krążku, z tym że pomysły są o wiele ciekawsze aniżeli na poprzednich dwóch albumach, wszystko brzmi ciut poważniej, jest lekki ciężar w obrębie sekcji rytmicznej i może jest to zasługa nowego perkusisty? Luca Setti, który dołączył do kapeli w 2011 spisuje się znakomicie i z dobrym basem Leone Villiama Contiego tworzy znakomity podkład pod resztę. Z pewnością spory wkład w to, żeby album brzmiał nieco ciężej, bardziej metalowo niż słodko miał nie kto inny niż lider kapeli wokalista Alessandro Conti, który w tym roku zebrał sporo pozytywnych opinii za występ w RHAPSDODY Luca Turilliego. Owy wkład słychać po tym jak śpiewa, jest to wokal bardziej dojrzały, bardziej dopracowany niż ten z początku kariery i słychać, że występ u boku Luca był punktem zwrotnym, z tym że na nowym albumie TRICK OR TREAT nie ma takiej gracji, finezji i klimatu jak na płycie RHAPSODY. Oczywiście nie byłby sobą Conti, gdyby nie śpiewanie pod Micheal Kiske i trzeba przyznać, że ta sztuka wychodzi mu znakomicie. Również rozwój i dojrzałość nie ominął również partii gitarowych i tutaj duet Benedetti/Cabri spisuje się o wiele lepiej. Partie gitarowe, ich motywy, riffy, solówki są o wiele atrakcyjniejsze, nieco ostrzejsze, bardziej metalowe, jednak w dalszym ciągu melodyjne i przesiąknięte HELLOWEEN. Zmian może nie zbyt drastyczne, ale jak najbardziej słyszalne i to bez wątpienia się przełożyło na całkiem dobry poziom muzyczny nowego albumu.
Nie udało się w pełni usunąć nieco dziecięcych wstawek, takich nieco cukierkowatych, które przypominają poprzednie dzieła. I to słychać w intrze "
Dawn Of times
", w nijakim "
Spring in The Warren
", który jest nieudaną próbą wykorzystania patentów BLIND GUARDIAN, czy w śmiesznym instrumentalnym utworze "
SassoSpasso
" , które są raczej niepotrzebnymi wypełniaczami. Na album trafiło kilka petard, które wg mnie stanowią czołówkę jeśli chodzi o kompozycje tego zespołu i jedną z nich jest dynamiczny, energiczny, zadziorny, idealny pod względem pomysłu i wykonania "
Prince with 1000 Enemies
" z gościnnym udziałem Andre Matosem i gdyby taki był cały album, to kto wie jaką wysoką ocenę by dostał, ale jest to poziom i styl, który świetnie interpretuje styl zespół, pominąwszy dziecięcą słodkość i tutaj słychać, że zespół może brzmieć naprawdę poważnie i energicznie. W podobnej formule utrzymany jest
"Wrong Turn
", który przesiąknięty jest dynamiką i chwytliwymi, melodyjnymi solówkami, które się przeplatają i napędzają ten kawałek, czy też "
Rabbits Hill
" przypominający pod pewnymi względami "Eagle Fly Free" HELLOWEEN, zwłaszcza jeśli chodzi o solówki i przebojowy charakter. Jeśli mowa o przebojach to nie można pominąć rytmiczny "
I'll Come Back For You
". Poza power metalową konwencją pojawia się tutaj też bardziej heavy metalowa co słychać po stonowanym"
Premonition".
Lekkość, nieco stonowane tempo i hard rockowy feeling można usłyszeć w przebojowym "
False Paradise
". RUNNING WILD, czy BLIND GUARDIAN można wyłapać w melodyjnym i pomysłowym "The Tale of Rowsby Woof", który też należy do grona najlepszych utworów z płyty. Ballada "Bright Eyes" pokazuje z kolei że w takiej konwencji zespół jeszcze nie do końca sobie radzi.
"
Rabbits Hills" to krążek może nie genialny, może nie wyśmienity, może nie perfekcyjny, gdzie wszystko jest na wysokim poziomie i nie ma powodów do zmartwień, ale jest to krążek z kilkoma mocnymi utworami i pierwszy raz TRICK OR TREAT nie brzmi tak śmiesznie, tak do bólu cukierkowato, pojawia się ciężar i mocne utwory jak wyśmienity "Prince Withh 1000 Enemies", a to już spory sukces. Czy jest to album przełomowy dla zespołu? Na pewno jest punktem zwrotnym wich karierze i kto wie może następny album będzie jeszcze dojrzalszy i dopracowany? Czas pokażę. Pozycja obowiązkowa dla fanów HELLOWEEN ! Cukierek czy psikus? Dokonaj wyboru.