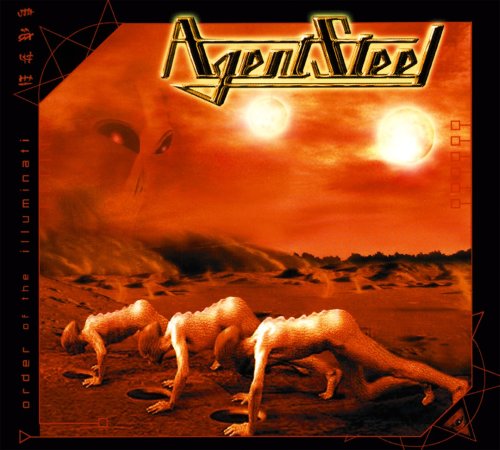 Choć w 1999 r powrócił Agent Steel, to jednak nikt już nie był do końca tym zespołem z lat 80. Inne czasy, inna moda, inne priorytety. Powrót był o tyle ciężki dla formacji, bowiem John Cyriis nieustannie walczył o prawa do nazwy Agent steel, co przyczyniło się do zmiany nazwy w pewnym momencie na Order Of Iluminatii. John Cyriis nic nie wywalczył, a Agent Steel jak na złość Cyriisowi poszło zaciosem i nagrała kolejny znakomity album o tytule "order Of Iluminaty". Jest to drugi album po reaktywacji z 1999r i najlepsze dzieło z następcą Cyriisa, a mianowicie Bruce'a Halla. Może nie spełnili swoich obietnic o powrocie do korzeni, ale jest to dzieło, które śmiało może konkurować z klasykami z lat 80.
W roku 2003 ukazało się wiele ciekawych pozycji, a power metal rósł w siłę, pokazując pazur. Można było uświadczyć rozwój i także większy nacisk na agresywność w tym gatunku, co mogło się spodobać. Ci co lubią heavy/power metal w stylu Helstar czy Metal Church wiedzą o co mi chodzi. Agent Steel i power metal? Właśnie tak wyglądał kolejny krok w karierze tej znakomitej formacji i tak właśnie objawiła się ewolucja Agent Steel. "Omega Conspiracy" była czymś nowym dla zespołu, bowiem tutaj była dominacja technicznego thrash metalu i w tym stylizacji zespół też znakomicie się odnalazł. Może nie do końca porzucił ten styl, bowiem na "Order Of Iluminatii" jest sporo pozostałości z tamtego krążka, to jednak postanowił tutaj też nawiązać do swojej przeszłości, stawiając na speed metal. Efektem ubocznym tego połączenia okazał się element power metalu, co bardzo mi się spodobało. W końcu Bruce Hall to wokalista, który ma predyspozycje do śpiewania takich muzyki i daje mały popis swoich umiejętności w rozpędzonym "Dead Eyes". To co zrobił Agent Steel było odważnym zagraniem, ale tez przyniosło rozgłos kapeli i większe zainteresowani. Dla wielu fanów jest to jeden z najlepszych albumów Agent Steel i w sumie trudno z tym stanowiskiem się nie zgodzić. Po 4 latach przerwy udało się stworzyć coś wyjątkowego. Brzmienie tutaj jest soczyste, bardziej thrash metalowe, ale dzięki temu materiał ma moc i potrafi dać nam mocnego kopa. Na pierwszych dwóch płytach roi się od pojedynków na solówki i przepychanki między Juan i Bernie. Podobały mi się te pojedynki i miło jest usłyszeć że na "Order of Iluminati" też jest pełno takich właśnie takich zagrań. Dobrze to odzwierciedla "Avenger", który otwiera ten album w wielkim stylu. "Ten Fist of Nations" to taki miks heavy metalu, thrash metalu, a wszystko podane w nowoczesnym opakowaniu na miarę Nevermore. W takim "E.U.L" słychać wyraźnie że kapela nie otrząsnęła się z thrash metalu. Jest bardzo technicznie, ale to wciąż wysoki poziom grania. Płyta poraża dynamiką, energią i mocą, a każdy utwór potrafi porwać. Tak też jest z żywiołowym "Enslaved", który nasuwa bardziej power metalową formułę. Wyróżnia się spośród całego materiału "Insurection", który początek ma bardziej stonowany, mroczniejszy, a końcówkę bardziej power metalową. Mocnym atutem płyty jest agresywny i bardzo szybki "Forever Black" i to jest przykład nowej jakości Agent Steel a także udanej mieszanki power i thrash metalu. "Human Bullet" nieco lżejszy, nieco bardziej progresywny, ale z pewnością nie odstaję od reszty.
Bruce Hall wniósł powiew świeżości do Agent Steel i choć był to już nieco inny zespół, to jednak wciąż grali muzykę na wysokim poziomie. Nie inaczej jest z "Order Of Iluminati", który pokazuje też że można grać agresywny speed/heavy/ thrash metal w nowoczesnym opakowaniu. Jedno z najważniejszych wydarzeń roku 2003 i jak dla mnie jest to równie świetny album co "Unstoppable Force" czy "skleptic Apocalypse".
Ocena: 9.5/10