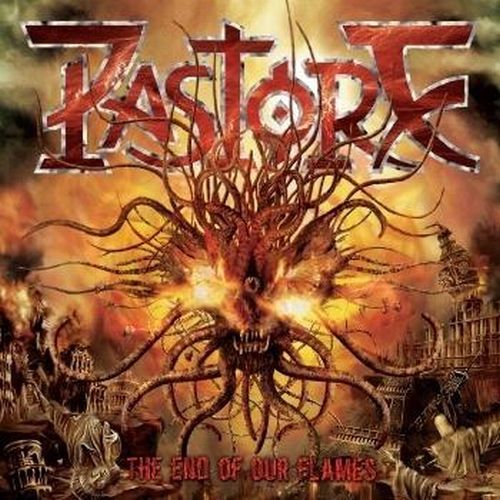 Mocny true heavy metal oparty o tradycję wymieszany z dużą dawką energii i melodyjności charakterystyczną dla gatunku power metalu. Wszystko wymieszane w jeden styl z wyeksponowanym mocnym wokalem i tak można by w skrócie opisać styl brazylijskiego zespół PASTORE. Nie jest to jakiś doświadczony zespół w bojach, nie ma też jakiegoś większego doświadczenia scenie metalowej, bo właściwie mają za sobą 2 płyty wydane w przeciągu 5 lat, co i tak można uznać za niezły wynik. Kapela od 2007roku jest prowadzona przez jednego z najlepszych wokalistów wywodzących się z Brazylii, a mianowicie Mario Pastore, który ma coś z maniery Halforda, Scheepersa czy też Seana Pecka z CAGE. Nagrali dwa albumy, z czego drugi został wydany stosunkowo nie dawno, bo w tym roku i "The End Of our flame" to dzieło, które muzycznie ociera się o takie kapele jak PRIMAL FEAR, EVERGREY, CAGE, HALFORD czy też FIREWIND. Tak więc jest to mix tradycyjnego heavy metalu z elementami power metalu i jego źródłem mocy jest fakt wymieszania w konwencji utworów szybkości, dynamiki z ostrymi riffami, urozmaiconą sekcją rytmiczną z wyrazistym basem i nieco mroczniejszym dźwiękiem. Ta mieszanka sprawia, że drugi album Brazylijczyków jest nadzwyczaj atrakcyjny dla słuchaczy i łączy stare patenty z nowoczesnym podejściem do muzyki, jak i wysokobudżetowym brzmieniem. Choć muzycy są młodzi, to jednak mają się czym pochwalić w kategorii umiejętności. Każdy z nich odwala kawał dobrej roboty i nie chodzi tutaj już tylko o wokalistę Mario Pastore. Na pewno to on wyciąga krążek, kompozycje na wyższy poziom, ale sporo dobrej roboty zrobiła sekcja rytmiczna czy też w końcu gitarzysta Rafeal Gazal, który stawia zarówno na ciężar, melodie jak i na szybkość, zróżnicowanie, co z kolei przedkłada się na mocny wydźwięk albumu.
Gdy się tak dokładnie przyjrzymy strukturze, konwencji, to jak grają, to jak brzmi cała zawartość to można dojść do wniosku, że Brazylijczycy nie prezentują niczego odkrywczego. To prawda, ale forma podania tego wszystkiego, dbałość o szczegóły, staranność, moc i energia jaka wybrzmiewa sprawia, że nie można pominąć tego albumu, czy też lekceważyć z tego powodu. Ci którzy pamiętają sukces i formę podania muzyki przez SINBREED w roku 2010 ci z pewnością pokochają PASTORE. Już przy otwierającym "Brutal Storm" słychać liczne powiązania, ale to nie jedyne skojarzenie. Choć wtórne ,to jednak forma i wykonanie jest bez jakichkolwiek zarzutów. Jest dynamit, jest szybkość, atrakcyjna melodia i co ważniejsze słucha się tego bardzo przyjemnie. W podobnej konwencji utrzymany jest rytmiczny "The End Of our Flames" w którym Mario śpiewa nieco jak Bruce Dickinson, pojawiają się również pewne zacięcia progresywne. Receptą na sukces tego albumu to nie tylko ciężar i szybkość, oj nie. To w dużej mierze przebojowy charakter kompozycji czy też ich nie zwykła melodyjność, tak jak to jest w choćby w przypadku "Night And Day", ostrego "Liar" , pokręconego, nieco mroczniejszego "Envy". Gdyby jednak nie urozmaicenie i bawienie się motywami to byłoby strasznie nudnie i monotonnie. Pierwszy takie małe urozmaicenie pojawia się w zwartym "Fools", gdzie bardzo ciekawie wyeksponowano bas i wbudowano przyjemną i dość finezyjną solówkę. Nieco toporności, nieco surowego, chłodnego metalu można z kolei uświadczyć w stonowanym "Empty World". Nieco odstaję "When The Sun Rises" , który jest nieco nudną balladą o nieciekawej konwencji i sam motyw pozostawia sporo do życzenia. Bez wątpienia w wolniejszym tempie wyszedł im "Unreal Message", który ma ciekawy nieco rockowy wydźwięk. Jest tutaj pomysłowy motyw, jest dużo rytmiczności, jest mocny bas w tle i to jest bardzo udany przebojowy kawałek, który rozgrzeje nie jedną publikę. "Bring To Me Peace" też jest nieco inny od reszty. Nieco bardziej przekombinowany, nieco inna struktura, wolniejsze tempo i niezwykła rytmiczność, to jego cechy, ale trzeba przyznać że słucha się go równie przyjemnie co pozostałe utwory. Zamykający "The World Is Falling" to kolejny stonowany utwór, z tym że tutaj zespołowi zabrakło pomysłu co do melodii, motywu głównego i jak dla mnie jest to zwykły wypełniacz.
Na pewno warto w tym roku zwrócić na ten nowy album brazylijskiego PASTORE, który efektywnie łączy heavy metal z power metalem. Są przeboje, jest moc, jest ciężar, melodii, które zapadają w pamięci jest całkiem sporo. Może nie jest to oryginalne, może nie jest też to album doskonały, ale trzeba przyznać, że wykonanie i forma podania sprawia ze słucha się go bardzo przyjemnie, a czy nie o to chodzi?