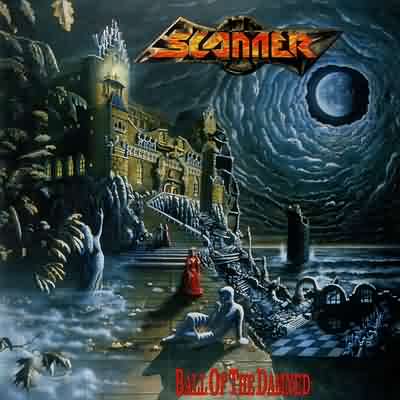 Czy jeden muzyk z oryginalnego składu
SCANNER,
który nagrał dwa znakomite albumy, jest w stanie przesądzić o nagraniu czegoś na miarę dwóch największych wydawnictw? Czy jest wstanie zachować styl z jakiego była znana kapela w latach 80? Gitarzysta Axel Julius już właściwie na albumie "Mental Reservation" uświadomił nas i odpowiedział na powyższe pytania. Nie był on wstanie udźwignąć brzemię dwóch poprzednich wydawnictw, gdzie kompozycje były o kilka klas niższe, a sam styl był nieco odmieniony i stawiał w dużej mierze na toporność i surowość, która jest charakterystyczna dla niemieckich zespołów heavy metalowych. Rok 1997 to okres kiedy rynek niemiecki umacniał się za sprawą albumów RAGE, BLING GUARDIAN czy też PRIMAL FEAR, IRON SAVIOR, to też swoją pozycję i swoje stanowisko w ramach tych nowości musiał wyrazić jeden z najlepszych niemieckich zespołów jaki powstał w latach 80. Czwarty album SCANNER został zatytułowany "
Ball Of The Damned
" i jest to kolejny album, który został nagrany w innym składzie. Zostali w obozie SCANNER wokalista Leszek Szpiegel, który w dalszym ciągu stanowi motor nowego wcielenia SCANNER, który idealnie pasuje do kompozycji wzorowanych na starszych dokonaniach zespołu,jak i do kompozycji nieco cięższych i mroczniejszych. Został również wcześniej wspomniany Axel Julius i perkusista D.D. Bucco. Natomiast cała reszta lista nazwisk to nowe postacie w historii SCANNER. Axel z rekrutował w ramach 4 albumu nowego basistę Marca Simona, gitarzystę Stefan Nicolai i uwaga... klawiszowca Stephan Braun, co dawało potwierdzenie, że zespół poza znanym stylem polegającym na mieszaniu konwencji speed/power metalowej z topornym heavy metalem dodając przy tym nieco thrash metalowego zacięcia w niektórych momentach. Na czwartym albumie SCANNER próbuje swoich sił w związku z bardziej epickimi czy też orkiestrowymi motywami. W porównaniu do poprzedniego albumu jednak widać sporo podobieństw w kwestii brzmienia, konwencji utworów, czy też toporności, aczkolwiek tutaj jakby mniej jest patentów thrash metalowych, więcej jest takich o charakterze epickim czy też progresywnym. No i dalej jest ta sama zawartość ciekawych melodii, dalej jest taki sam poziom kompozycji, które jednak nie osiąga poziomu znanego z dwóch pierwszych albumów.
Na debiutanckim albumie swoje 3 grosze dorzucił Ralf Scheepers, który swoim gościnnym występem urozmaicił dwie kompozycje. Powrócono po raz kolejny do tego pomysłu i muszę przyznać, że jak usłyszałem "Puppet On string" to zaczęła działać moja wyobraźnia i ciekawym posunięciem byłoby na pewno zatrudnić na wokalistę Ralfa, szkoda że takie wydarzenie nigdy nie miało miejsce. Ralfa śpiewa bardziej podniośle, bardziej melodyjniej aniżeli Leszek. Sam utwór zaś pod względem przebojowego charakteru, melodii na miarę HELLOWEEN i całego grania pod kapele Kai Hansena, czy też w końcu imponujące i pełne energii solówki nasuwają nic innego jak "Hypertrace". Ten utwór zaliczam do najlepszych w okresie lat 90 i na pewno w ramach całej historii zespołu. Najlepsza kompozycja na płycie, co wcale nie oznacza że reszta już jest do kasacji."Frozen Under the Sun" to kompozycja która zaskakuje przebojowością, lekkim i zapadającym w pamięci refrenem, zróżnicowaniem, gdzie pojawiają się spokojne i klimatyczne momenty jak i power metalowa szybkość i dynamika. Tutaj można w końcu wyczuć rockowe, zadziorne zacięcie, no i te orkiestrowe i epickie patenty. "We Start it Tomorrow" pokazuje, że nowe wcielenie SCANNER zaczęte wraz z poprzednim albumem ceni sobie mrok, ciężar i toporność, a tej pod dostatkiem w tym utworze. Pięknym utworem jest na pewno "True-Stories-Teller" gdzie zespół stawia na lekkość, ciepłe melodie, na rockowy feeling, no i świetnie został tutaj wykorzystany balladowy motyw podczas nastrojowego refrenu. Balladowo zaczyna się "Tollshocked" ale to jest jedna z tych power metalowych petard, które zbliżają się poziomem do genialnego otwieracza i pod względem charakteru słychać coś z debiutu, co świadczy o wyjątkowości tego utworu. Epicki, orkiestrowy motyw o którym pisałem wcześniej wyraźnie pojawia się w instrumentalnym "Lord Barker's Theme" będącym czymś nowym w muzyce SCANNER. Różnorodność, epicko – orkiestrowy nastrój można wyczuć w podniosłym "Ball Of The Damnded" oparty na wolnym tempie i zapadającym w głowie motywie przypominającym co nieco te znane mi z AXEL RUDI PELL. Powiew świeżości w muzyce SCANNER usłyszymy w genialnym "Judge On The Run" gdzie pojawiają się patenty charakterystyczne dla ACCEPT czy też JUDAS PRIEST. Motyw jeden z najlepszych na płycie i na miarę geniuszu dwóch pierwszych płyt. Na koniec wisienka w postaci świetnego coveru QUEEN , a mianowicie "Innuendo".
Siła "Ball Of The Damned" tkwi w solidności i nawiązaniu w niektórych fragmentach tak jak choćby świetny "Puppet On The string" do wydawnictw z lat 80. Znajdziemy przeboje, szybkie kompozycje, bardziej rozbudowane, bardziej klimatyczne, jak i te które mają podziałać na emocje słuchacza. Podobać się może wyważenie między szybkością, ciężarem i melodyjnością. Album ma dobre surowe, zadziorne brzmienie, które stanowi uzupełnienie materiału, który jest utrzymany w konwencji power metalowej z elementami thrash metalu, epic czy też heavy metalu. Może nie jest to arcydzieło, pozbawione wad jak dwa pierwsze albumy, ale jest to bardzo dobre wydawnictwo, które miło się słucha mimo upływu czasu. Ostatni bardzo dobre i na poziomie wydawnictwo tego zasłużonego zespołu niemieckiego, który pozostawił po sobie znaczący ślad w niemieckiej scenie metalowej.
Ocena: 8.5/10