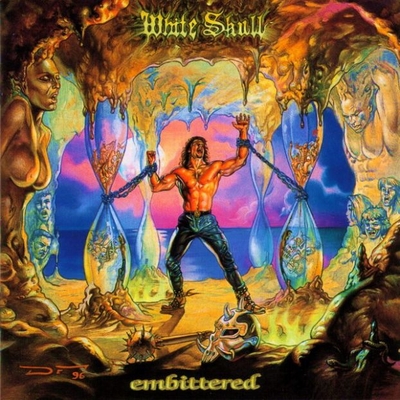 Co się dzieje po wydaniu przeciętnego debiutanckiego albumu przez
WHITE SKULL
? Właściwie nic złego, wręcz przeciwnie. Sypią się masy pozytywnych opinii na temat "I wont Burn alone" przez co kapela nie ma większych problemów z koncertowaniem. I takie ciepłe przyjęcie sprawiło, że zespół mógł iść za ciosem i tworzyć materiał na nowy album. Po dwóch latach od premiery debiutanckiego albumu tj w roku 1997 ta sama wytwórnia wydaje drugi album włoskiej formacji zatytułowany "Embittered" który mimo zachowania takiego samego składu i wielu innych aspektów personalnych, to jednak ten album jest pewnym przełomem w historii zespołu. Tutaj słychać już bardziej dojrzały materiał, tutaj każdy z muzyków wyciągnął wnioski z poprzedniego albumu i zaczął się rozwijać. Federica De Boni śpiewa o wiele pewniej, bardziej zadziornej i melodyjnej. Nie jest tak schowana i stłumiona przez brzmienie. Partie gitarowe wygrywane przez duet Fonto/Faccio też są o wiele ciekawsze. Bardziej złożone, bardziej przemyślane, ostre, soczyste i pełne energii, czego brakowało na poprzednim albumie. Oprócz tego że są ostre, momentami ciężkie, to są w dodatku bardzo melodyjne, co przedkłada się na atrakcyjność tego krążka. Więcej power metalowych patentów jest dużym plusem tego wydawnictwa. Słowa pochwały należy również skierować w kierunku sekcji rytmicznej, która buduje klimat i stwarza przestrzeń, która nadaje utworom pewnego rodzaju głębię. Ulepszony styl, bardziej wyczulony zmysł tworzenia dobrych, bardzo dobrych kompozycje, które charakteryzują się solidnością, no i bardzo dobre brzmienie, które już świadczy o bardziej dojrzalszym albumie aniżeli debiut.
Zmiany dotknęły stylu, kompozycji, muzyków, a to wszystko słychać po zawartości. Materiał stawia na bardziej rozbudowaną strukturę i całość trwa godzinę, czyli dłużej aniżeli po przedni album. Sporo utworów przekraczających 6 minut, ale do tego dojdziemy. Zacząć należy od tego, że drugi krążek WHITE SKULL jest dynamiczniejszy i ostrzejszy, co słychać już przy pierwszym kontakcie, którym jest tytułowy
"Embittered".
Melodyjność, chwytliwy refren, zapadający w głowie refren, ostre i rytmiczne partie gitarowe i wszystko o kilka klas wyżej, to jest przedsmak tego jak WHITE SKULL zabrzmi na następnych albumach. Do szybkich kompozycji na pewno wypada zaliczyć zróżnicowany
"Revenge Is Sweet"
gdzie pojawiają się motywy balladowe, rycerskie, power metalowe, heavy metalowe, a nawet coś z NWOBHM rodem IRON MAIDEN. Dynamicznym utworem i nawiązującym do tych wcześniejszych cech nawiązuje rytmiczny i przebojowy "
I Don't Know About Sex".
Z heavy metalowych kompozycji mamy melodyjny
"Its My Life"
który na pewno lepiej by brzmiał w nieco szybszym tempie czy też "
B.T.B.W. North Italy"
nawiązujący do działalności JUDAS PRIEST i jest to bardzo udany heavy metalowy hymn. Jak wspomniałem wcześniej, sporo na tym albumie dłuższych kompozycji, gdzie licznik czasowy przekracza 6 minut. Pierwszym tego typu utworem jest dynamiczny"
Old Friends"
gdzie dominuje w dużej mierze power metalowa konwencja, ale są też motywy godne IRON MAIDEN, pojawiają się liczne urozmaicenia i jest to jedna z najlepszych kompozycji na płycie. Z kolei
"Mountain's End"
urzeka klimatem, epickością i lekkością. Nie wiele gorszy jest najdłuższy utwór na płycie, a mianowicie
"Flesh, Blood and Faith
" gdzie dominuje rytmiczny motyw i stonowany refren, a także masa ciekawych, klimatycznych wtrąceń. Druga cześć utworu jakby ciekawsza. Ostatni dłuższy utwór to "
She Won't Wait All the Night
", który pełni rolę ballady, która jednak nie powala jakością i formą podania. Już lepiej wypada druga ballada, a mianowicie
"Love Is".
Urozmaicenia albumu dopełnia cover 4 NON BLONDES czyli "
Whats Up"
, który brzmi całkiem przyjaźnie i nie jest gorszy od oryginału.
"
Embittered" to dzieło bardziej dojrzałe i przemyślane. Wszystko wypada tutaj lepiej aniżeli na debiucie. Lepsze melodie, pomysły, ciekawsze aranżacje i wyższa forma muzyków,a to przedkłada się na efekt końcowy, który jest zaskakujący dobry. Ten album to tylko przedsmak tego co zespół prezentował na następnych albumach, które przeszły bardzo szybko do miana najlepszych, ale o tym następnym razem.
Ocena: 7/10