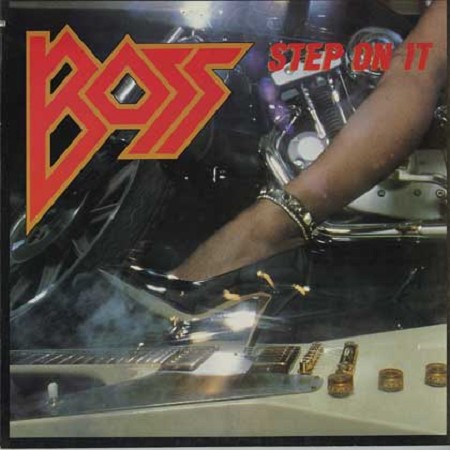 Mam słabość do starych albumów, zwłaszcza tych z pogranicza heavy metalu i hard rocka, płyt które śmiało można by zaliczyć do kategorii hard'n heavy. Jeśli lubi się taką muzykę jak choćby MOTLEY CRUE, KROKUS, czy inne rzeczy tego typu to śmiało nie będziecie mieć większych oporów przy muzyce zawartej na jedynym albumie australijskiego BOSS, który w owym czasie zrobił nawet furorę tym albumem który się zwie "Step It Out". Genezę tej płyty należy się upatrywać w roku 1979 r kiedy to z inicjatywy wokalisty Craiga Csongradiego został założony zespół który po licznych demach i graniach na żywo doczekał się po 5 latach właśnie swojego debiutanckiego albumu. Niestety kapela po wydaniu tego dzieła się rozpadła, a szkoda podrzemał w nich niezły potencjał, który przejawiał się w dobrym warsztacie technicznym, który zapewniał profesjonalny wydźwięk kompozycji i staranne wykonanie. To właśnie dzięki wokalowi Craiga można poczuć owe szaleństwo, zadziorność, przestrzeń. To on buduje klimat i sprawia że każda fraza, każdy przebojowy refren wchłaniamy niczym gąbka. Co byłoby gdyby duet gitarzystów Kvin/ Pate którzy czerpią się na twórczości SCORPIONS, DEF LEPPARD, czy też ACCEPT, DOKKEN albo RATT co słychać niemal w każdej kompozycji i do tego warto zwrócić uwagę na lekkość przechodzenia między różnymi motywami, niezwykła precyzja i zdolność wykreowania zapadających melodii, a to już połowa sukcesu. Świetnie ten patent oddaje rytmiczny i przebojowy " Kick ass" który zawiera atrakcyjne popisy solówkowe, czy też melodyjny "Dancing Queen".
Warto zaznaczyć, że muzycznie jest małe zróżnicowanie i właściwie można wytknąć zespołowi jednorodny charakter, gdzie dominuje stonowane tempo, nieco taki obstukany rasowy riff tak jak to miejsce w "The Woman" , klimatycznym "Strange Games" , koncertowym, rytmicznym " Hard'n Fast" , które stawiają na prostotę i przebojowy charakter. Podobać się może lekkość niektórych kompozycji, czyste takie hard rockowe dobrze wykreowane brzmienie i nutka szaleństwa, gdzie liczy się chwytliwa melodia i perfekcja wykonania, te cechy zostają uwypuklone w melodyjnym " Escapea" , rytmicznym "Take it or leave it" gdzie zespół robi własną interpretację stylu DOKKEN, albo w przebojowym "Shake It" . Dopełnieniem tej lekkiej, melodyjnej i przyjemnej dla ucha płyty jest bez wątpienia ballada "Cry, Cry" która wzrusza klimatem i wykonaniem.
Mimo jasnej i przejrzystej formy, mimo przebojowej formie, mimo dobrych pomysłów i dobrego zaplecza technicznego muzyków, kapela nie przetrwała próby, a także silnej konkurencji, to też po wydaniu tego bardzo dobrego i wyrównanego albumu, kapela się rozpadła i przestała istnieć, a po sobie zostawiła jeden album, ale za to na tyle dobry, że pozwala przypominać światu, że kiedyś istniała taka kapela.
Ocena: 7/10