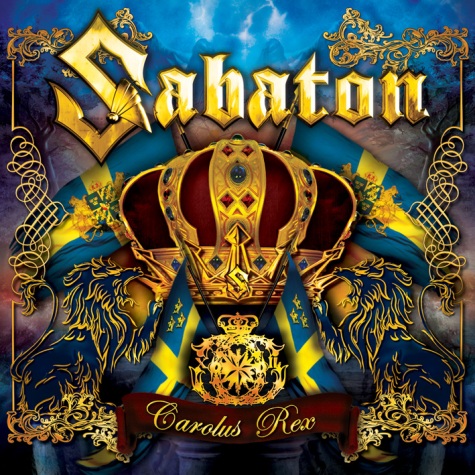 Od czasu debiutanckiego "Primo Victoria" szwedzki SABATON nagrał w sumie 6 albumów, a ich ostatni wypiek "Corolus Rex" zamyka pewien rozdział w ich historii, bo tak o to posypał się skład zespołu i z oryginalnego składu pozostał tylko wokalista Joakim Broden oraz gitarzysta Sundstorm.. Nie ukrywam, że te jakże ogromne zmiany personalne mogą sprawić, że coś w końcu się zmieni w ich muzyce, że będzie lekki powiew świeżości i może w końcu coś się zmieni, bo zaczynam się nudzić przy ich albumach. Ogólnie sytuacja muzyczna zespołu zaczyna mi przypominać syndrom HAMMERFALL, który też z albumem tracił na poziomie, pomimo że dalej był ten sam styl, to samo podejście, takie samo podejście do melodii, chwytliwości. Tak samo jest w przypadku SABATON i "Corolus Rex". Nie podlega wątpliwości że jest to dobry album, dobrze zrealizowany, przemyślany i właściwie nie ma tutaj niczego nowego i są same takie same rozwiązania. Jest power metal, a więc wygrywanie dynamicznych i rytmicznych partii gitarowych przez duet Sunden/ Montelius i ich praca jak słychać układała się na tym albumie dobrze, ale na poprzednich albumach jakby ich frekwencję były atrakcyjniejsze i bardziej zaskakujące, przyciągające uwagę. Tutaj jakby mamy odgrzewane kotlety i to wszystko już było. Do tego ta sprawdzona już i taka wręcz rozpoznawcza rola melodyjnych, czasami zbyt słodkich partii klawiszowych, ale taki jest SABATON. To jest ich rozpoznawalny wszędzie, przez każdego styl, który wyróżnia ich spośród tłumu. Jeśli chodzi o warstwę liryczną to tym razem o XVIII wiecznym imperium szwedzkim. I z tym faktem wiąże się pewna niespodzianka. Pierwszy raz zespół nagrał album w swoim ojczystym języku. Ale mamy na szczęście też wersję anglojęzyczną. Tradycyjnie jest to dobrze zrealizowane wydawnictwo pod względem produkcji i dobry poziom zagwarantowali doświadczeni już w bojach muzycy.
Większych pretensji czy powodów do narzekania może i nie ma, bo przecież mamy równy i nawet urozmaicony materiał, tylko że to wszystko jest nieco monotonne na dłuższą metę, przewidywalne jak obiad w niedzielę i przez to album traci na atrakcyjności. Słabym sprzymierzeńcem jest pomysłowość i melodie jakie zespół serwuje w poszczególnych kompozycjach. "The lion Of The North" to rasowy i taki typowy kawałek SABATON. Mamy tutaj wszystko to co jest charakterystyczne dla nich. Kompozycja może się podobać, bo jest dynamiczna, ma ciekawą, aczkolwiek oklepaną melodię. Utwór dobry, może i bardzo dobry, ale zespół miał lepsze kawałki na poprzednim albumie. Już lepiej brzmi taki "Gott Mit Uns" choć i tutaj nie sposób nie połączyć głównego motywu z jednym z utworów z "Art Of war". Jak dla mnie jest to jeden z mocniejszych punktów na albumie, jest średnie tempo, jest niezwykła rytmiczność i nawet ciekawy pomysł na główny motyw jak i bojowy refren, który zapada w pamięci a nie tak jak to było w przypadku otwieracza. Ballady w wykonaniu SABATON to raczej rzadkie zjawisko ale się zdarza. "A lifetime of War" to dobry tego przykład. I nie powiem jest to kompozycja pełna emocji i podniosłości, można z taką pieśnią iść na krwawą bitwę. "1648" to znów kolejne typowe granie dla SABATON i takich szybkich kawałków i w sumie podobnych do tego było już troszkę. Jak dla mnie taki sobie kawałek, na pewno nie zapada w pamięci tak jak dwa poprzednie. Ciekawie się zaczyna "The Caroleans prayer" są z początku organy, ale kiedy wkracza riff i klawisze, to od razu mam skojarzenia z "Art Of war" niemal identyczne tempo i sam główny motyw. Sama kompozycja dobra i słucha się tego dobrze, jest nieco epicki charakter a to może się podobać. Jakoś nie do końca mnie przekonał też tytułowy "Corolus Rex" gdzie jest takie przeplatanie gitar i sekcji rytmicznej. Fakt pomysł ciekawy, ale jakoś mnie nie porwał do końca. To co ratuje większość utworów przed nudą, to przebojowość i właściwie to samo się tyczy tego utworu. Chwytliwy refren i duża melodyjność i można jakoś wybrnąć z monotonii i nudy. Taki nieco bardziej zaskakujący jest "Killin Ground" bo i motyw taki bardziej heavy/power metalowy, taki zadziorny i zapadający w głowie. Na pewno ciekawie to się prezentuje bez słodkich klawiszy. Jest to bez wątpienia kolejny mocny punkt tego albumu i więcej takiego metalu proszę w przyszłości. Również nie zaskakuje mnie taki nieco oklepany "Poltava" choć tutaj nie można odmówić melodyjności i dynamiki. Drugim wolnym kawałkiem na albumie jest "Long Live The King" i jest to wg mnie najsłabsza kompozycja która dowodzi że najwyższy czas na zmiany w muzyce SABATON. Ciekawy motyw i pomysłową melodie można wychwycić w marszowym "Ruina Imperi".
To wszystko już było i choć SABATON dalej gra swoje na tym albumie to jednak czuję nie dosyt, zwłaszcza pod względem poziomu kompozycji. Są mocne momenty ale i też słabsze. Ten album dowodzi, że najwyższy czas na zmiany, tak więc czekam na kolejne wydawnictwo szwedów, które będzie bez czterech kluczowych muzyków. Z dotychczasowych analiz wychodzi, że to ich najsłabszy album.